Hot Chocolate Challenge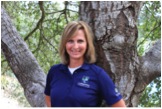 All adult La Madrona members are invited to the 1st Hot Chocolate Challenge at the Fitness Center!
Each week, 5 fitness challenges (and 1 bonus challenge) will be posted in the Fitness Center. Practice, rehearse & test your ability to meet these challenges. Then, perform it in the Fitness Center on Fridays (Dec 6th, 13th, & 20th) between 8 am – 12 noon and receive 1 point for each challenge (and 5 points for the bonus challenge) and your CUP!
Our sweet trainer, Tracy Yost, will be there to record the completion of your challenges and cheer you on!


Kids Holiday Craft Night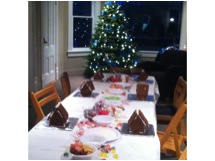 Wednesday, December 18th
5pm
We can't just let the adults have all the fun! It's time for the kids to get into the holiday spirit at the club and have a night just for themselves.
Join us in making holiday crafts and treats.
$5 per person
Please sign up in the Clubhouse, space is limited.


Poker Night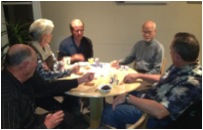 January 10th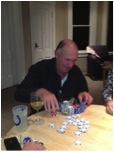 Please join us for Texas Hold'em/Omaha Tournament or Dealer's Choice Poker
A $20 buy-in ($.25, $.50, $1.00) brings you a great night of fun and maybe even a little green!
We'll have a table for the beginner to the "Pro"


New Small Group Training Classes
Happy New Year! Happy New Classes! Happy New You!
Why Small Group Training?
Small group training offers the benefits of personal training with the excitement of being in a group setting. Sessions are limited to 4-6 participants so you will have a personalized exercise experience with hands on coaching.
Is Small Group Training for me?
If you can make an 8-week commitment and you are an intermediate or advanced exerciser, then this is a fun, cost-effective way to stay motivated, learn a variety of new exercises, and get results!
The Classes:
Horizontal Conditioning consists of multi-faceted exercises that incorporate several muscle groups at once. A large portion of this class will require you to hold your own body weight in a plank position. Your body weight will be all the resistance you will need to increase your overall strength. You will create defined muscles and an incredible strong core, which will make you better at any sport.
Fast & Furious 4U is designed to maximize your time & effort with 60 second blocks of cardio, lower body, upper body, & core that progress in difficulty. Using high intensity interval training & resistance training, you will push yourself farther than you think possible. Class consists of 4 blocks of 4 exercises repeated 4 times. Are ready to challenge yourself and get ripped?
Details:
Classes begin the week of January 20th.
Horizontal Conditioning is 2X/week for 1 hour.
Choose Mon & Wed at 12 noon OR Tues & Thurs at 6 pm Cost: $320
Fast & Furious 4U is 1X/week for 1 hour.
Choose Fri at 12:00 noon OR Sat at 10:00am Cost: $160
FREE DEMO CLASSES:
Save the dates:
Try Horizontal Conditioning: Mon, Jan 13th at 12 noon OR Tues, January 14th at 6 pm
Try Fast & Furious 4U: Fri, Jan 10th at 12 noon OR Sat, Jan 11th at 10 am


Wreath Making is Back!!!
Since last's year Wreath Making was so popular, we have decided to bring it back, this year with TWO dates. We will be having our Wreath Making event on December 3rd and December 6th in the Clubhouse. Spaces are limited!
December Swim Camp

Want to keep your kids active during winter break? Coach Jen will be having a three-week Swim Camp this December consisting of multiple strokes and techniques. Keep your youngsters active during the break and ready for our winter swim program that start January 13th! More information can be found on our website.
The new December schedule for Swim Lessons and Water Aerobics can also be found in the Clubhouse and up by the pool house.


Santa Claus is Coming to La Madrona's Holiday Open House

Share the spirit of the season with La Madrona's Open House event! We will be having our annual Open House on December 13th in the Clubhouse, hors d'oeuvres, treats, and bubbly will be served! Feel free to bring the kids along to get pictures with Santa Claus who will be here from 4-6pm. We look forward to seeing you all there as this will be a very exciting and fun event!


Turkey-Trot at the Drop-In
Congratulations to Chad Hoesing and Craig Kazan for being the top birds at Saturday's Doubles Drop-In! Hope you enjoyed those Thanksgiving Turkeys fellas!


Club Closed for Christmas Day & Early on Christmas Eve
Please remember that the club will be closed on December 25th for Christmas Day and at 3pm on Christmas Eve.


Save Money, Get Fit with Small Group Personal Training
Interested in hiring a personal trainer, but concerned about the cost of one-on-one training? Sharing the sessions and the cost with others is a growing trend. Small group personal training can help you reach your fitness goals without breaking your budget.
Where Can I Find Small-Group Personal Training?
Finding a certified personal trainer who offers group training may be easier than you think. According to a 2010 IDEA Health & Fitness Association survey, 84% of responding personal trainers currently offer semi-private training (at least 2 clients share) and 57% offer small group personal training (at least 3–5 clients share). If you're not sure whether your gym or trainer offers small-group personal training, ask. Most trainers are willing to accommodate a shared session.
How Much Will it Cost?
One-on-one personal training fees range from $40-$100 per hour, sometimes more, based on the region and the trainer's education, certifications, experience, and skills. In contrast, group personal training is usually offered at a much lower hourly rate, depending on the number of participants. In a small group of five, for example, each person might pay $15–20 for an hourly session. Most trainers offer advanced purchase packaging, which helps maximize savings and commitment.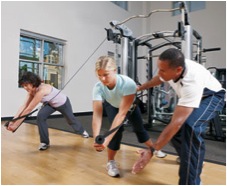 What Are the Benefits of Sharing a Personal Training Session?
Most groups are formed according to fitness levels and such goals as weight loss and post-partum fitness, for example, so you'll exercise alongside others who share your goals and interests. When you train with a small group, you'll receive a level of social support you won't get by working out alone or in a solo personal training session.
Many people prefer working out with a small group. It can be much more fun and motivating than exercising alone. Your group members will cheer you on, inspire you and encourage you to stick with the program. And because you've all gone through the trouble of coordinating your schedules, they'll expect you to show up.
Are There Any Cons?
Sharing a personal training session means your trainer won't be able to give you the one-on-one attention you can expect in an individual session. That may or may not matter to you, depending on your goals, the trainer, and the size of the group. Also, your trainer won't be able to modify your workout every session, so you may not progress as fast as you would with one-on-one training. Some people prefer individual attention, and others prefer the camaraderie and encouragement they get from exercising with other people. Keep in mind that scheduling for small group personal training sessions is often less flexible than for individual sessions, because the needs of three or more people, including the trainer must be considered.
Give It a Try
If what you're doing right now isn't working, it's time to take a different approach. Small group personal training can give you the accountability, group support, and professional expertise you need to take your fitness to the next level while keeping expenses down. If you don't like it, talk with your trainer to determine if one-on-one training or a different group would be a better fit.
Reprinted from the American Council on Exercise
For more information about Small Group Personal Training contact our fitness director Nicole Hurford at [email protected]
Attention age 40+ tennis players:
The USTA Adult 40+ and 55+ League starts next month and we want YOU to play! The 40+ league includes one singles and 2 doubles pairings, while the 55+ league requires just 3 doubles teams. La Madrona will registered teams in the following divisions: Women's age 40+ at levels 3.0, 3.5 (two teams!), 4.0 and age 55+ at 3.5 and 4.0; Men's age 40+ at levels 3.0, 3.5 and 4.0. We are in the process of assigning captains to teams. Now, all you have to do to get on a team is simply go to www.ustanorcal.com and register as a player! Please register right away to insure that we meet the minimum number of players required to field teams. Practices will begin soon--captains will contact you--and matches will start the week of January 6. Go La Madrona senior players!