UPCOMING HOLIDAY CLUB
HOURS & UPDATES
Winter Hours
Monday-Friday 6am-9pm
Saturday-Sunday 7am-8pm
Club Closed at 3pm Christmas Eve
Club Closed Christmas Day
Club Closed at 3pm New Years Eve
Club Closed at 5:30pm on January, 10th for Staff Party
Deck The Halls Holiday Event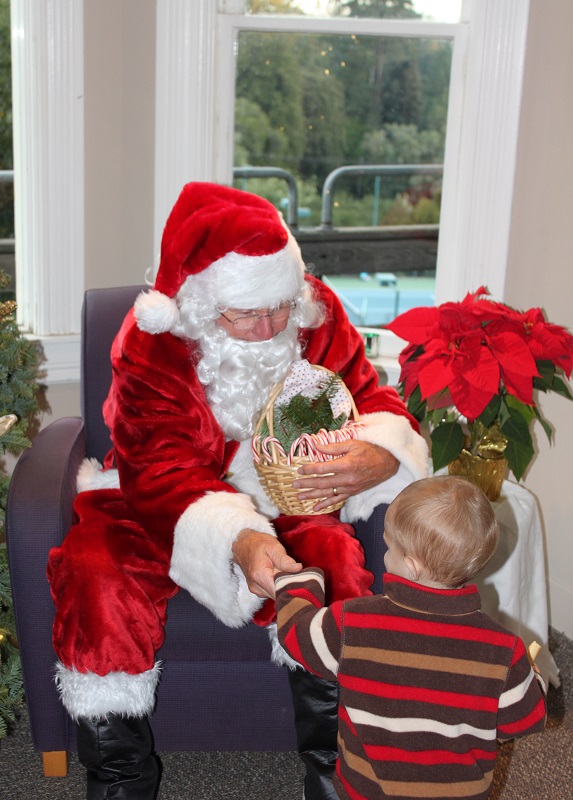 Friday, December 18th
The entire day at La Madrona will be fun filled and an opportunity to get our members in the holiday spirit. We will have a holiday tea bar in the morning along with a hot chocolate bar in the afternoon filled with goodies. Also, from 3:30-5pm we will have Santa visiting, a gingerbread house contest, and kid craft stations all up at the pool area.
Deck the Halls Day Schedule of Events
6-8am & 10-12pm
Holiday Tea Bar
3:30-5pm
Holiday Wonderland at the La Madrona PoolSanta Visiting
Santa is coming to La Madrona! Come by the pool deck anytime between 3-5:30 to give Santa your last minute lists and take free pictures in front of our tree!
Gingerbread House Contest
Feeling festive? Help yourself get into the holiday spirit by entering our Gingerbread Competition! 3 lucky winners will be selected from 3 categories (best overall, best kit-made, and most unique) for a chance to win $25 gift card! Viewing will be from 3-5 on Friday, December 18th and the winner will be decided by a majority vote! Winners will be announced at 5:15 PM.
Ice Block Fun
Join us on the grass and help us uncover the toys that were frozen! We will provide the necessary supplies to chip away at the ice blocks to uncover the hidden toys.
Craft Stations
Drop by the Group Fitness room any time between 3-5:30 PM to join us for some fun complimentary Christmas crafts! Give them as gifts, or make them for yourself! Crafts include card making/decorating, flower angel ornaments, and keychain making!
Come stop by and enjoy the fun all day long!
Upcoming Holiday Craft Nights
Wreath Making
Friday, December 4th at 6 pm
Come create your own beautiful wreath with grapevines, greens, and berries all collected for you from our own La Madrona grounds.
Cost $25 per person
Gift Making Luncheon
Sunday, December 6th from 12-2 pm
Participants will make and take home three wonderful gift items. A light lunch of minestrone soup, cheese and crackers will be served.
Cost $40 per person
Please call the Club today to sign up for these events!
La Madrona Gives Back
Share the Holiday Joy and help us contribute to our local Toys for Tots program by bringing in any unwrapped gift to give to our local community7. Drop off your gifts in the Clubhouse before December 16th and receive a free guest pass in return.
2015 3rd Annual Hot Chocolate Challenge
Friday's December 4th, 11th and 18th from 7:30-8:30am or 11am-12pm
Complete one of 5 fitness challenges and get 1 point and a free cup of gourmet hot chocolate! Complete the bonus challenge for that day and get 5 points.
The member with the most points at the end of the last Friday will receive a special chocolate grand prize! Our personal trainers will be there to record the completion of your challenges and cheer you on!
Why is personal training at La Madrona better than other clubs?
• seasoned personal training staff with collectively over 50 years of experience in the fitness industry
• trainers specializing in post-rehab training
• trainers specializing in tennis, aquatics and martial arts exercise programs
• trainers specializing in pre and post-natal exercise programs
• trainers specializing in Functional Movement and corrective exercise
• trainers specializing in youth and senior fitness programs
Our FREE offer to you:
One free 60-minute personal training session ($70 value), to show you what personal training can do for you! Our experienced personal training staff will customize a program based on your specific needs and goals. Take charge of your health today, and call to schedule your free session (831) 438-1072
Offer good through December 31, 2015 (new personal clients only)
Nourish to Flourish Healthy Nutrition in the New Year!
Power Up with Protein
Learn why protein is such a powerhouse
Healthy source of protein from plants and animals
Delicious Recipe Demo!
Date:
Sunday, Jan 10th Time: 11:00am – 12:30pm Cost: $15 for Members $20 for Non-Members
Register today!
Proteins are the basic building blocks for our muscles, tissues, hair, tendons, and other body structures. Finding the right kind and right amount of protein for your body can be confusing task that leaves many of us with questions. Have your questions and concerns answered by Holistic Nutrition Consultant Ashlea Hartz. In this workshop, both vegetarians and meat eaters can learn how to make protein a key component in a fit and healthy lifestyle.
Pleasantly Pear Crumble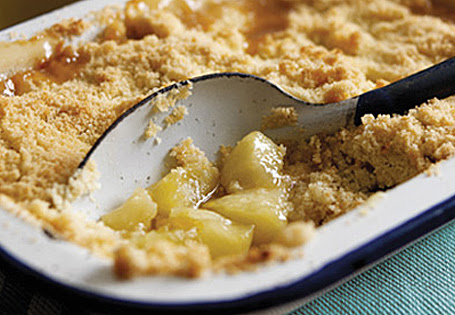 Serves 5
Ashlea Hartz, N.C., RYT

Swapping out the classic apple for a delicious pear gives this winter dessert a sweet twist! Bosc is an elegant pear with a crisp texture, pleasant sweet flavor and is balanced with hints of fall spices.

Ingredients:
4-6 large Bosc Pears, peeled, cored and chopped
1 Tbsp extra virgin coconut oil
1 ½ cups almond meal
1/3 cup dried, shredded coconut (unsweetened)
1/4 cup walnuts, finely chopped
2 Tbsp cinnamon
½ tsp cardamom (optional)
Pinch of salt
5 Tablespoons 100% maple syrup (or honey)
Directions:
Preheat oven 400 degrees. In large pot, boil water and cook pears until semi-soft.
In a small skillet over low heat, add coconut oil then almond meal, coconut, walnuts, salt and spices with 2 tablespoons of syrup. Lightly toast mixture then set aside.
Drain water from pears then add 3 Tbsp of syrup and cook over low heat, stir regularly, until soft. Remove from heat. Pour pears into oven safe dish, top with coconut mixture and bake for 10-12 minutes. Enjoy warm and bubbly!
Tennis
Introducing Kent Naraghi, Assistant Pro!
Many of you may recognize Kent as one of our club members who "grew up" at the club. Kent learned his tennis through our junior program, played top high school tennis in Modesto and went on to play on a club team in college. Every summer for the past five years, Kent has assisted our junior tennis and sport camps and is one of the kids' absolute favorites! A recent graduate from the University of Oregon, Kent spent the past 4 months as a head pro in Eugene, Oregon before returning home to Santa Cruz. Kent is receiving his USPTA certification this week. In addition to helping out with our junior program, Kent will be teaching private and group lessons. He is starting a new adult clinic on Monday mornings called All About Singles. Kent is passionate about tennis and this is reflected in his teaching style: fun, competitive and highly encouraging. Please welcome Kent to our tennis staff!
Holiday Tennis Specials!
Give the gift of tennis to your family and friends, as we offer private lessons and clinics in gift-certificate form. You may purchase any number of tennis lessons by any of our 5 pros and the certificate is good for a year. A "private" lesson may be shared by up to 4 people; family members and friends are encouraged to jump-in and give it a go. Clinic packages are available as well. December Special: buy 4 clinics and get the 5th free; buy 4 private lessons* and get the 5th free (new pros Kent and Fred only).
Don't wait for New Year's to Jump-Start your Tennis Game!
Check out our new Adult Tennis Clinic Schedule with more to offer than ever! Join our professional tennis staff any day of the week for a wide variety of adult clinics. All clinics are drop-in style with no need to sign up and no minimum number of participants. Non-members welcomed ($5 extra). Come one, come all to adult clinics at La Madrona!
Tennis Love at Age 40+
The USTA Adult 40 & Over league season is about to begin and we need YOU to step up to captain a team! We hope to field men's, women's and mixed doubles teams in various categories. Men's and women's teams need 2 doubles pairs and 1 singles player each match, while the mixed requires just 3 doubles pairs. Competition begins January 4. Team registration is due December 7th so please contact Judy if you are interested in captaining! Player registration onto the teams may begin after December 7. Good luck to all La Ma teams!
La Madrona Shines in Girls High School Tennis Competition
Numerous players from La Madrona's junior tennis program competed for local high schools, and three of them went on to play in the Central Coast Section Play-offs. Congratulations to SCCAL singles champion, Claire Casper and doubles champions, Desi Rakela and Elana Weingord! Claire fell to Monte Vista in the first round, while Desi & Elana won against Leland High and then lost to top-seeded Los Altos in the quarters. Tennis Director, Judy Newman, who worked with all of the girls before their CCS appearance, said Santa Cruz County was very well-represented this year. See if you recognize these frequent-flyers from our tennis courts: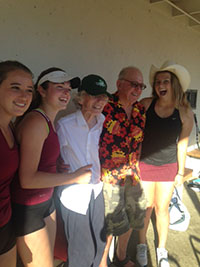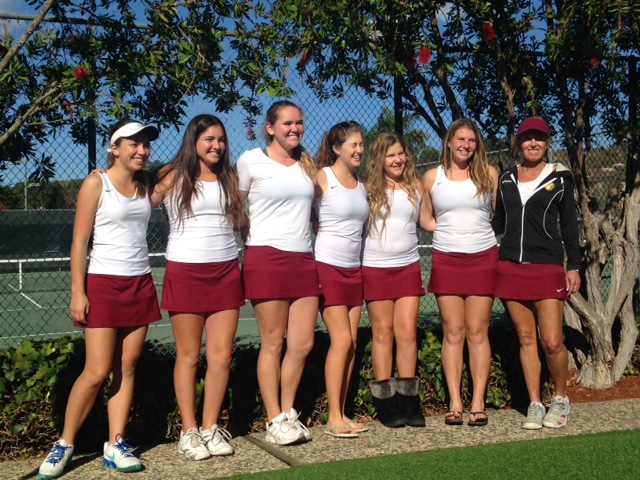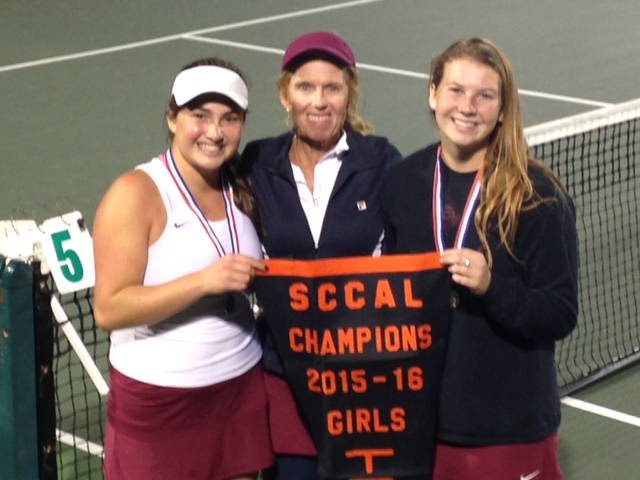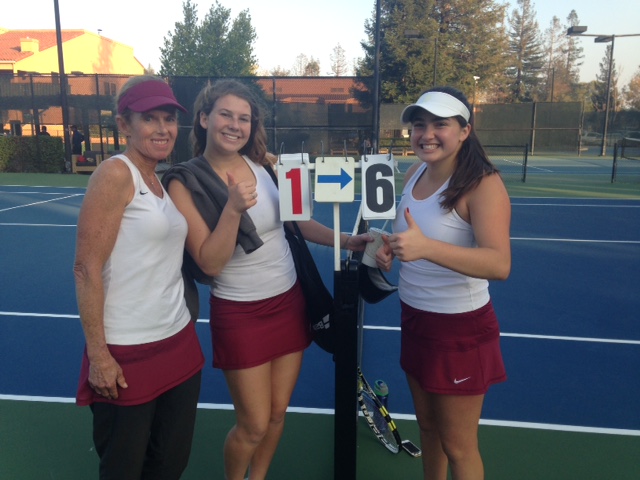 New Junior Tennis Program Update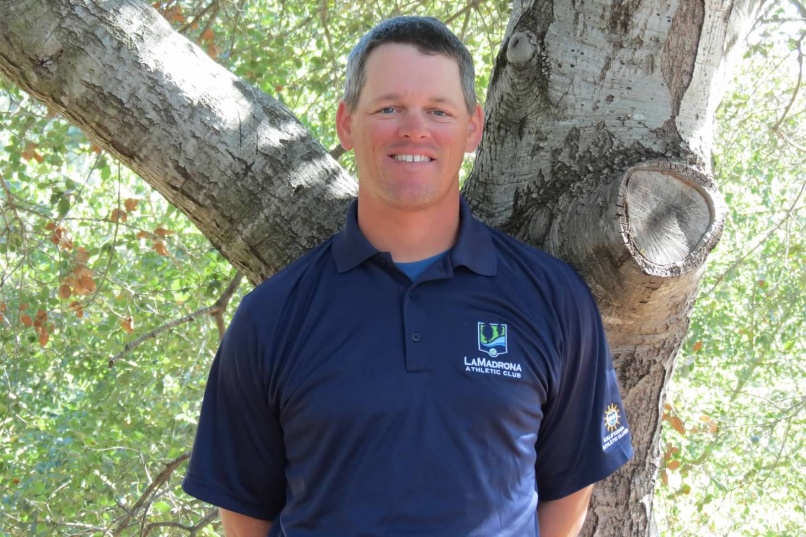 Our new Junior Tennis Director, Fred Charlebois will be kicking off our winter Junior Tennis School program this January 2016. Fred's teaching philosophy is to provide individualized attention, and find the perfect balance between progressive skill development, fitness, and, of course, FUN!
The Winter 2016 session will be a 10 week session from January 11th to March 18th and is now available for enrollment.
Please click here to learn more about the junior program schedule
.
Group Fitness Schedule