SPRING BREAK SPORTS CAMP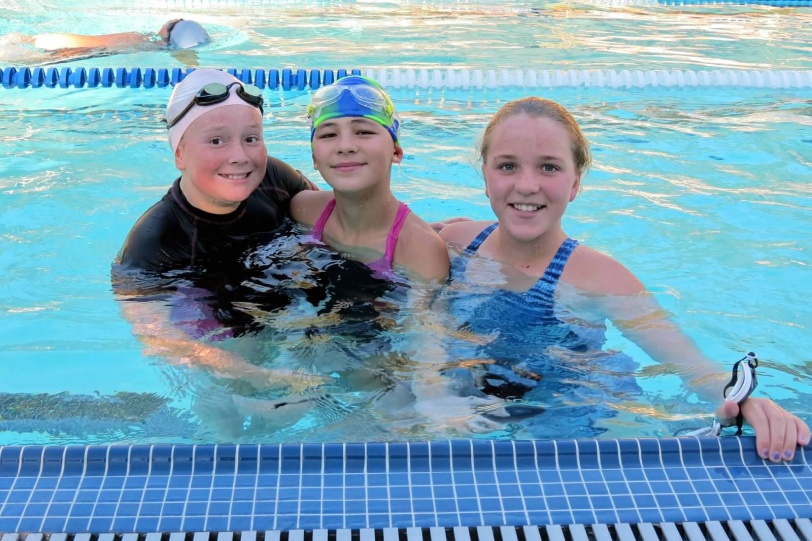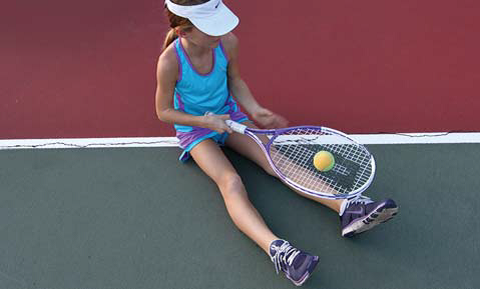 April 4th through April 8th
9-3pm
Sport Camp is a high level instruction based outdoor camp that will provide children the opportunity to develop their sport skills, self confidence and self esteem.
The sport camp includes tennis (2 ½ hours), swimming (45 minutes), martial arts (45 minutes), and outdoor fitness fun!
This camp is available to ages 7-12 years old.
Please download our registration form here.
Secure Belongings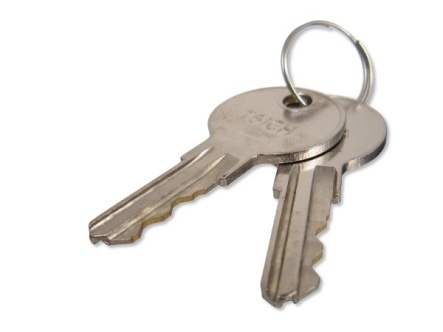 A couple weeks ago we had a car broken into. Your safety and the security of your belongings is of utmost importance.
Please do not leave your valuables including purses, wallets, phones, laptops, etc. in your vehicles. Fitness centers are commonly targeted.
We have day use lockers available at no charge. Please ask the pool house front desk for a key and for more information.
La Madrona Has a New Mobile App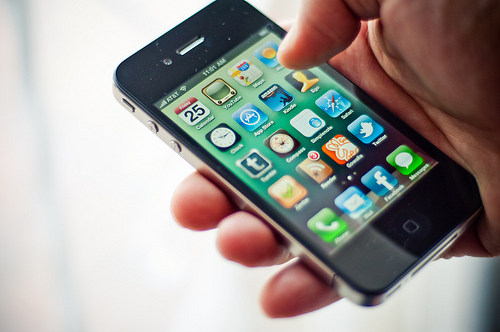 The La Madrona app will allow you the opportunity to see our current group fitness class schedule, book swim & tennis lessons, as well as book tennis court reservations among many other things!Please download through your mobile app store, by looking up La Madrona Athletic Club.
Contact the Club to receive your account username and password if you do not already have one.
St. Patricks Day Celebration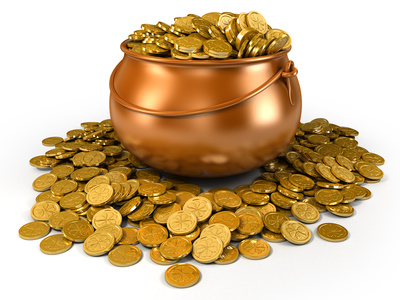 Thursday, March 17th

Come celebrate St. Patrick's Day at La Madrona! Join us for a "Luck of the Irish" themed evening in the up at the pool/fitness area from 4:30-6. Food and drinks will include a potato bar, as well as beer and wine at Happy Hour prices (maybe some green beer too)!
Kids Craft & Games St. Patricks Day Event
Beginning at 4:30 will be our first Treasure Hunt for Gold around the club, followed by crafts and games in the Group Fitness room for kids.
Sign up in the Clubhouse for the kids event. $6 per child
Easter Egg Hunt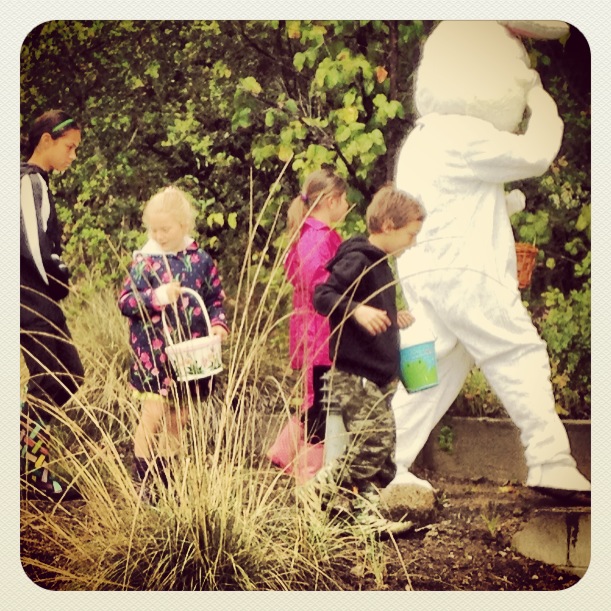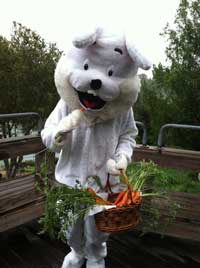 Saturday, March 26th
The Easter Bunny is coming to La Madrona! Join us on Saturday, March 26th for our Easter Eggstravaganza. We will be hosting a casual Easter Egg brunch, along with our annual Easter Egg Hunt around the Club.
Upcoming Parents Night Out Dates
In need of an evening without the kiddos? Take a much needed break after all the holiday madness and drop off the kids for a fun filled evening at the Club. We will be providing snacks, games, fun and a safe atmosphere while you take a couple hours off duty!
$25 per child Sibling pricing: $40/ 2 kids, $55/ 3 kids
Sign up is required and is available in the Clubhouse. Space is limited. Ages 4+ preferred.
Upcoming dates include:
Saturday, February 13th 5:30-8:30 p.m.
Friday, March 18th 5:30-8:30 p.m.
Friday, April 8th 5:30-8:30 p.m.


Welcome to our Aquatics Department, Jessica!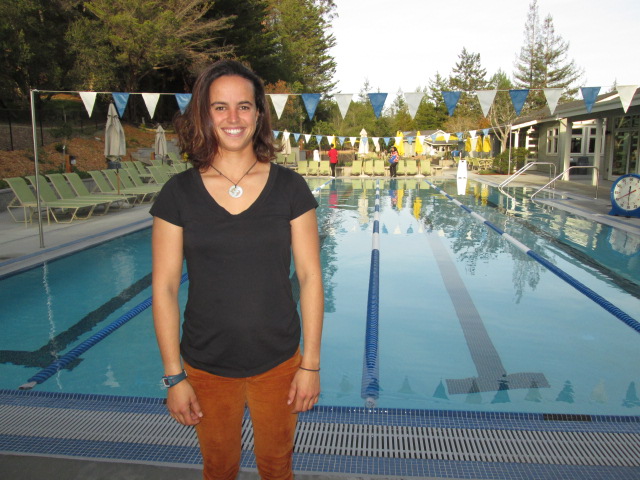 Jessica Rodgers has been drawn to the water her whole life. As a toddler her parents would take her to the beach and she would run across the sand towards the ocean, even before she could swim. 9 summers of Junior Lifeguards in L.A. County has given Jessica a strong foundation in ocean swimming, which she was able to build on and refine while on the UCSC swim team. Over the years she has spent much time swimming, surfing, paddle boarding and snorkeling in oceans around the world. Recently, Jessica traveled to Southeast Asia where she assisted teaching marine ecology and snorkeling techniques to college students who were studying abroad. Jessica's passion for sharing the activities and knowledge she loves has led her to teach surf and SUP lessons, science classes, and lead interpreted kayak tours to people of all ages and backgrounds.
Jessica is available to teach swim lessons on Tuesday and Wednesday afternoons this winter. To book a lesson, visit our scheduling program on the aquatics page of the La Madrona website
****************
Click here to schedule a lesson
Saturday night Dance series!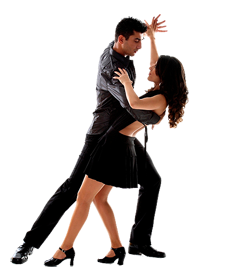 5:30pm-7pm

February 27th Line Dance with Rebecca Setziol
Remember the Hustle? The Electric Slide? Come join Rebecca as she breaks down fun modern line dances such as: The Biker's Shuffle, Rude Boy line dance, and The Wobble Line Dance. No dance experience necessary just a willingness to have fun! Appropriate for ages 7-97!
March 5th Beginning Swing with Chris Lasher *
Have you ever want to learn to swing? This class will get you on your way with the basic step and a turn or two. We'll also go over basic leading and following in this low key, fun class. Come and join us, and let's get swinging!
March 12th Belly Dance with Paula Saraga
Practice 5 or 6 belly dance moves that will be used to learn a short choreography at the end of our lesson. Belly dance is fun yet graceful, ancient yet modern,
plus its open to women AND men. No prior knowledge or experience. You will be moving like Shakira or Prince after a single session!

March 19th Beginning Salsa with Chris Lasher *
Come and learn the basics of salsa! Salsa is a fun, popular social dance that looks more complicated than it is! After this introductory class you'll have the basic steps to salsa anywhere. Basic leading and following skills will be taught as well. Join us and learn the basics of the spicy salsa! ¡Arriba! ¡Ándale!
Have Kids?
Bring them with you and our La Madrona staff will watch them during the class. We will have a movie, pizza, popcorn, and fun games to play!
$12 per child
Happy Hour Wine & Beer Pricing
All dancers will receive and discount on our wine and beer service

$60 for all 4 ($72 for non-members)
$18 for individual ($22 non-member)
* Class is designed for partners

Sign up by enrolling online or at the front desk today!
Welcome Shellbi Gallemore to our fitness department!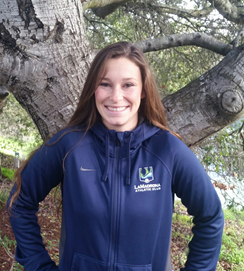 Shellbi has been active in sports all of her life. When she began weight training in college, she decided to jump onto the path of fitness and pursue it as a career. Shellbi has her BS in Exercise Science and minors in Communications and Italian as well as being a certified personal trainer through NASM. With high energy and passion, her teaching style incorporates the balance of challenging exercises, variety, and laughter. She loves working with all ages and is a firm believer that exercise should not only benefit your life but be enjoyable no matter level you start at.
On her own time she enjoys hiking, fly fishing, camping and traveling. With a lot of zest for life, her goal is to help you improve and bring joy to your every workout.
Shellbi will be teaching our new
Active Adults Fitness
class on Wednesday and Friday at 12:30pm.
Active Adult Fitness
Designed with our senior members in mind, all levels of fitness are welcome to this 45 minute class. Become lean, strong and balanced through stability, circuit and strength training exercise, while having fun! Option of chair exercises will be available if needed. Class included in membership.
Welcome Jane Fleet, Tai Chi instructor, to our Fitness Department!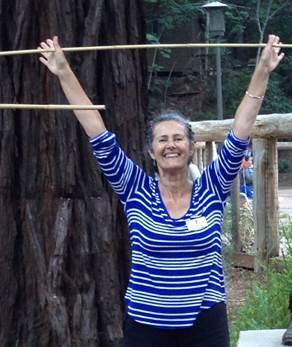 I have practiced Tai Chi and Qigong for over 15 years starting with a Yang style long form I learned in the UK which I practiced daily for health and exercise. Since arriving in the US 11 years ago I have learnt other forms and a bamboo stick exercise. I am currently training to be an instructor in the rare and beautiful Qigong form called Longevity Tree. Last year I certified as an instructor for tai chi for Health with the Dr. Lam program. I am a retired teacher and now really enjoy working with students who love to learn and who shine with the benefits of qigong and Tai Chi. Come join us! This class is open to all levels on Monday at 12:30pm.
Holiday Toys for Tots Donations
Thank you to all our members and employees who participated in our annual collection drives for Second Harvest Food Bank and Toys for Tots. Both organizations would like to express their appreciation and gratitude.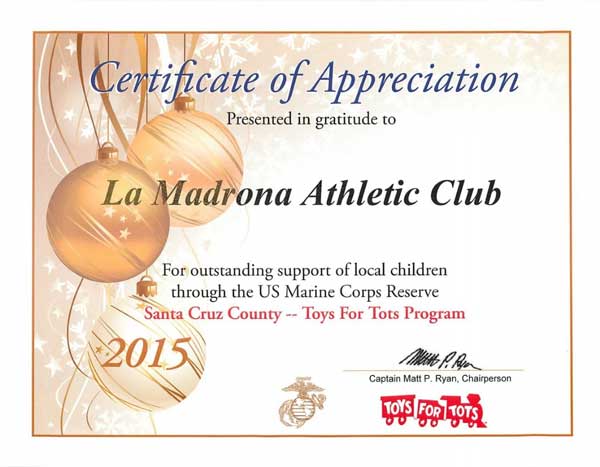 Benefits of Pilates: Reasons You Should Incorporate it into Your Weekly Workout Schedule
I'll be honest, when I first started practicing Pilates I wasn't a big fan. After having two children and losing a lot of my core, being an avid runner and starting to feel it in my hips and low back, I knew I had to give it a shot. It wasn't until I started seeing the benefits for myself that moved me to become more curious about Pilates and the philosophy behind the whole core and breath movements. After becoming an avid Pilates practitioner and student I am now starting to reap the many wonderful benefits. Pilates is helping in all of my training and daily life activities.
It is amazing for your core
Pilates hits your core, the "powerhouse" unlike any other workout. In fact, after completing 36 weeks of Pilates training, women strengthened their rectus abdominis (the muscle responsible for six-packs) by an average of 21 percent, while eliminating muscle imbalances between the right and left sides of their cores, according to a Medicine & Science in Sports & Exercise study.
It Can Ease Back Pain
A strong core can really help support the low back. That's why those with chronic lower back pain who practiced Pilates for just four weeks experienced more relief than those who visited a physician and other specialists, says a Journal of Orthopedic & Sports Physical Therapy study. What's more, their pain stayed away for a full year post-Pilates. Researchers believe that by stabilizing the core's lumbar-pelvic (lower-back) region, Pilates alleviates stress on the area and ups mobility
It's Easy on Your Joints
Pilates' slow and controlled movement puts minimal impact on your joints.
It Hones Your Focus
Pilates urges you to focus on 1) your breath, 2) your body, and 3) how they move together.
It Improves Your Sports Performance
Try doing lunges without your abdominals, your form will probably be off and may lead to injury. By working in small groups or one-on-one with a Pilates instructor, you can learn moves that mimic and improve performance in your sport of choice.
Improves Flexibility
When women (without any prior Pilates experience) performed 20 Pilates sessions, they became 19.1 percent more flexible. When you're tight, you shorten your muscle and limit your body's range of motion. At best, that can hurt your exercise performance. At worst, it can cause injury.
Let me share with you all the many benefits of Pilates every Monday and Wednesday at 8:45 a.m. Those time don't work for you, or you are seeking a deeper understanding of Pilates, I am also available for private Pilates training. Looking forward to seeing you on the mat.
http://www.fitnessmagazine.com/workout/pilates/benefits-of-pilates

Jessica Goodwin
Certified Personal Trainer
[email protected]
Crockpot Butternut Squash and Apples
By Holistic Nutritionist Ashlea Hartz
Serves 4
If you like something warm and filling to start your day, this Butternut Squash Bake can do the trick. Serve alone for a sweet start to your day, or as a side dish at brunch with some eggs! With no added sugar, this delicious dish is perfect for anyone trying to lose weight or manage other diet related health conditions such as diabetes or high cholesterol. Butternut squash is a good source of vitamin A, vitamin C , potassium and fiber. The cinnamon added to the apples is also know to help stabilize blood sugar!
1 medium butternut squash
2 cups chopped apple and/or pears
1 tsp cinnamon
1/2 tsp ginger
1/4 cup walnuts, chopped (optional)
2 Tbsp coconut oil, melted
Pinch or two of sea salt
Turn large crockpot on high.
Add apples/pears, walnuts, cinnamon, ginger and 1 Tbsp of coconut oil to a bowl, stir until apples are coated with spices. Cut butternut squash in half the long ways. Scoop out the seeds and then fill the empty space with chopped apples/pear mixture. For extra apples you can spread them on top or cook on the side. Brush the top of the squash with coconut oil and add a pinch of sea salt to each half. Place squash face up in crockpot, add lid and cook for about 3-4 hours. Squash should be soft all the way through. When ready remove from pot and allow to cool for 10 mins.
**For added protein you can sprinkle ground flaxseed or hemp seeds over the dish when serving.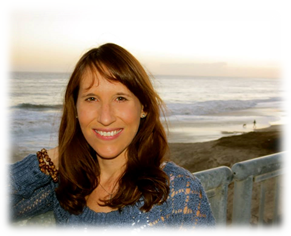 Ashlea Hartz, NC, RYT
Holistic Nutrition Consultant
Self-Massage for Fitness
Sundays 11 am – 12:30 pm starting February 14
In this class, we will use a variety of therapeutic balls to release soft tissue and muscle tension. Participants will learn self-massage techniques for increasing vitality, relieving pain, and building strength.
Self-massage is an effective self-care practice and a wonderful complement to yoga, weight training, running, tennis, swimming or any other fitness program you may follow. The class is open to everyone regardless of fitness and activity level.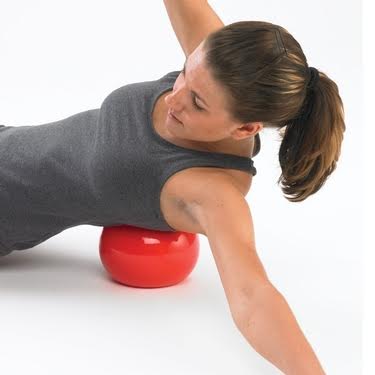 Benefits of Self Massage:
• relax tight muscles and relieve soreness
• release restrictions and trigger points
• revive overworked muscles
• improve sports performance and recovery
• strengthen your body to minimize injury
• improve posture
Maria Rossi has been a certified massage therapist (CMT) for 20 years. As a CMT, her intention has always been to help individuals achieve and maintain a pain-free, active lifestyle through bodywork and self-care education.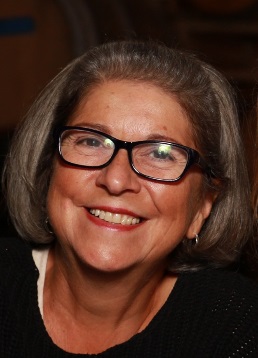 Come discover the power of self-care!
Series of 5 classes; $60 members, $80 non-members
Class dates: 2/14, 2/21, 2/28, 3/6 and 3/20
Drop in 75 minute class; $15 members, $20 non-members
Register online or in the Clubhouse today!
831-438-1072
MARIA ROSSI, CMT -
[email protected]
- 831-254-6006
2015 First Friday Fitness Winner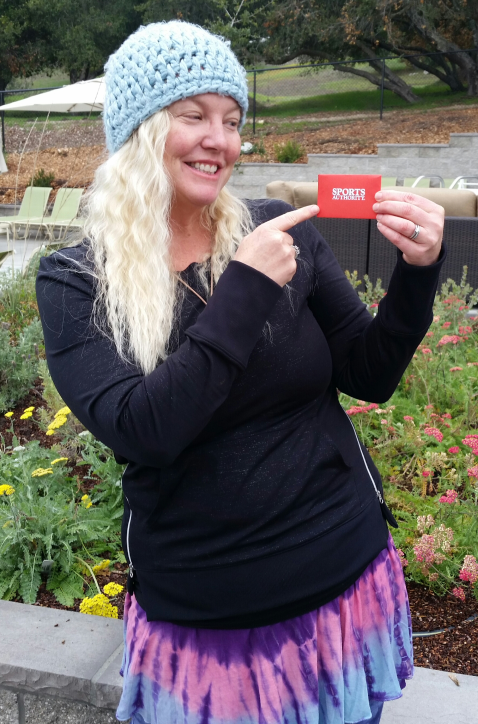 and reigning champ!
Congratulations to Debbie Sek,

Debbie topped our charts with 84 total points accumulated for 2015!
Way to go Debbie!!!
Yoga for the Seasons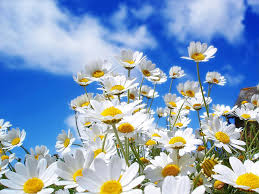 Part One: Spring
Date: Sunday, March 13th
Time: 1-2:30 PM
Part One of this four part series (base on the four seasons) will being with an hour of Hatha Yoga and a guided meditation inspired by Spring and our physical and emotional connection to this season of new growth and beginning. We will finish with a seasonal snack, tea, and discussion on Green Spring Cleaning for your home, body, and spirit.
Members: $15
Non-Members: $20
Sign up at the front desk
Space limited to 12 participants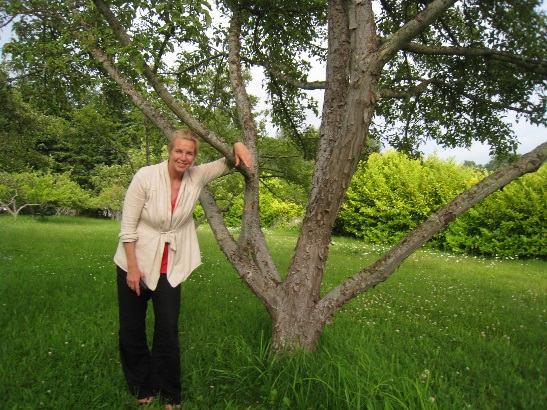 Sue Barnes is a Certified Vinyasa Yoga Instructor (200 hr TT) and has been exploring yoga, meditation and the human-nature relationship for over twenty years. Her connection to the seasons is rooted in a childhood growing up on an orchard in the Pacific Northwest. She holds a M.S. in Environmental Studies, a B.A. in Environmental Sociology and pursued a career in environmental education and sustainable development.


Tennis Court Camera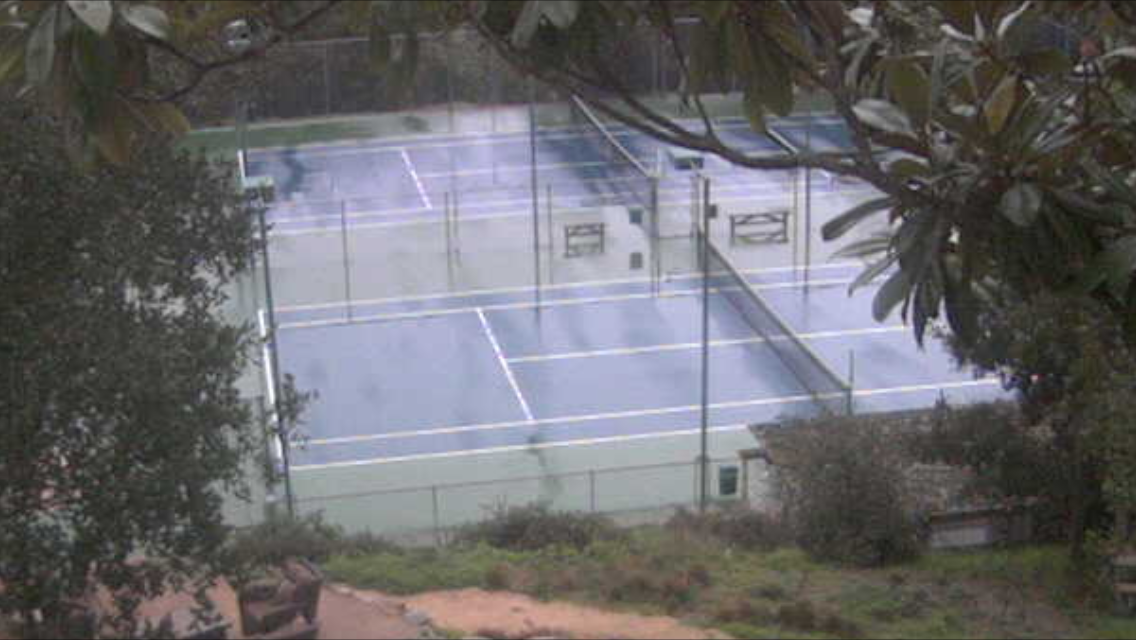 Our live tennis court camera is up and running again!
The camera can be accessed from the home page on our website.
Featured Member: Fran Kaplan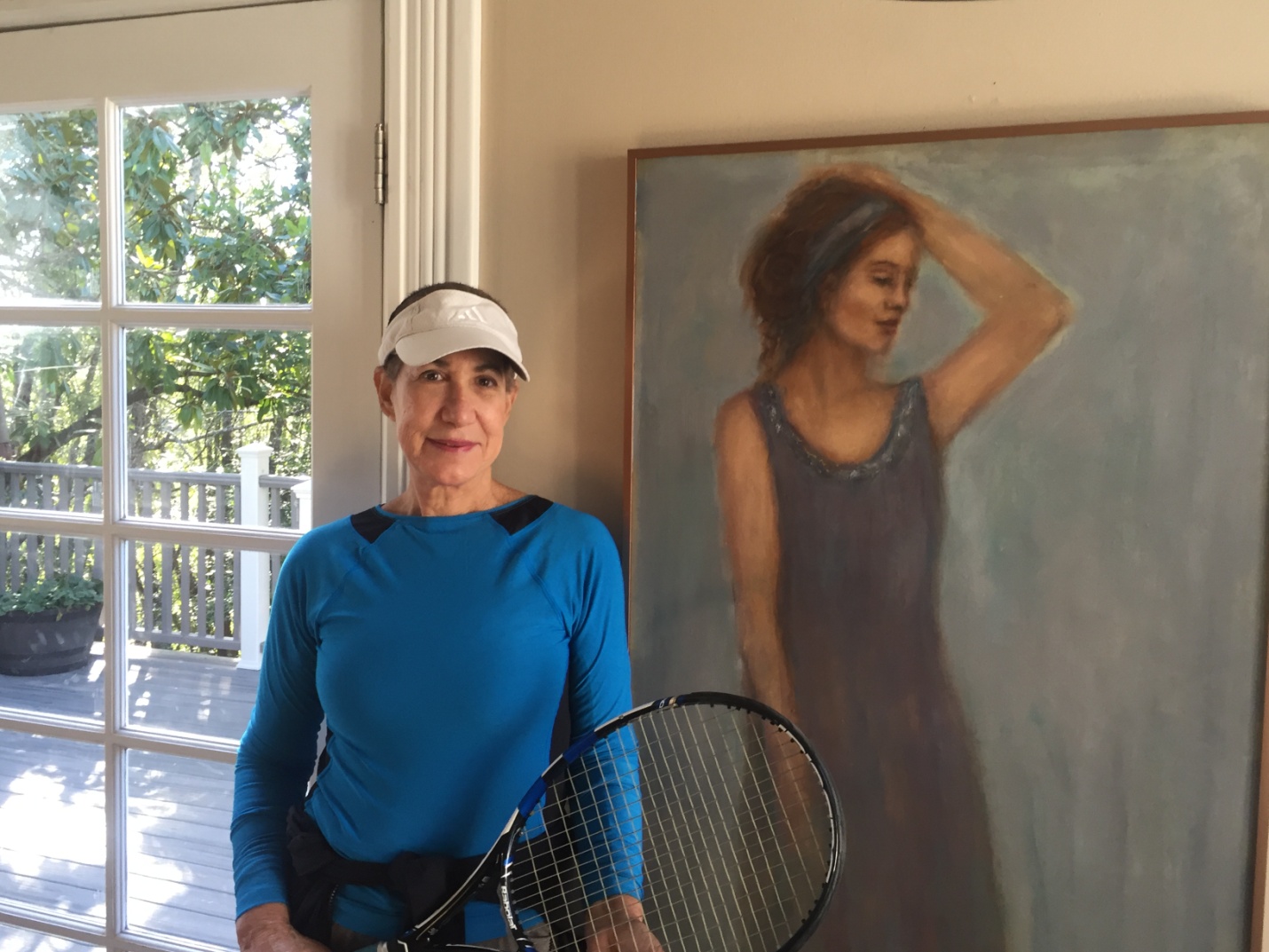 Who's that artist behind the lovely paintings in our club house?
It's non other that our very own club member,
Fran Kaplan!
Fran, whom you might recognize as a regular at our Saturday morning Tennis Drop-In, is an amazing artist. Fran is a self-taught artist who loves experimenting with different media. She creates gorgeous sculptures, beautiful watercolors and remarkable portraits of the human figure. Asked what her favorite piece is, she responds, "Always the one I'm working on now!" Be sure to drop by the club house to see Fran's work for yourself and tell her which one's your favorite!
BNP PARIBAS 2016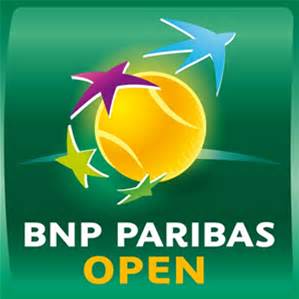 Traveling to the desert to the BNP Paribas Open?
Then save the date:
Monday, March 14 La Madrona members are invited to play tennis at Palm Desert Resort Country Club.
Come join our Tennis Director, Judy Newman, for a rip-roaring clinic and tennis social for all levels. For the special rate of $20, our club members will be treated to a clinic taught by Judy and Palm Desert pros, then mix-and match with Palm Desert CC members according to their level in a fun round-robin format. After the tennis, our members may use the locker room facilities and head to the BNP! Please RSVP with Judy when you make your plans.
Chuck's Annual Drop In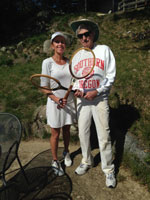 Our Annual Whites & Woodies Day at the Drop-in, in honor of Chuck Jandreau's 92nd birthday, is coming up Saturday, March 19th!
Come dressed in your tennis whites and play a few games with a wooden racquet in honor our beloved club member and former tennis pro/all-around athlete, Chuck Jandreau. Chuck will proudly be on-hand to hit some balls, pose for photos and share remarkable stories of tennis legends and Hollywood stars of the past.
A Day at The Races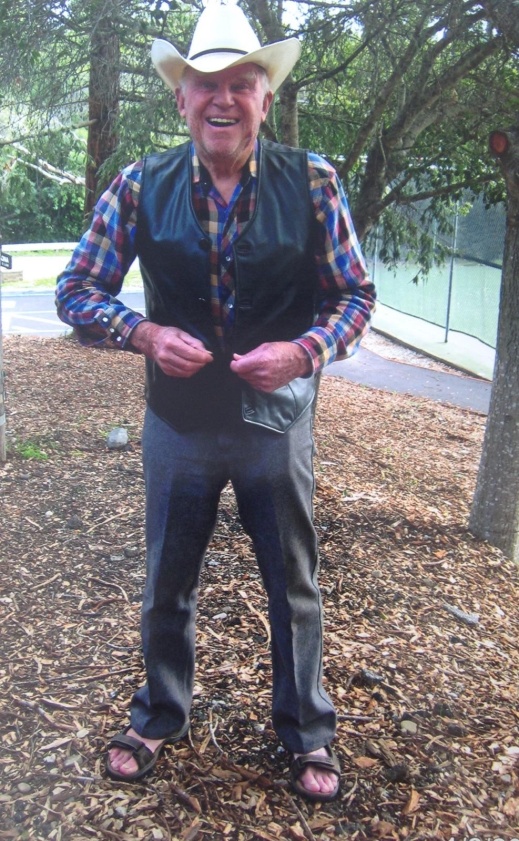 Mark your calendars for Saturday, April 23rd for A Day at the Races! Don't miss this one-of-a-kind opportunity to learn the "insider's scoop" on how to play the ponies as La Madrona members make a day trip to Golden Gate Fields Race Track in Albany. The $65 "La Madrona" ticket includes entry to the exclusive Turf Club, lunch buffet, program, group seating and a special race named after LMAC. Best of all, the event is emceed by our very own club member, John Newman Sr, who's 50-year career at the race track gave him handicapping expertise and entertaining stories from the back stretch which you will thoroughly enjoy and never forget!


Interested in Working at La Madrona
We are always on the lookout for great additions to our La Madrona staff. Please contact us below if you or someone you know would be interested in working at the Club.
Kristina Quinn
General Manager
831-438-1072
[email protected]