Active Adult Social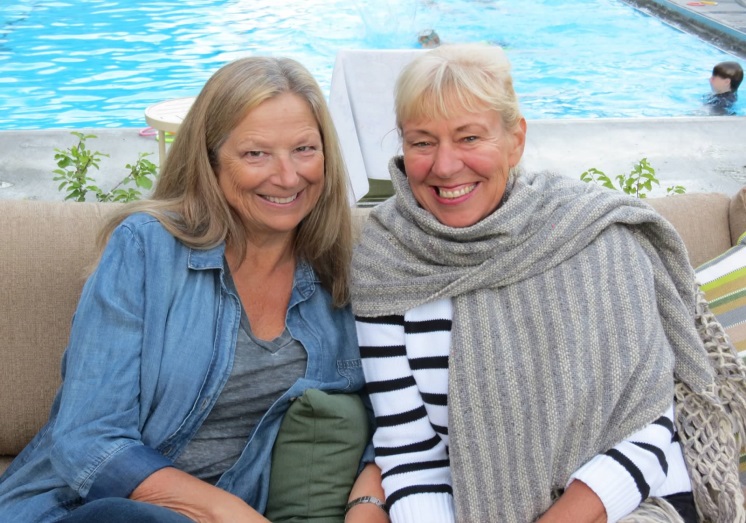 The first Friday of each month we will be offering an enhanced coffee & tea service for our adult members following our new Tai Chi Class at 1:15pm.

Our first social will be February 3rd.
Tai Chi & Active Adult Classes Starting!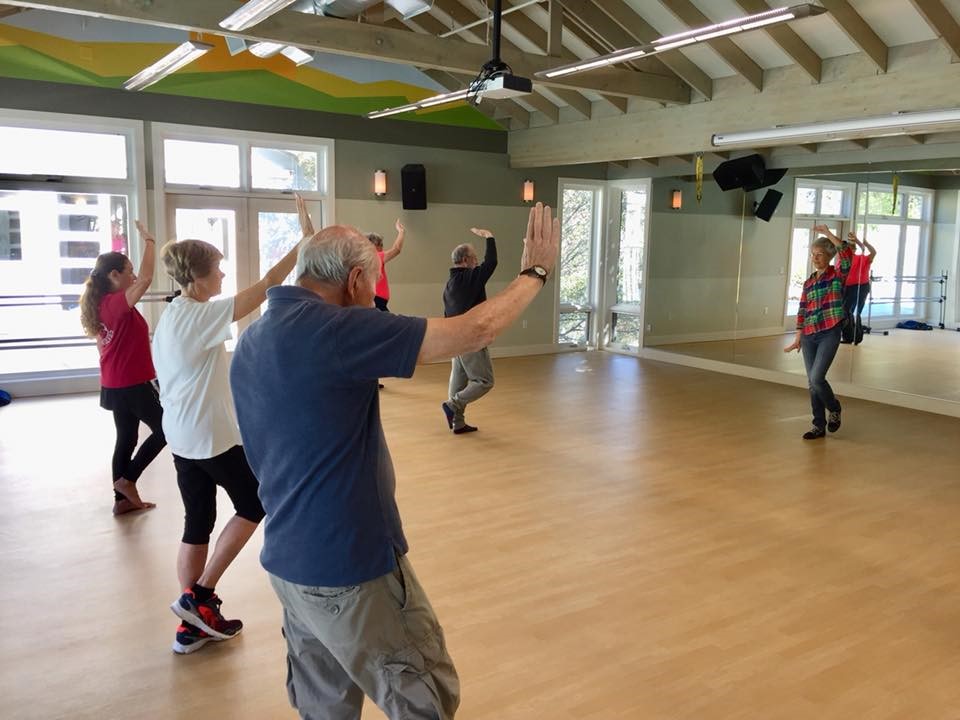 We will be offering Tai Chi & Active Adult Fitness classes on Fridays from 12:15-1:15pm in our Group Fitness room.

Each month the classes will rotate between having three Tai Chi classes and one Active Adult Fitness class. Check the group fitness class schedule for that Fridays class offering.

We are really excited these classes back in motion!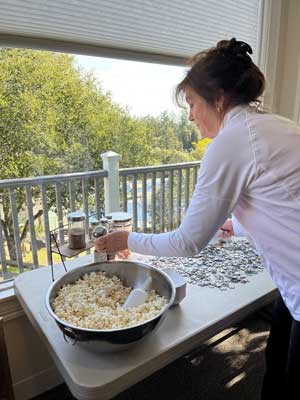 Puzzle Month
February is puzzle month in the Clubhouse. Enjoy some puzzle time and popcorn all month long.
New Kids Class- Preschool Playground Starting Feb 7th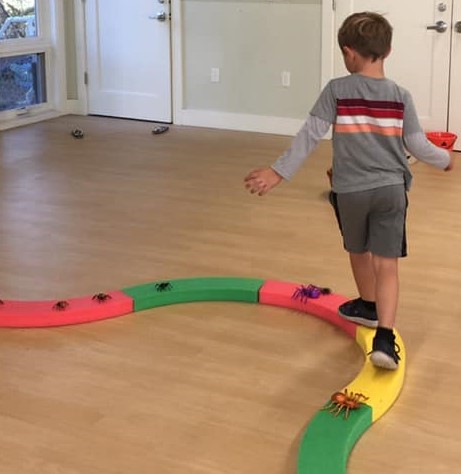 Tuesdays and Thursdays from 4:15-5:30pm for 2-5 year olds

Join the fabulous Jen Osorio as she leads a fun filled drop in movement class for our club preschoolers! This will provide our parents with an opportunity to enjoy the club themselves while their kiddos are having a blast.

All parents must stay on site while kids are attending class. Feel free to drop in anytime during the scheduled class time.
Saturday "The Big Game" Drop in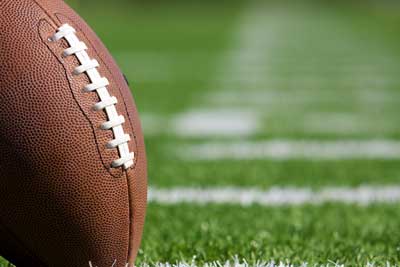 Saturday Feb 11, 2023

Drinks and snacks will be provided after the tennis.
Come out and wear your team's colors.
Yoga for Teens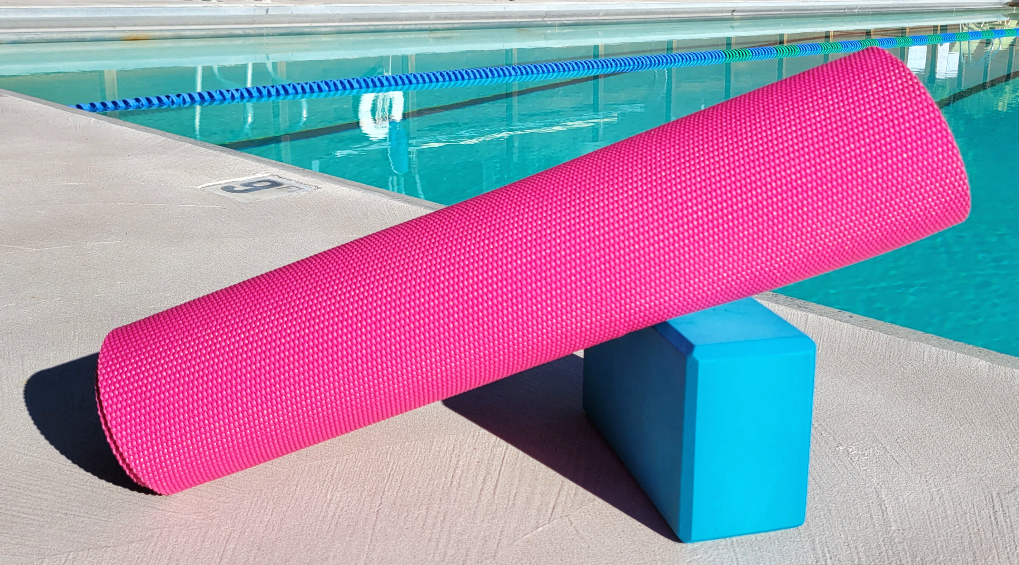 Saturday, Feb. 25th, 10:45am – 11:45am

This one-hour class offers pranayama (breath work), asana (postures) and a short guided meditation for teens dealing with anxiety and stress. Yoga is a potent and effective tool for teen mental health. It helps increase well-being and self-regulation, and helps teens focus and sleep better.

This class is free to members. Taught by Sue Barnes (500hr certified).
Welcome to the Fitness Department
Deb de la Luz & NEW CLASS STARTING 30/30!
Debbie has loved movement as far back as she can remember, as a kid with scabby knees and chlorine drenched hair. She soon progressed to swimming with S.C.A.T. swim team during the school year and running and swimming on the beach with Capitola Jr. Guards in the summers. In junior high and high school came flag football, basketball, volleyball, track, and her favorite: cross country. After working in high tech PR, she returned to her love of movement, teaching spinning, yoga and weight lifting classes. She loves connecting with people, and teaching fuses her love of people and love of movement. Her desire to connect has also gotten her involved with the non-profit Girls Rock leading monthly women's mountain bike rides, and as a former head coach for Girls on the Run. Her love of holistic health led her to get board certified as a Health Coach.

Deb will be teaching a 30/30 class on Mondays from 12pm-1pm starting Feb 6th.
30/30 Cycle Strength
This hour long class combines low impact cycle training and weight training. First 30 minutes - cycling: Improve athletic conditioning and stamina while getting stronger and grooving to fast paced tunes. In the second half, off the bike, the music continues but focus shifts to total body conditioning using both body weight and weight training exercises to maintain muscle strength and endurance.
La Madrona American Red Cross Lifeguard Certification

This class will certify you to work as a lifeguard at most local pools and the certification lasts 2 years. Participants need to be at least 15 years old and have proficient swimming skills.
Thursday - March 2nd Precourse
Friday – Sunday March 10th-12th
For more information or to sign-up, please contact the Aquatics Director at 831-438-1072 ex 104 or [email protected].
La Madrona Great Pacific Swim Challenge, starts February 1st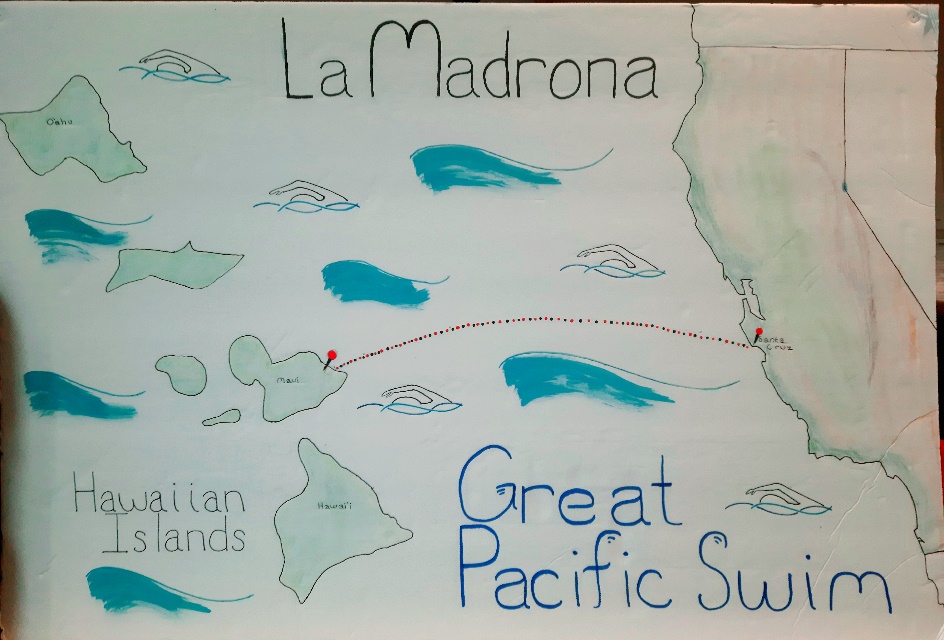 Ever wonder what it would be like to swim the Pacific Ocean from Santa Cruz to the Hawaiian Islands? Could you go the distance to reach those sunny shores?
For the month of February, we invite all of our La Madrona swimmers to challenge yourselves to swim the distance of the Pacific Ocean from Santa Cruz to the Hawaiian Islands in our lap pool.
There will be a log binder placed at the pool house to log your laps.
All those that help us reach the islands will be awarded prizes!
Swim Lessons at La Madrona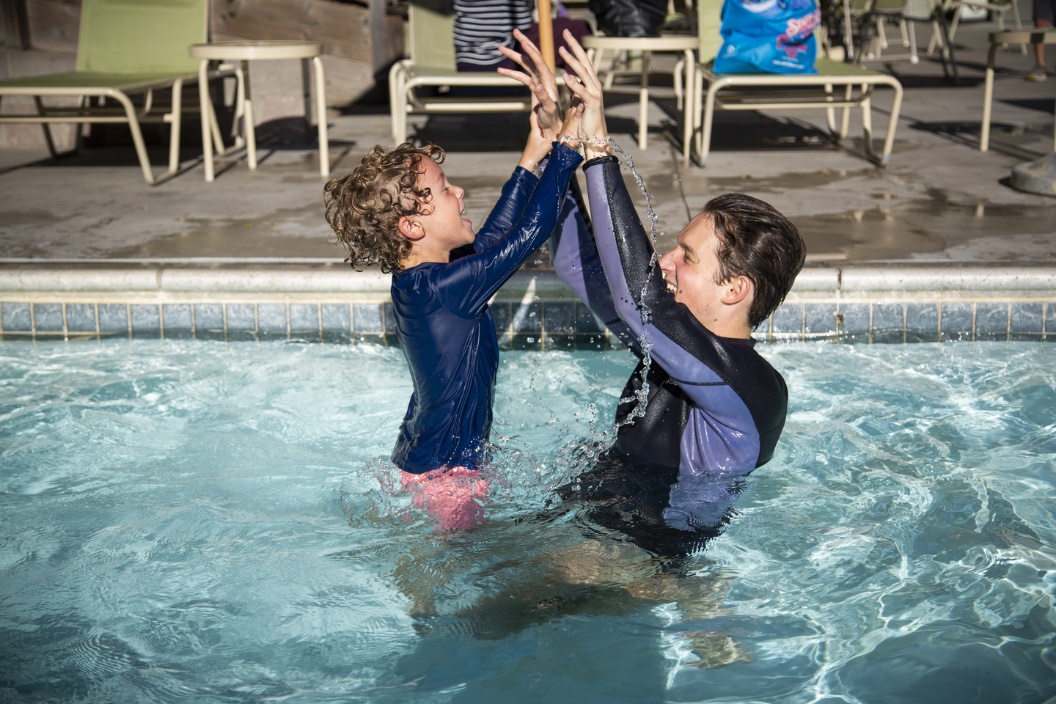 Swim lessons at the club are available year-round with our incredible swim instructors. We show our students how to have fun splashing around in the water and learning how to move like a fish. We offer 1:1 private lessons or 2 students semi-private lessons. Swim lessons start the week of January 2nd.
Late Winter - February 13th-April 2nd (7 weeks)
Spring - April 3rd-May 21st (7 weeks)*
*The registration process for spring swim lessons will be different this year! Club members on February 27th and non-members registration on March 6th
Registration for swim lessons must be made through the Aquatics Office at 831-438-1072 ex 104 or [email protected].
Intro to Swim Team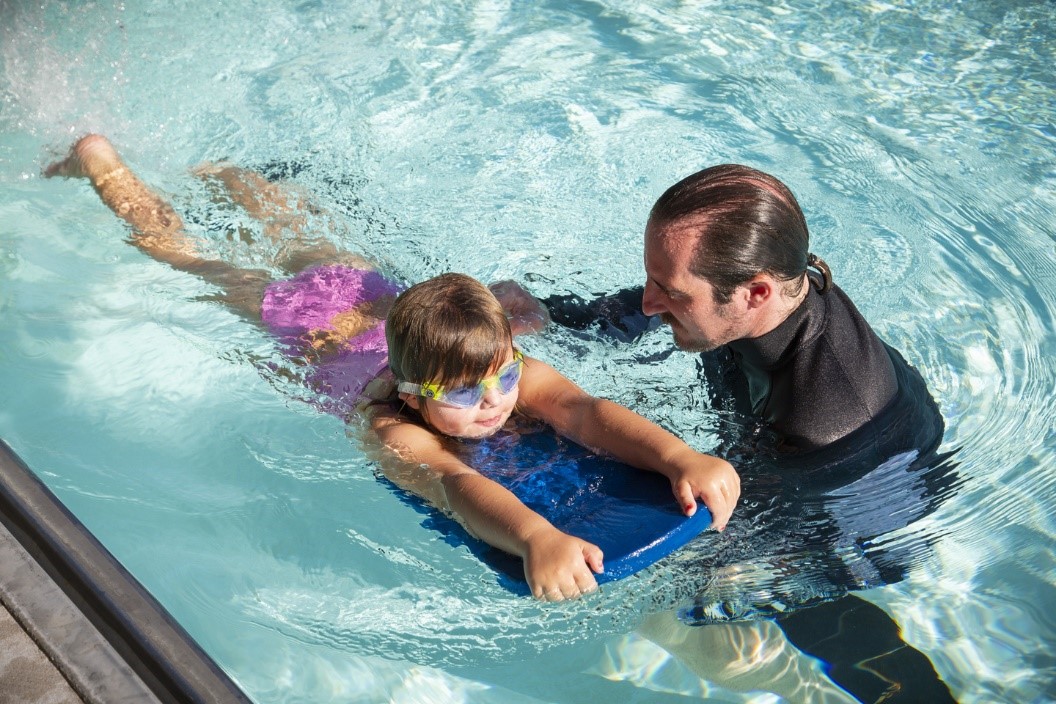 This swim class is to help get your swimmer ready to go from swim lessons to a pre- or competitive swim team. Polish those swimming skills and learn how to make the leap from our rec pool to our lap pool.
This is a small class and spaces are limited. Spaces are Open!!
Late Winter February 15th-March 22nd - 4 spaces still available
Registrations can be through your member account or directly by the Aquatics Direct at 831-438-1072 ex 104 or [email protected].
Swim Team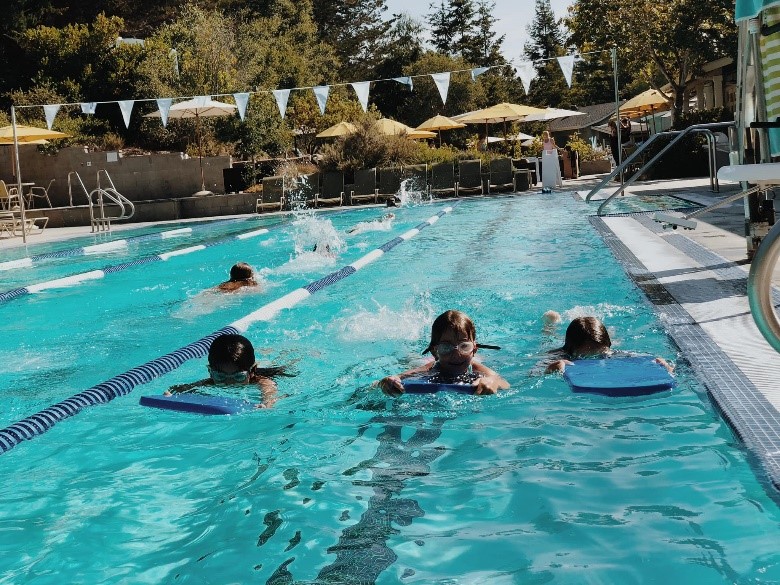 The swim team is a pre-competitive team. The team practices focus on being fun while getting swimmers comfortable being in a lap pool and working with stroke development, technique and endurance. We also expand on swim team knowledge. Ages 5.5-14 years old are welcome. All swimmers must be able to swim one length of the lap pool and be able to float on their back, an assessment may be needed.
Late Winter February 13th-March 23rd (6 weeks) - Spaces Available
Registrations can be through your member account or directly by the Aquatics Director at 831-438-1072 ex 104 or [email protected].
Parent and Me
Come join us and learn how to comfortably introduce your child to being in the water for the first time. The small pool is warm and toasty, and the mid-mornings are crispy and light. Spaces are still available for those who want to enroll for a three week session. Drop-ins are welcome.

Early Winter

Sundays 11a-1130a
February 19th-April 2nd

Please contact the Aquatics office at [email protected] or registrations can be through your member account.
Winter Tennis Clinic Schedule
Sunday
9-10am Beginner Clinic ($15 for members and $20 for nonmembers)
10am -11am Cardio Tennis ($15 for members and $20 for non-members)

Monday
10-11:30am Doubles skills with Jack ($20 for members and $25 for non-members)
Tuesday
10-11:30am Drills and live ball with Sav ($20 for members and $25 for non-members)
Wednesday
10-11:30 am Serious Tennis with Dave ($20 for members and $25 for non-members)
Thursday
10-11:30am Intermediate/ Advanced Technique with Jimmy ($20 for members and $25 for non-members)
Friday
10-11:30am Serious Tennis with Dave ($20 for members and $25 for non-members)
Saturday
9-11am Member Doubles Drop in (free for members only)

Please call 831-438-1072 to sign up for now or go online through your member account. Email [email protected] with any questions or assistance signing up.
Clinics are available to sign up one week in advance at 6am for members and five days in advance for non-members. A minimum of three participants is required for each clinic. Clinic may be canceled if this minimum is not met. You will be charged if you do not show up or if you do not cancel by 6pm the night before. Waitlisters will be notified up to one hour in advance.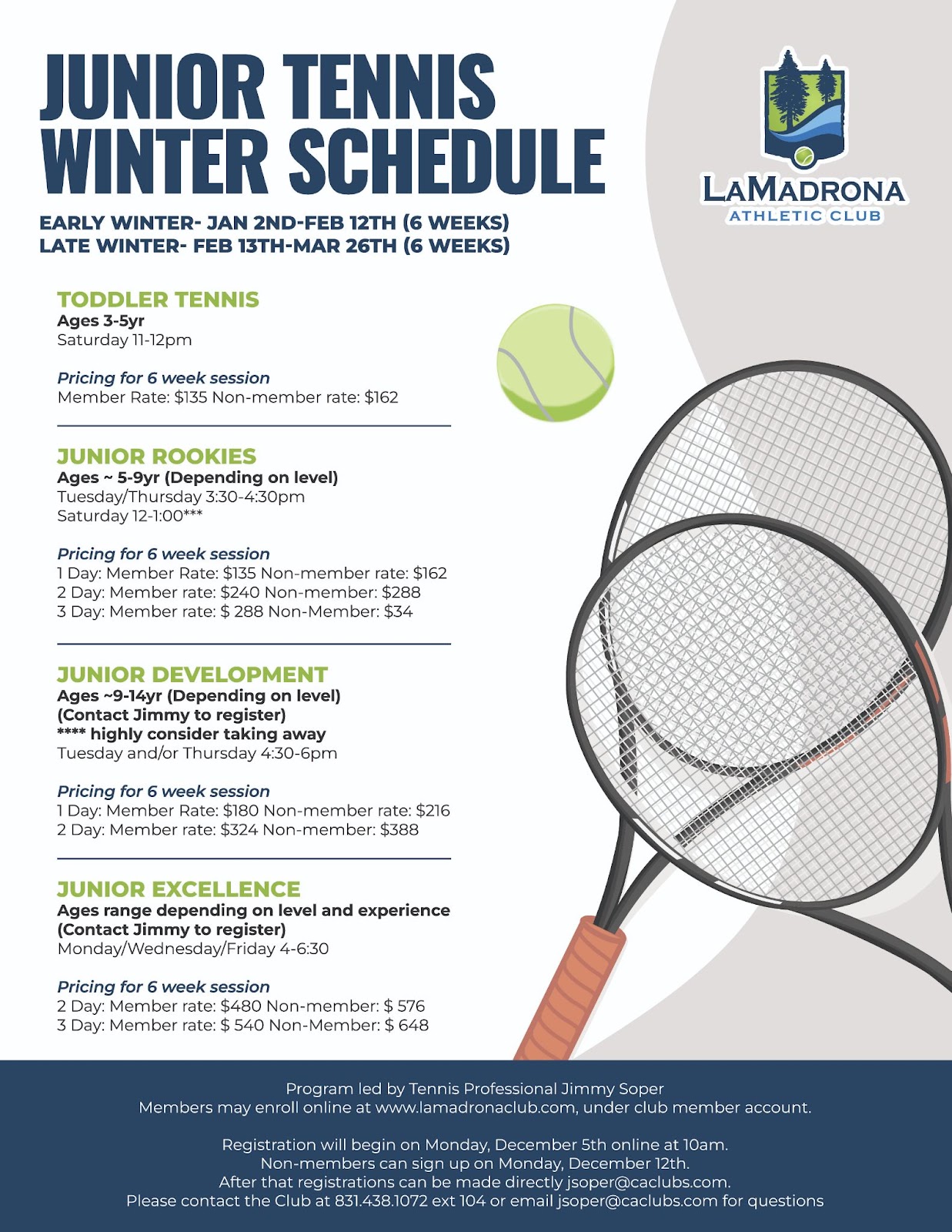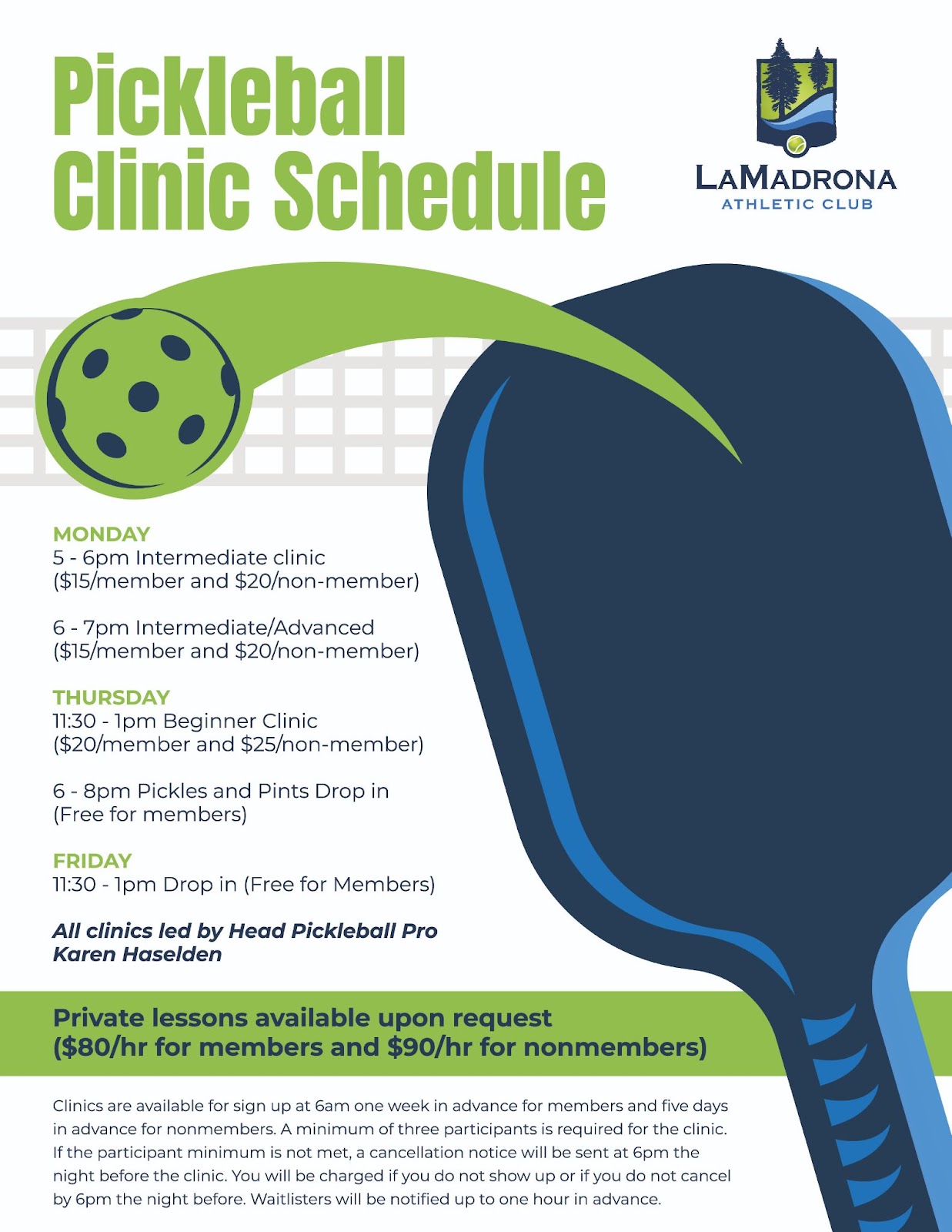 Summer Camps Registration for Members Opening March 13th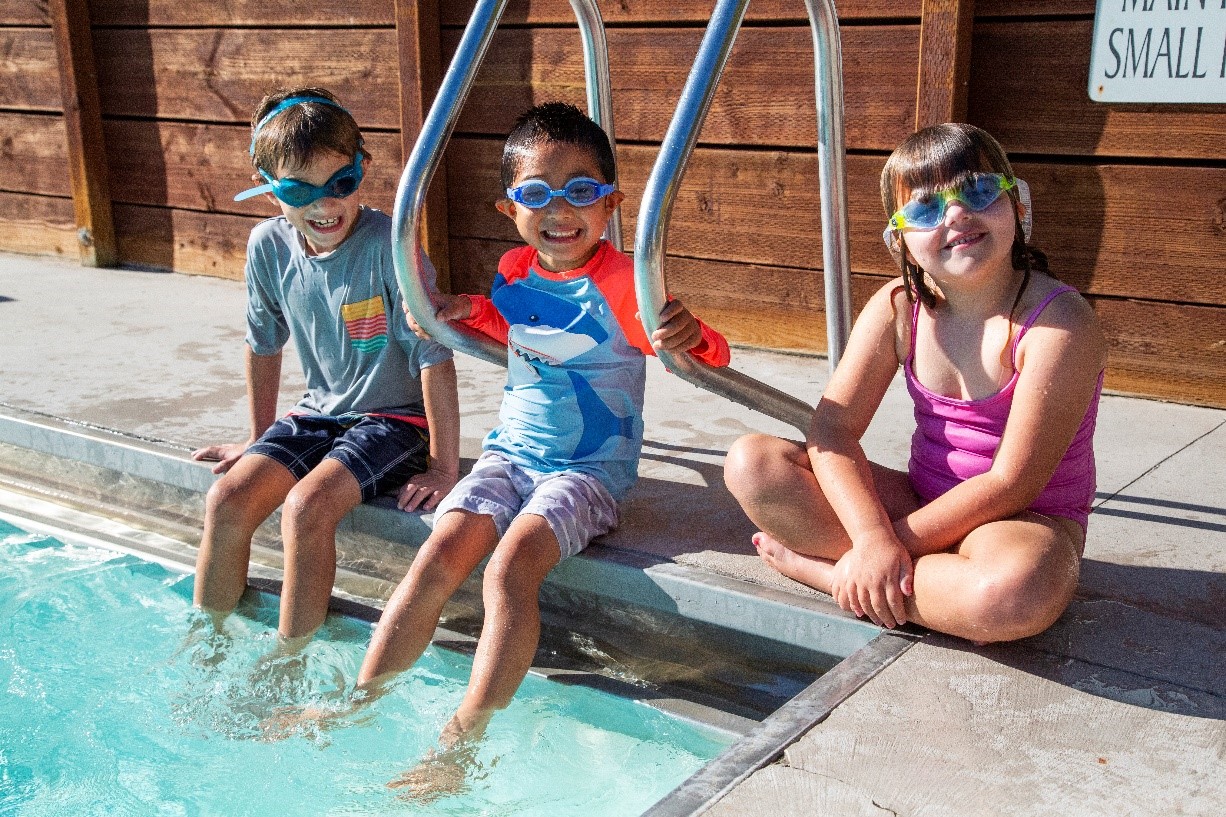 We are excited to offer another summer full of kids programming!

Registration for members will begin on Monday, March 13th.
Non-member registration will be made available on Monday, March 27th at 10am in person at the pool house.
Single Use Disposable Cup Tax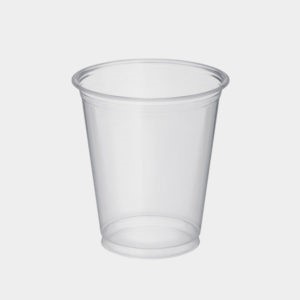 Per the County of Santa Cruz, businesses in unincorporated areas are now required to charge a single use cup tax of $.25. Effective immediately, we will be adding this charge to all items served in disposable cups. This ordinance is a result of the passage of Measure C which aims to encourage the use of clean and reusable beverage containers. The Club is required to pay a portion of the fee to the County as a business tax. Reusable cups are available for purchase at the snack bar.