Letter from the General Manager: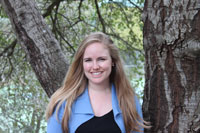 Hello everyone,
We've had some very busy days here at La Madrona in the past weeks, and I just want to reiterate how important it is that everyone remain safe and actively following our pool rules. We would like to continue to ask everyone to be active "water watchers" this summer! Drowning is preventable!
I also wanted to remind everyone that the pool will have brand new furniture coming very soon, expect to see the change in the next few weeks! We also recently completed the first stage of the new tennis landing with brand new chairs and an outdoor couch, just in time for summer! We are looking into the possibility of adding some courtside bathrooms and pavement down the road. We have also got the plans approved for the new building and I expect construction to begin within the next couple of months.
Has everyone noticed the brand new and colorful La Madrona sign on our driveway? This is something we have been working on for quite some time and I am hope you are all pleased with the new look.
Recently, one of our club members has been the victim of a car theft. In response to this, we will soon be installing a parking lot surveillance camera system in order to defer any possible future break-ins. Please make sure your cars are locked and your valuables taken out. Please use our "Day-use" lockers for your personal items. Furthermore, to hopefully lighten the parking situations that sometimes occur during the peak hours of the club, our employees will begin parking off site in order to make more space for all the members.
Take care,
Kristina Mueller
General Manager
831-438-1072
[email protected]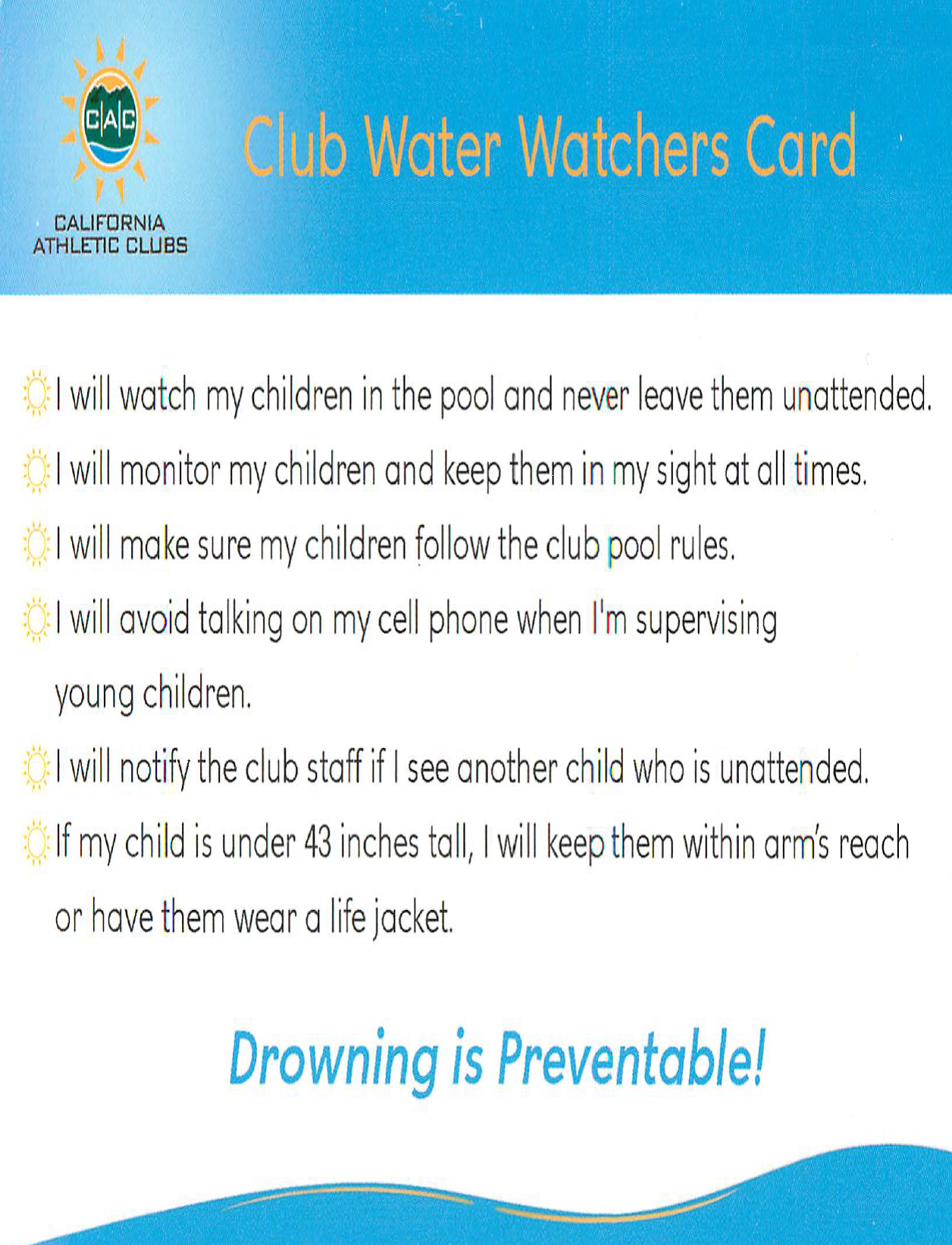 Upcoming Summer Tennis and Summer Camp Programs
Summer is nearly here and so are our new tennis and summer camp programs! We will be having both a Tennis Camp and a Sport Camp this summer. Tennis Camp will be similar to our seasonal tennis programs while Sport Adventure Camp is tennis and more! Come by the clubhouse or print out a sign-up sheet! Both camps start June 16th so sign up soon.
Click here for more information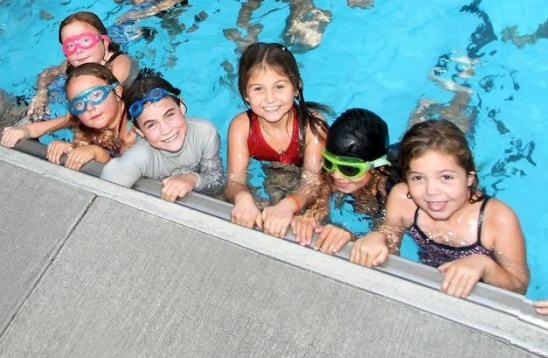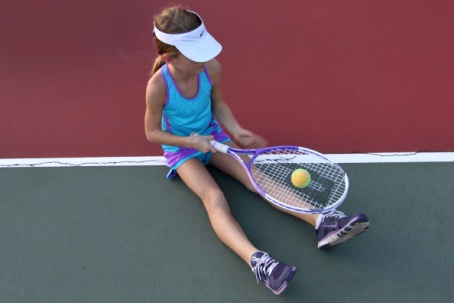 New Group Fitness Classes
Yoga for Tennis
Thursday's at 6:00pm on court 1

It's yoga with a tennis twist, designed for tennis players and non. Tennis and yoga props will be used but no balls will be hit. Yoga for Tennis will enhance flexibility, strength, mental calm & clarity, balance and tennis skills in slow-motion. This enjoyable, one-of-a-kind class will improve your fitness & flexibility and help to prevent injuries.

Beginning June 5th
Instructor: Judy Newman


Zumba Toning
Monday's at 12:00pm on court 1

Zumba Toning combines the aerobic workout of a regular Zumba class with light hand held weights. Routines focus on toning and strengthening different muscle groups while keeping the heart rate up. Salsa, belly dance, cha cha, bollywood…and many other multicultural music and rhythms are used to create fun, muscle toning routines. Participants follow the movements of the instructor modifying according to physical needs and fitness.

Beginning June 2nd
Instructor: Judy Newman

Classes are included in membership
May First Friday Fitness Challenge Winners!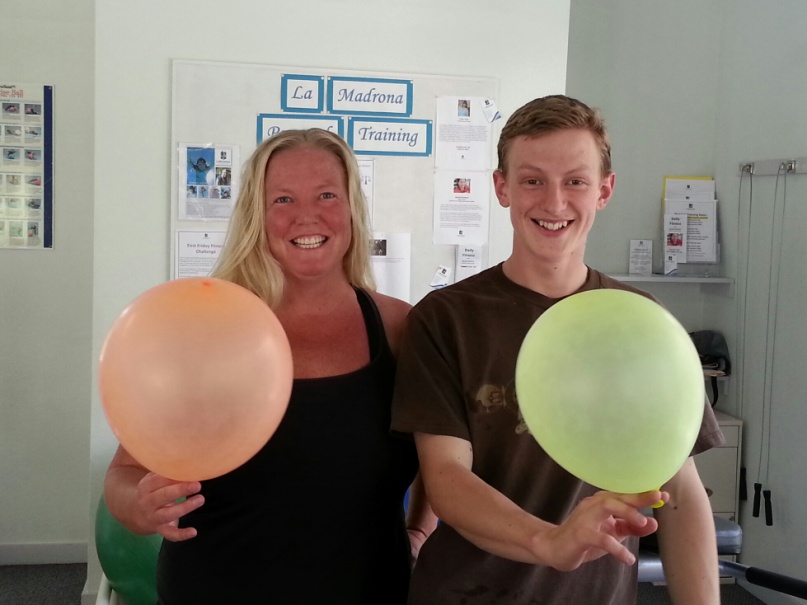 Debbie Sek & Ben Love

Congratulations to member Debbie for her first place win with 47 points! Debbie won 5 smoothies.

Congratulation to our employee Ben Love for his first place win with 21 points!

Great job to our runner up!
Kerry Benoit (40 pts)

Join us on Friday June 6th from 9am-12pm in the fitness room for our next competition!


Couple's Personal Training—Fitter Bodies, Stronger Relationship
Do you and your loved one regularly carve out quality time for each other? Are you both getting enough exercise to feel healthy, fit and energized? If the answers are not a resounding yes, couple's personal training could bring you closer. Sharing a workout is a great way to enjoy some together-time and paves the way to a healthy, active lifestyle.
Accountability and Focus
Your odds of sticking with an exercise program go way up, if your significant other is on board. Whether it's getting up early for a run or lifting weights after work, following through is much easier when your partner is with you. Committing to a couple's personal training program helps establish fitness as a shared priority and gets you working toward a common goal. You'll merge your schedules to meet with a personal trainer, and in between sessions, you'll help each other stay on track.
Dual Purpose
Whether you're both already active or new to exercise, your trainer will develop custom exercise plans tailored to your needs as individuals and as a couple. Planning a vacation that involves a lot of walking or hiking? Expecting a baby? Training for a fun run? Remodeling your home? Your trainer will take into account whatever is going on in your lives to create a realistic and sustainable plan to help you reach your goals.
Social Support Matters
The value of social support can't be overstated. Numerous studies show it's a big factor in successful behavior change. It stands to reason that the person you share your life with has a huge influence on your lifestyle, for better or for worse, and research supports this. Weight loss studies show that when subjects participate in lifestyle interventions, their spouses also lose significant amounts of weight.
Couple's personal training taps into the power of social support by enabling you to support each other's fitness efforts in a very focused way. Because you're in the gym sweating it out together, you'll gain new insight into each other's strengths and weaknesses and learn how to offer support.
Enrich Your Relationship
Couple's personal training will boost more than your fitness level. You'll have something new to talk about, laugh about and be proud of—together. Research shows that devoted couples who share new and interesting experiences report higher levels of relationship satisfaction than those who don't. And here's the bonus: As you become more fit, you'll be able to enjoy adventures that you wouldn't dream of participating in when you were sedentary.
Romance + Fitness
Over the long haul, combining romance and fitness can really lift your relationships to new healthy heights. Share an activity and strengthen your bodies while boosting your love life. Couple's personal training really connects you with your loved one, improves your body image, your mood and your love life.
Reprinted from the American Council on Exercise
To learn more about couple or partner training, contact Nicole Hurford or Tracy Yost in our fitness department for more information.


Partner Training Menu
Decrease the cost and increase the fun by training with a buddy!

One- 60 minute session $42 each
Five- 60 minute sessions $195 each
Ten- 60 minute sessions $360 each
(all packages may be split into 30 minute sessions)

Choose from any of the session options below:


Fusion Fitness:
Reshape your body and your perception of fitness. Targeting a variety of fitness components (muscular strength, balance, stability, core strength, agility, and endurance), this class will combine moves from disciplines like yoga, pilates, boot camp, ballet, cardio, boxing, cycling, swimming and more, into one amazing workout!
Tennis Fitness:
Tennis Fitness is designed to enhance a tennis player's performance on the court. Adults participating in this program will improve their flexibility, strengthen and tone core muscles, develop explosive power, enhance their agility and quickness, and reduce the risk of injuries. This class includes tennis- specific training, total body and core strengthening, agility drills and cardiovascular training.
Bosu Basics:
BOSU is an acronym for Both Sides Up. It looks like a stability ball that has been sliced in half and attached to a solid platform. We'll use BOTH sides of the BOSU to add an element of instability to ordinary exercises like push-ups, squats, and lunges. You'll get a total body workout- strength and cardio with an extra serving of balance to give you a seriously strong core.
Total TRX:
TRX Suspension Training is a new approach to exercise that leverages one's own body weight and the force of gravity and is designed to develop strength, balance, flexibility, endurance, coordination and core stability all simultaneously. The system utilizes a system of straps, buckles and grips (called a "suspension trainer") that allows the user to work against their own body weight. TRX training engages the core on every exercise in addition to providing some cardio fitness in every single workout.
Partner Choice:
You and your partner will work in conjunction with your trainer to design a program specific to your needs and goals.

Contact our personal training staff to schedule an appointment.
Junior Tennis Updates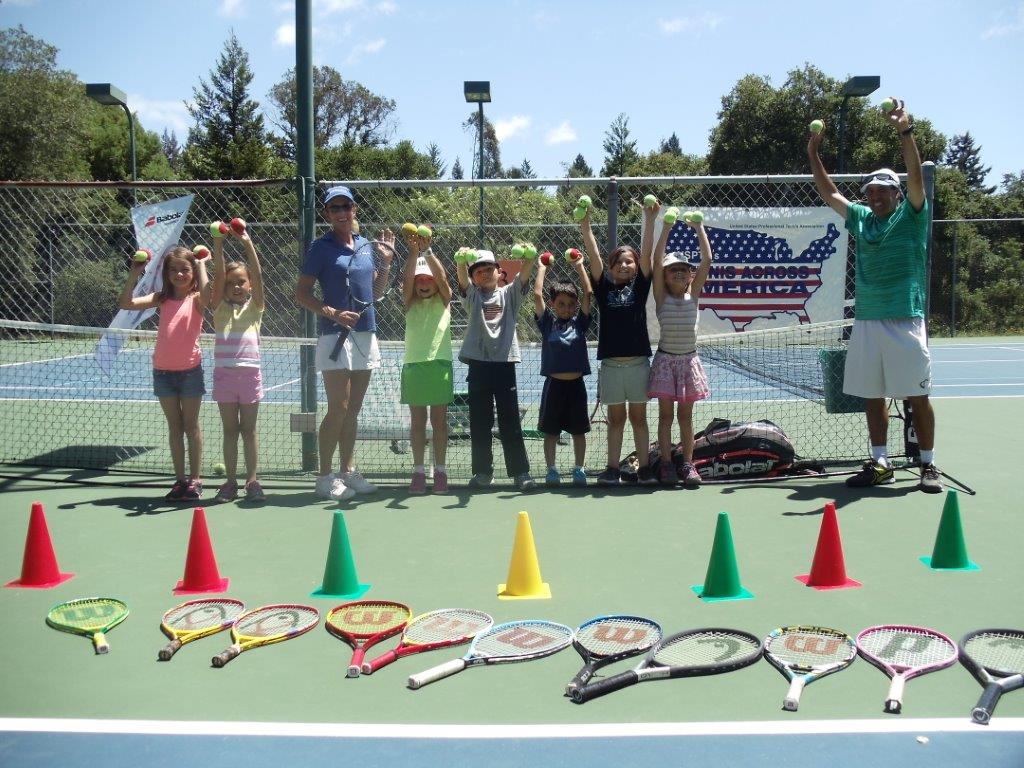 Beginning on June 16th. Make sure and reserve your spot early. Reservations can be made at the Clubhouse.

Congratulations to Daniel Rinkert, who recently played in the Stockton Junior Co-ed Round Robin. Daniel was undefeated in singles play, winning all three of his matches. Daniel also was undefeated in doubles. Additional congratulations to Daniel for being named Cougar of the Week in the Press Banner, and for making it to the tennis finals of the Santa Cruz Coast Athletic League tournament. Great job!

We had a great turnout of junior players during the Member Appreciation Weekend. We had two courts, utilizing special balls.


Lane's Letter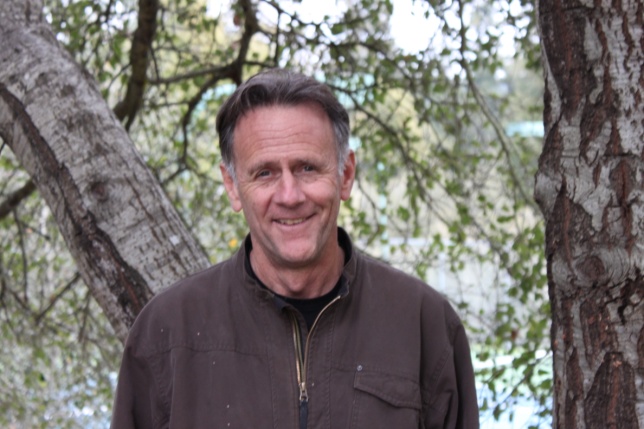 Most of you have noticed that a majority of landscaping here is native plantings. Why natives? I was lucky enough to have been raised in a pretty unspoiled forest. I was also lucky to have played a lot of golf courses in Scotland. The grasses and bushes there were also mostly indigenous and I was deeply moved and inspired by the naturalness of it.

Here at La Madrona I was free to bring that inspiration forward into our landscape choices. Nature serves as a reminder to me of the deep and often forgotten connection we humans have to the plant and animal world we live in and rely on for our needs. I think it has lessons for us--about things we too often ignore.

Take, for example, a golfer wanting to improve their game. They sign up for a lesson and are hopeful for a result, but almost always are taught things like "work on building a repeating swing", or "work on your footwork or keep your eye on the ball", etc. Even though gravity and our basic human sense of it have enabled us to learn walking, tree climbing, throwing, dodging, etc with no lessons and no manual on the mechanics of such activities and, funny enough, a "repeating swing"? When we'll never ever hit the same shot twice.....why do we abandon a basic human ability to adjust in relation to gravity in favor of having another human being tell us we have to take it back low and slow, keep our head stationary, transfer our weight, and release the club head? Being around nature helps us to let go and trust ourselves.

Lane Bennett
Maintenance Director


Calcutta
We are holding our annual Calcutta tennis event this month and you won't want to miss it! Adult tennis players rated 3.5 and above are invited to play, mix, and gamble, team-tennis style.

Saturday's team tennis will begin at 2:00 PM with round-robin match play in men's doubles, mixed doubles, and women's doubles. Cash pay-outs and a delicious western-themed barbeque top off the afternoon.
$20 per player includes your wager, player's gift, and bbq meal & drinks
Be sure to sign up in the club house soon--space is limited!
Teenage Tennis Players:
La Madrona is fielding two junior USTA summer league 18-under teams: one co-ed and one teen girls.These teams are designed for advanced/varsity-level high school players. Matches are on Weds & Thurs, while practices are Monday and Tuesday afternoons starting in mid-June. Please contact Judy for more information!


USTA Mixed Doubles League
USTA Mixed Doubles League is just around the corner and we want YOU to sign up on a team! The season starts and June 23 and runs through September 14. La Madrona has teams registered in the following divisions: Combined 6.0 age 40+, combined 7.0 age 18+ and age 40+, and combined 8.0 age 18+ and 2 teams at age 40+. Be sure to contact our Tennis Director, Judy if not the team captain directly to get on a team!


Aquatics Updates
SPRING SWIM MEET:
A reminder that the main pool, baby pool and family hot tub will be closed from 9:00 am to 12:00 pm on Saturday, June 7th, to accommodate our swim team for their spring swim meet. The fitness room, locker rooms, adult hot tub and sauna will be open, so please stop by to cheer our on our swim team!

SUMMER LIFEGUARD SCHEDULE AND LAP SWIM TIMES:
The summer pool season will begin on Monday, June 16th and end on Friday, August 22nd. We will have lifeguard hours from 1:00 pm to 6:00 pm everyday. The lifeguards will take a 15-minute break at 3:00 pm and all children under 14 will need to exit the main pool for our 30-minute afternoon lap swim. This is a great time to grab a snack at the pool house or take a potty break. Coloring books and dry-land games will be provided during this break to keep your little ones engaged in fun activities. There will be another lap swim at 6:00 pm to accommodate our adult swimmers who are getting off of work. All children under 18 will be asked to exit the main pool for our 30-minute evening lap swim. Please remember, children under 14 must be under direct supervision by an adult parent or guardian even when a lifeguard is on duty.

SUMMER SWIM CAMP:
The La Madrona swim team will be replaced by a swim camp for the summer season. The La Madrona Summer Swim Camp will be a place for swimmers to hone their skills in a stress free, non competitive environment. This ten week program will offer a different focus each week for swimmers to gain better skills in all aspects of the sport. Participants must be able to swim four laps (80 yards) of freestyle with side breathing, two laps (40 yards) of backstroke and one lap (20 yards) each of breaststroke and butterfly. Ages 6 to 18 welcome. Sign up for the whole season or just the weeks you want to work on (sorry, no daily enrollment for the swim camp).

The camp will operate from 12:00 to 1:00 pm, Monday through Friday, for ten weeks with the following schedule:
Week 1: June 16th - June 20th: Freestyle
Week 2: June 23rd - June 27th: Endurance Secrets of efficient swimming
Week 3: June 30th - July 3rd (*no camp on Friday, July 4th): Backstroke
Week 4: July 7th - July 11th: Dives & Turns
Week 5: July 14th - July 18th: Breaststroke
Week 6: July 21st - July 25th: Butterfly
Week 7: July 28th - August 1st: Individual Medley (IM)
Week 8: August 4th - August 8th: Speed
Week 9: August 11th - August 15th: Goggle Camp Boot Camp for swimmers
Week10: August 18th - August 22nd: Games Fun and team building exercises

Member prices are $390.00 for the whole season (that's 20% off the weekly rate!) or $50 per week. Receive a 10% discount for enrolling in two to nine weeks. NOTE: *Week three will be prorated to $40 to reflect the 4th of July holiday.

There is still space on all weeks. Contact Coach Jen at [email protected] to enroll. Click here for Summer Swim Camp Flyer

SUMMER WATER AEROBICS:
Our popular water aerobics class will be held five days a week this summer. Monday, Wednesday and Friday the class will be from 8:30 am to 9:15 am. Tuesdays and Thursdays we will have class from 11:15 am to 12:00 pm. The class will be held on the recreation side of the pool for these 45-minute classes. The lap lanes will be open for lap swimmers at these times. Click here for Water Aerobics Flyer

SUMMER SWIM LESSONS:
Keep the spirit of summer alive by enrolling in swim lessons. There are 48 to 52 lesson times available each week, but if you don't see a time that will work with your schedule, please let us know. Jen is the scheduler for all swim lessons, so whether you are booking lessons with her or Greg, contact Jen at [email protected] to reserve your lesson times. Click here for Swim Lesson Flyer


Pool Party Guidelines
Summer is a fun and popular time for a pool party! Please keep in mind the following guidelines.
A party is defined as having 8 or more non-members, whether children or adults, and requires a lifeguard.
All Club pool rules are required to be adhered to by all in attendance.
Required adult chaperone to child ratios:
Six years of age and over: 4 children- 1 adult
Five years of age and under: 2 children-1 adult
Valid guest waivers must be completed by all non-members.
Lifeguard fee will be charged at the time of booking the party. Guest fees will be collected on the date of party. 24 hour notice to Club is required to be refunded the lifeguard fee.
Always remember, valid guest waivers must be completed by all non-members and anyone under 18 years must have a waiver signed by their parent or legal guardian.
Guest waivers can be printed from our website.
Party Package Includes:
Lifeguard (3 hours)
1-3 Reserved Picnic Tables
Fees: Guest Fees & $60 per lifeguard
Please contact Diana, our Membership Services Director today to book your next gathering.