Upcoming Summer Tennis and Summer Camp Programs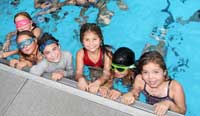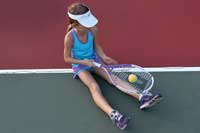 Summer is nearly here and so are our new tennis and summer camp programs! We will be having both a Tennis Camp and a Sport Camp this summer. Tennis Camp will be similar to our seasonal tennis programs while Sport Adventure Camp is tennis and more! Come by the clubhouse or print out a sign-up sheet! Both camps start June 15th so sign up soon.
Click here for more information
Construction Updates
Pool Construction
La Madrona Athletic Club is getting a new lap pool! The pool permit was approved and the construction company has been working very hard ever since to build a beautiful state of the art 25 yard lap pool.

Childcare & Clubhouse Construction
Childcare services will soon be offered in the Clubhouse. Plans are currently being worked on to have Kristina's office become the new childcare room with an added outdoor deck play area as well as a new bathroom in the tennis office. The new proposed office space will be near the clubhouse kitchen.
The entrance to the Clubhouse is changing! We will have a fully accessible entrance into the Clubhouse by way of a new deck that will connect the parking area to the new clubhouse entrance. Our front desk arrangement will be changing to service all members and guests who will now enter the clubhouse and tennis area through the building.
Driveway
Handicap parking spaces are currently under construction near the entrance sign. This will be a wonderful new addition to make our tennis courts fully accessible to all for play.
Thank you to all members for your patience with the many construction projects that have been occurring at La Madrona. We can't wait till all is finished and to have a new and improved club experience for you. If you have any questions or concerns
about the construction, please contact General Manager- Kristina Mueller at
[email protected]
or 831-438-1072.
La Madrona Martial Arts Program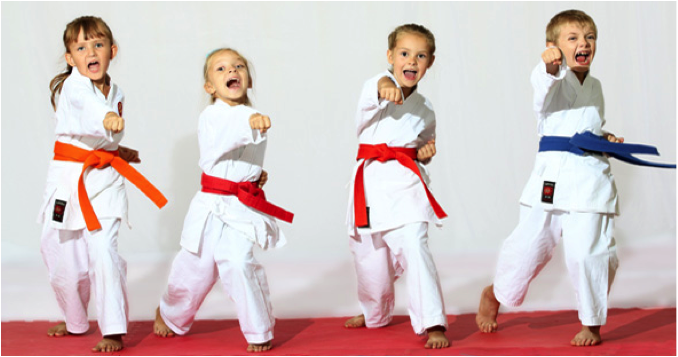 Kids Kenpo Fitness begins Monday June 22nd, with instructor Tyler Chard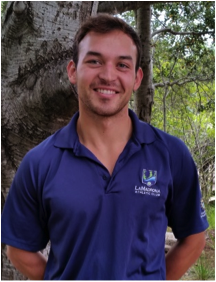 In this 6 week program your kids will learn self-discipline, respect, self-defense, and get a total body workout that will include strength and flexibility through the martial art of Kenpo. The system of Kenpo is made up of three styles: Chinese boxing, Jiu- Jitsu, and Hung Gar kung fu. This new program will benefit your kids to be well balanced and confident in life, as well as having fun in a safe environment.
Ages 5-7 meets Monday, Wednesday and Friday from 3:00pm-3:30pm
$145 member/$174 non-member
Ages 8-12 meets Monday, Wednesday and Friday from 3:30pm-4:30pm
$175 member/$210 non-member
(10% discount for additional family members)
Register today in the clubhouse
Registration ends June 19th
SUMMER LIFEGUARD SCHEDULE AND LAP SWIM TIMES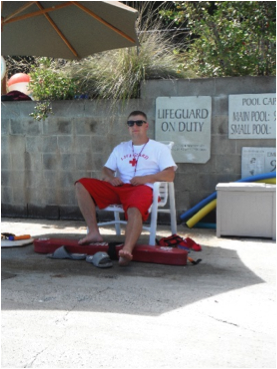 The summer pool season will begin on Monday, June 15th and end on Friday, August 21st. Our tentative lifeguard hours are from 12:00 pm to 6:00 pm everyday. The lifeguards will take a 15-minute break at 3:00 pm and all children under 14 will need to exit the main pool for our 30-minute afternoon lap swim. This is a great time to grab a snack at the pool house and take a potty break. Coloring books and dry-land games will be provided during this break to keep your little ones engaged in fun activities. There will be another lap swim at 6:00 pm to accommodate our adult swimmers who are getting off of work. All children under 18 will be asked to exit the main pool for our 30-minute evening lap swim. Please remember, children under 14 must be under direct supervision by an adult parent or guardian even when a lifeguard is on duty.
Summer Swim Programs
SUMMER SWIM CAMP: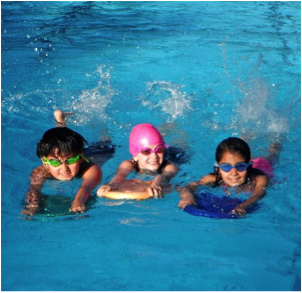 The La Madrona swim team will be replaced by a swim camp for the summer season. The La Madrona Summer Swim Camp will be a place for swimmers to hone their skills in a stress free, non competitive environment. This ten week program will offer a different focus each week for swimmers to gain better skills in all aspects of the sport. Participants must be able to swim four laps (80 yards) of freestyle with side breathing, two laps (40 yards) of backstroke and one lap (20 yards) each of breaststroke and butterfly. Ages 6 to 18 welcome. Sign up for the whole season or just the weeks you want to work on (sorry, no daily enrollment for the swim camp).
The camp will operate from 12:00 to 1:00 pm, Monday through Friday, for ten weeks with the following schedule:
Week 1: June 15th - June 19th: Freestyle
Week 2: June 22nd - June 26th: Endurance
Secrets of efficient swimming
Week 3: June 29th - July 2nd (*no camp on Friday, July 3rd): Backstroke
Week 4: July 6th - July 10th: Dives & Turns
Week 5: July 13th - July 17th: Breaststroke
Week 6: July 20th - July 24th: Butterfly
Week 7: July 27th - July 31st: Individual Medley (IM)
Week 8: August 3rd - August 7th: Speed
Week 9: August 10th - August 14th: Goggle Camp
Boot Camp for swimmers
Week10: August 17th - August 21st: Games
Fun games and team building exercises
Member prices are $390.00 for the whole season (that's 20% off the weekly rate!) or $50 per week. Receive a 10% discount for enrolling in two to nine weeks. NOTE: *Week three will be prorated to $40 to reflect the 4th of July holiday.
There is still space on all weeks. Contact Coach Jen at [email protected] to enroll.
SUMMER SWIM FIT: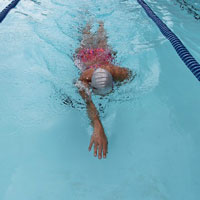 If you've been looking for coached swim practices and want to learn how to be a better, more efficient swimmer, the Swim Fit class is for you. Get fit, make friends and learn how to create your own swim sets! These 30-minute workouts will be held in the lap lane side of the main pool with Coach Jen on Monday, Wednesday and Friday from 8:00 am to 8:30 am. The recreation side of the pool will be open to other swimmers and pool goers during the Swim Fit class.
SUMMER AQUA FIT: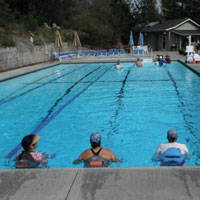 AQUA FIT FLYER
Our popular aquatics class will be held three days a week this summer. Monday, Wednesday and Friday the class will be from 8:30 am to 9:15 am. The class will be held on the recreation side of the pool for these 45-minute classes. The lap lanes will be open for lap swimmers at these times.
SUMMER SWIM LESSONS:
SWIM LESSON FLYER
Keep the spirit of summer alive by enrolling in swim lessons. There are 48 to 52 lesson times available each week, but if you don't see a time that will work with your schedule, please let us know. Jen is the scheduler for all swim lessons, so whether you are booking lessons with her or Greg, contact Jen at [email protected] to reserve your lesson times.
Summer Swim Lesson Schedule:
Monday through Friday mornings with Jen.
Monday through Friday afternoons with Olivia.
Tuesday and Thursday evenings with Jen.
Saturday mornings with Olivia.
Sunday mornings with Greg.
May First Friday Fitness Challenge Winners!

Monica Terazzas &
Christy Buckholdt
Congratulations to Monica and Christy for their first place tie!
Indoor Cycling and it's Benefits

Jessica Goodwin
NASM Certified Personal Trainer
Women's Fitness Specialist
Corrective Exercise
[email protected]
(831) 227-6019
Getting outside for a nice long bike ride always sounds nice, however we don't always have the time. Sometimes the thought of sitting in a room for 45-60 minutes on a stationary bike sounds dreadful. However, think again. Spinning at higher intensities for a shorter amount of time than it would take outdoors can not only benefit your cycling abilities but also be a killer workout. Here are a few reasons to try and stick with a spin/cycle class:
Motivation is endless: with a good instructor and variety of movement and amazing music you are sure to give a 100% the whole class. There is never a dull moment.
You go at your own speed but tend to push yourself harder: Each class is open to all levels and you are in control of your resistance and speed. Instructors are there to guide you into an amazing interval workout to get your heart rate up in less time without getting you too fatigued.
It's excellent for your legs and your core: Each ride helps define your lower body but it is also a great core workout. Having good posture on a bike takes a lot of core control.
You'll feel like a part of a team: Each class comes together to sweat together, climb hills, sprint and run through interval drills with the excitement of a team environment. The energy from your peers in a class is sure to keep your energy levels up.
You'll feel amazing afterwards and excited for your next class!!
Spinning/cycling is an excellent complement to any workout routine. It is healthy and injury free, and will help advance your fitness.
Come try our free group cycling classes! No sign up necessary.
Monday 7am
Tuesday 10:30am and 6:30pm
Thursday 10:30am and 6:30pm
Friday 7am
Saturday 8am
Group Fitness Survey
We are five weeks into our Group Exercise Classes and would love to hear your thoughts. Please take a moment to fill out our survey so that we can make sure your fitness needs are being met.
Click here to take survey
Look for new group fitness classes coming in the month of June!
Tennis Updates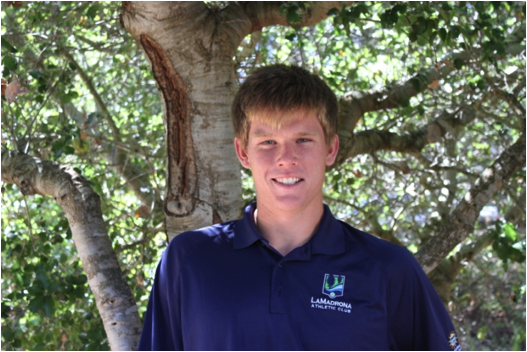 Introducing...our new
Assistant Tennis Pro, Dustin Kessler
! Dustin comes to us after graduating from Cabrillo College, where he played intercollegiate tennis. Dustin is rated a 5.0 player, and loves working with kids and adults. He joins our tennis program as the tallest member on staff (6'5") and will be offering private "hitting" lessons to members at the rate of just $40/hr. Please welcome Dustin to our La Madrona community!
La Ma USTA Team Victories!!
Congrats to our Adult 18-over 3.0 men, 4.5+ men and 7.0 mixed 40+ doubles teams who won their local league play-offs and went on to sectionals!! The 3.0 men, captained by Rob Corrigan and the 4.5+ team, captained by Phil Mindigo were unfortunately not able to field teams for sectionals. However, the mighty 7.0 mixed, captained by Terry Gale, is on their way to Elk Grove next weekend. We wish them the best of luck as they do us proud!!
John Newman Memorial Tournament Recap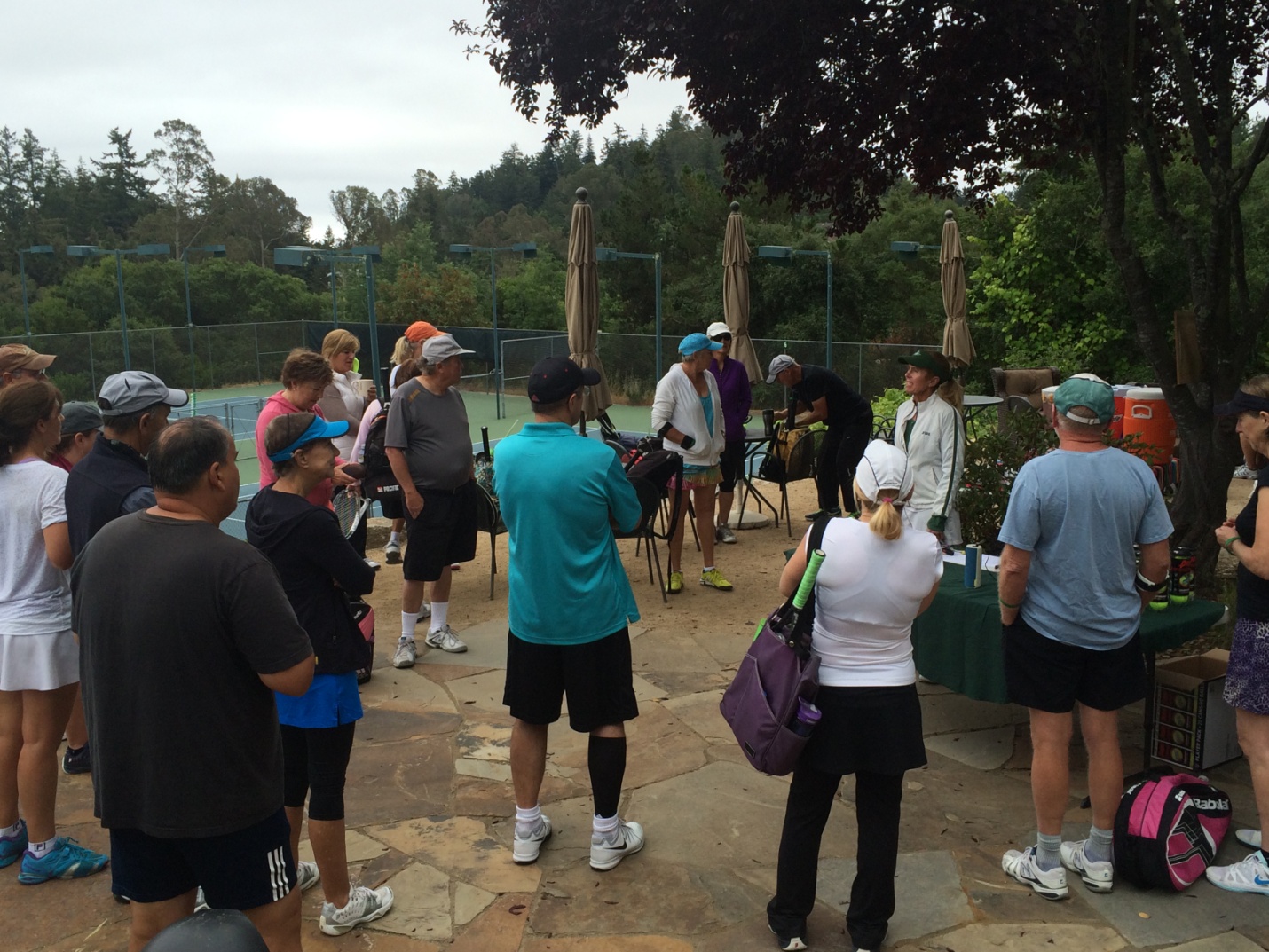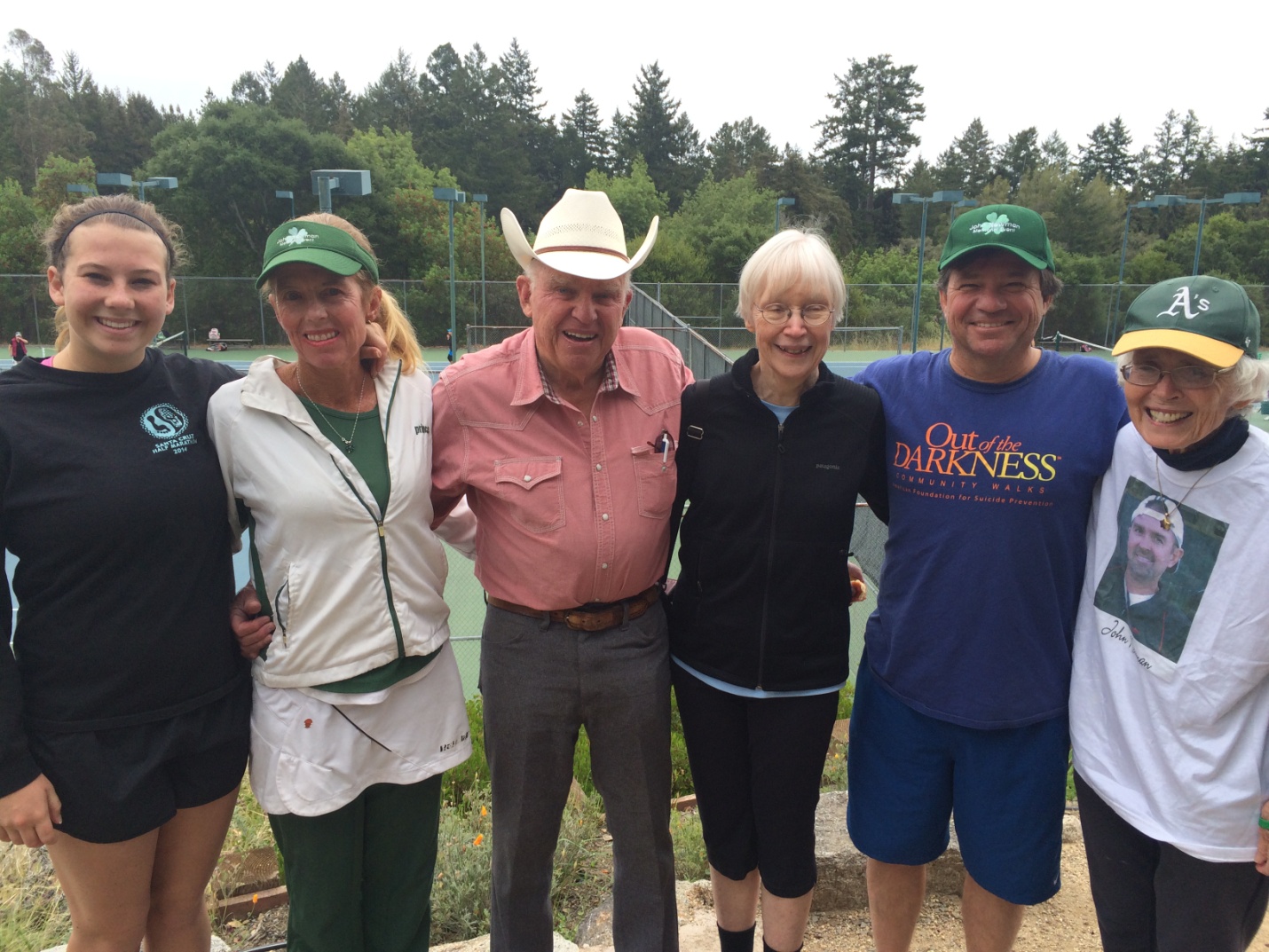 Thanks to everyone who participated in the John Newman Memorial Event held last Monday, the day was a wonderful success! With 100 people in attendance, I put on nearly 200 matches, had a great time at the fiesta and shared amazing stories of family, friends, loss and healing...We raised $750 for the local chapter of suicide prevention while raising awareness that will serve countless others. Special recognition and thanks goes out to my family for all their help and support, Dave Muldawer for taking over the tournament desk while I played, Margaret Marigonda for her healthy beverage offerings and finally, to Rosie Valdez of Suicide Prevention Services of the Central Coast for her amazing community outreach and counseling. Winners of the 4 divisions were as follows: 6.0: Mike Walton & Mike St Shepherd; 7.0: Eva Pacek & Edward Berr; 8.0: Paula Codiga & Jon Sczmansky; 8.5+ : Jeff Mitchell & Phil Mindigo. Congratulations to all!!
Fitness Class BINGO!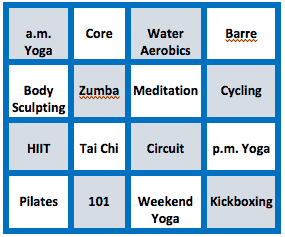 Just a reminder that our Fitness Class BINGO game ends June 12th. Pick up your game card at the Clubhouse today to win 5 guest passes and an entry into our drawing for an iPad Mini!
Welcome Tyler Chard to the La Madrona Fitness Team!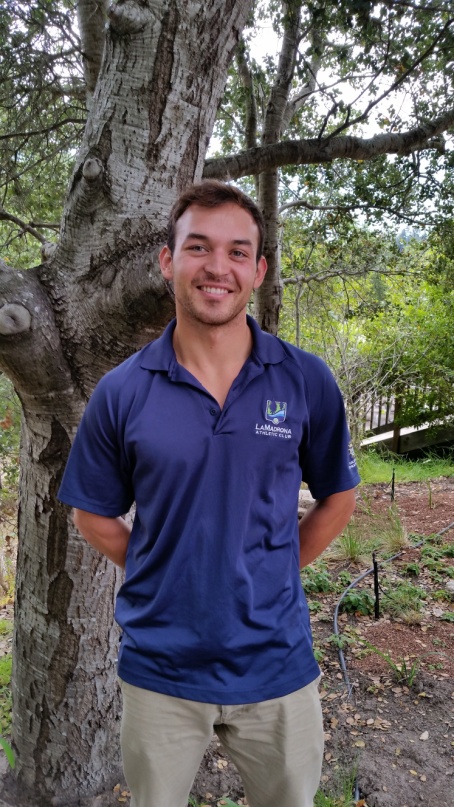 Tyler Chard is a martial artist and certified personal trainer through the International Sports Science Association. He has spent 5 years training in martial arts and teaching in the art of Kenpo. He has spent much time working with kids in martial arts, gymnastics and aquatic settings. Martial Arts along with fitness are part of his daily life. When he is not training or practicing Kenpo he enjoys ocean activities. Tyler's philosophy is "a positive attitude and a calm mind will liberate our bodies to be self-centered".
"Keep life simple, and flow like water"