4th of July at La Madrona

Join us for an Independence Day celebration!
12-2PM • BBQ Hot Dogs
1PM • Pool & Family Games
2PM • Pickleball Tournament
3pm Ice Cream Sundaes

Bring the whole family!

Club Closing at 6pm…

Enjoy the fireworks!
Schedule of Poolside Fun

Monday: Lawn Games 1-5pm
Wednesday: Pool Games 1pm & 3pm
Friday: Popsicles at 5pm & Happy Hour Specials 4-7pm
Saturday: Pool Games 1pm & 3pm
Sunday: Ice Cream Sundaes at 2pm
Find Our Water Watcher Llama!

Find the llama around the Club. Share his weekly water safety tip with pool house staff to be entered into our weekly raffle.
Raffle winner announced on Fridays!
End of summer grand prize winner will be announced on Friday, August 5th!
Wimbledon Tennis Social

Saturday, June 25th
Join Jimmy & Will as we celebrate the summer season and Wimbledon!
In theme, dress in all white to enjoy drop in tennis and enjoy a strawberries and cream social along with mimosas after.
9-11 drop in doubles tennis
11-12 social at tennis landing
See you there!
Summer Tennis & Pickle Ball Schedule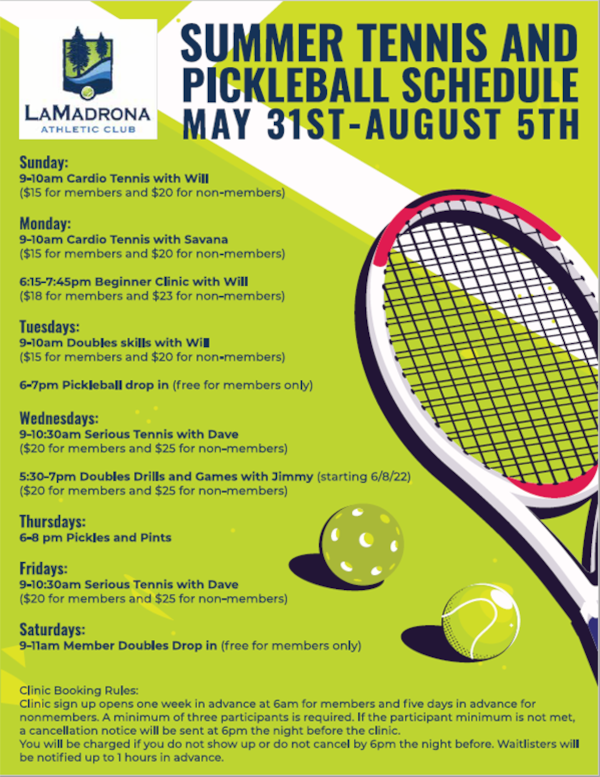 Spring Parent and Me Classes

Come join us and learn how to comfortably introduce your child to being in the water for the first time. The small pool is warm and toasty, and the mid-mornings are crispy and light. Spaces are still available for those who want to enroll for a three week session. Drop-ins are welcome.

Tuesdays/Thursdays 11a-1130a
May 31st-June 16th (3 weeks) - 3 Spaces Left
June 21st-June 30th (2 weeks) - Open

Sundays 11a-1130a
June 5th-June 26th (4 weeks) - Full

Please contact the Aquatics office at [email protected] about registering.

Click Here to Register
Pool Guards Summer Camp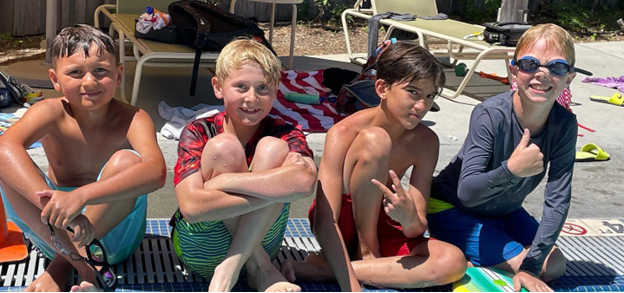 The La Madrona Pool Guards Program will introduce children to the skills necessary for Lifeguarding and aquatic safety. These two week sessions offer activities such as swim lessons, rescue skills practice, paddle board practice, stretching and strength building exercises also with team building games and fun.

Monday-Friday 9a-12p
Session 1 May 31st-June 10th - Full
Session 2 June 13th-June 24th - Full
Session 3 June 27th-July 8th (No camp on July 4th) - 2 Spaces Left
Session 4 July 11th-July 22nd - 5 Spaces Left
Session 5 July 25th-August 5th - Full

Click here to register
Lap Swimming During Summer Time

There will be a slight change to lap swimming during our summer season (May 31st to Aug 5th) at La Madrona. From 9:15am-12pm Monday through Friday, the Pool Guards Summer Camp will be using the lap pool for their programming. We understand this might be an inconvenience for some who enjoy using the lap pool. During this time, we will add additional lane lines to the Recreational Pool:
Monday/Wednesday/Friday
9a-11a
Lane 1 Open Rec Swim
Lane 2 Open Lap Swimming Lane for Drop In
Lane 3 Reservable Lap Swimming Lane
Lane 3 Reservable Lap Swimming Lane
11a-12p
Lane 1 Water Robics/Open Space for Rec Swim
Lane 2 Water Robics/Open Space for Rec Swim
Lane 3 Open Lap Swimming Lane for Drop In
Lane 3 Reservable Lap Swimming Lane

Tuesday/Thursday 9a-12pm
Lane 1 Open Rec Swim
Lane 2 Open Lap Swimming Lane for Drop In
Lane 3 Reservable Lap Swimming Lane
Lane 3 Reservable Lap Swimming Lane

Any questions, please contact the Aquatics office at [email protected].
Have you tried our Small Group Personal Training?

Fit 10 with Rebecca Setziol
Tuesday & Thursday 6am, Saturday 8am (6 Max)
4 weeks $280 member/$336 non-member

Fast & Furious 4 with Nicki Hurford (next session begins 6/7)
Tuesday & Thursday 12pm (6 max)
4 weeks $200 member/$240 non-member

Click here to register
Free Theragun Demos!

Have you been curios about our new Theraguns? Please join us for one of our free 10 minute demos in the Group Fitness Room.

June 8th 11:45am with Kelli
June 8th 3:30pm with Nicki
June 9th 8:00am with Debora
June 10th 12:30pm with Nicki
June 11th 10:30am with Debora
June 13th 5:30pm with Korrine

All sessions are drop in!
Parents Night Out

Saturday June 11th 5-8pm
Let the kids enjoy fun club activities, while you get some quality "Me" time!
$25 Child/$15 each additional sibling
Ages 5 and up – 6 spaces available.

Click here to sign up for June date
Staff Safety Week

This week the staff will be running through "mock" emergency skits. The "mock" victim will be wearing a neon yellow shirt.
Your safety and wellbeing is our highest priority.
Pool Supervision Reminder

Please remember that all children under age 14 must be DIRECTLY SUPERVISED by their parent or guardian, even when a lifeguard is on duty.
There is no substitute for paying close attention to your child while swimming. Accidents can happen at any depth of water, even to the best swimmers!