Upcoming events
May 11 - Calcutta!
May 27 – 4th Annual John Newman Memorial Tournament
OPEN HOUSE WEEKEND
June 1 –Spring Swim Meet
June 2 – Art & Wine Affair


La Madrona's Open House Weekend!
Starting on Saturday June 1, La Madrona will be hosting an Open House Weekend. Invite all of your friends and family for FREE guest days! To start off, we will be having our Spring Swim Team Meet at the pool. Come root on our fantastic swim team as they compete in the end of the season swim meet. Saturday will also include free tennis clinics, fitness classes, a tennis exhibition, barbeque, and much much more! If that does not sound like enough, we have our ever so popular annual Art & Wine Affair on Sunday, June 2. Please feel free to come out and enjoy some great live music and Hors d'oeuvres! Please stay tuned for schedule and details.
This action packed weekend will be a great way to kick off the summer in style!


Courts 2 & 3 have been resurfaced to "US Open Blue"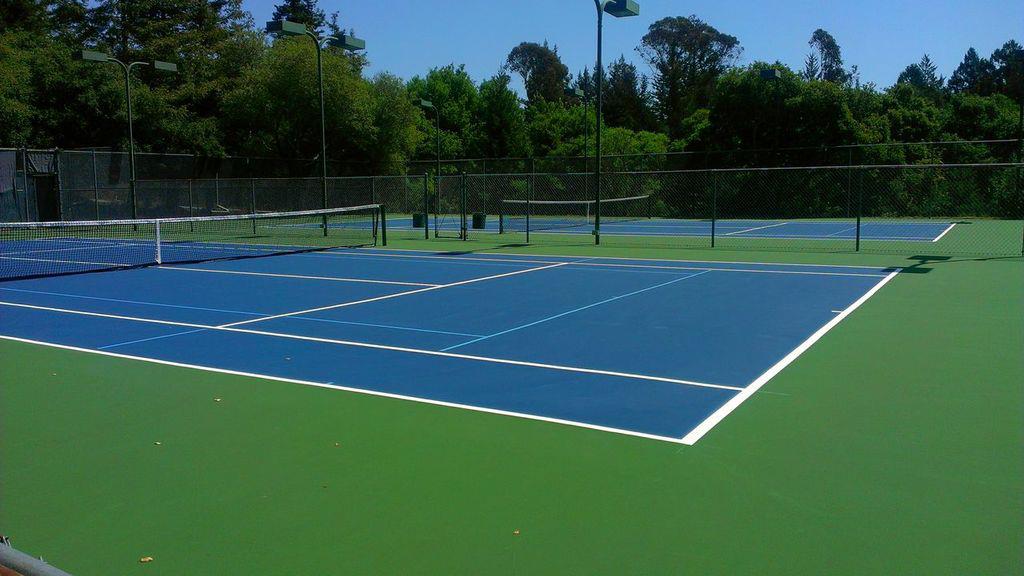 This month La Madrona is proud to showcase our two newly resurfaced tennis courts! Courts 2 and 3 have now been resurfaced to match the rest of our courts and we are all very pleased to have 7 fully lit tennis courts all painted in US Open Blue. Feel free to come by and check out the courts, they are always open to use when there are no lessons or clinics.

Last month's David Kuo Memorial was a great success, thanks to all who showed up! With the help of all of your donations, we were able to purchase a bench dedicated to the memory of David. We have erected a covering over the left tennis landing where the bench now resides; it provides a gorgeous shady spot to view our tennis courts! Special thanks to Jillian Regan for helping with the memorial event, as well as to our maintenance staff for making the landing a truly beautiful area to relax.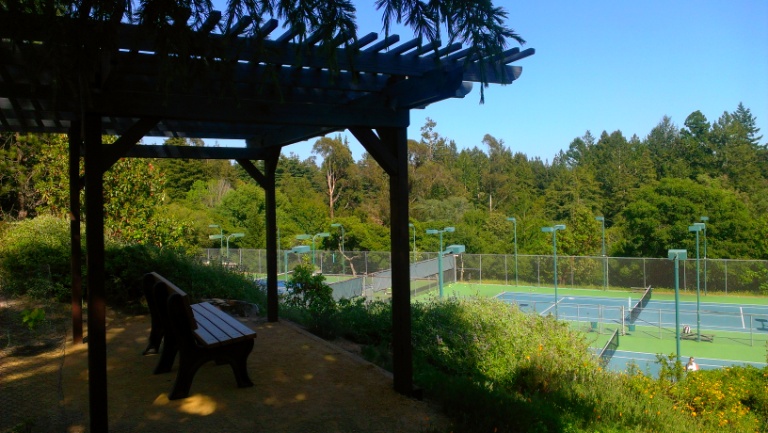 Member Profile of the Month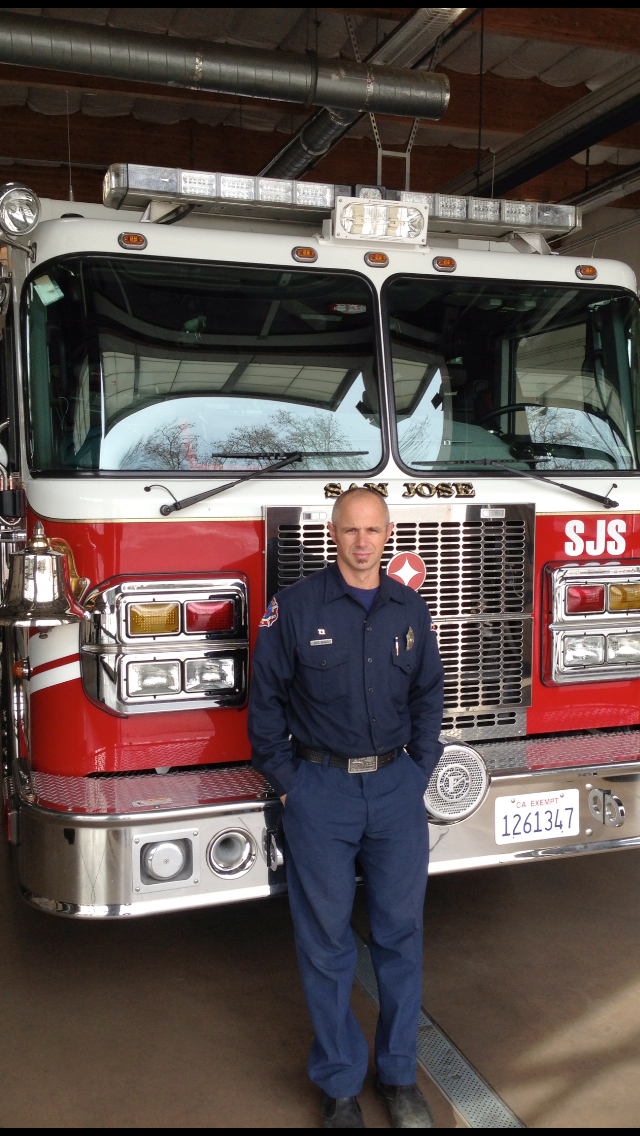 Some of you may have seen a lot of wake in the pool recently and wondered, "Who's that swimmer?" The person swimming 200 laps an hour (the last 10 to 20 underwater) is Mike Moses, father of two boys and Ironman in training.
Mike's love for swimming was reignited after watching his two son's race during one of La Madrona's bi-yearly swim meets, and he started to swim regularly again. Like most busy adults, it is sometimes difficult to find the time and motivation to work out. Mike decided to train for a cause: The Children of Peru Foundation (childrenofperu.org). This not-for-profit agency enables grass-roots organizations to fund the educational and medical needs of underprivileged children in Peru. "As a Returned Peace Corps Volunteer, I know firsthand that even the smallest dollar amount goes a very long way in the poorest of regions." Mike states in his online profile http://www.childrenofperu.org/2013TahoeIronman.MikeMoses.php).
The Ironman is a grueling test of physical and mental ability. Mike is training for the Ironman Lake Tahoe set for September 22, 2013. He will have to swim 2.4 miles, bike 112 miles and run 26.2 miles to complete the competition. When asked if we could profile him in this month's newsletter, Mike responded, "The more people that know I am doing an Ironman, the more pressure I seem to put on myself to actually cross that finish line. If it can raise money for a worthy cause or motivate someone to do something that they never thought they could do, then I say yes, let's do it."
If you are interested in supporting Mike's cause, please visit his sponsor page at <http: font="" 2013tahoeironman.mikemoses.php<="" www.childrenofperu.org=""></http:>. You can make a tax-deductible donation and learn about setting out on your own athletic endeavor for charity. Thank you for sharing your story with us, Mike, and letting La Madrona be a part of your amazing journey. We'll see you at the pool!
6 Ways to Fine-Tune Your Lifestyle for Weight Maintenance
1. Weigh weekly. For many people, a once-a-week weigh-in offers the right amount of accountability. It's normal for body weight to fluctuate by a couple of pounds from day to day and from morning to night depending on fluid balance, meals eaten, clothes worn, medication, and health status. A weekly weigh-in allows you to track the trends without getting hung up on small fluctuations.
2. Move as much as possible. Integrate physical activity into your daily life at every opportunity. Walk during work breaks; reduce sedentary behaviors like TV-watching and Web-surfing. When you sit, fidget, move your feet, shift in your seat, and tap your fingers. Even calories burned with small movements add up throughout the day.
3. Create a healthy home environment. Keep a bowl of fresh fruit on your kitchen counter or at eye level in the fridge. Stock your freezer with frozen berries and veggies, and keep fresh seasonal produce in the house. If you purchase less-nutritious treats, buy only small portions. Keep your gym bag near the door and home exercise equipment in plain view.
4. Learn to cope effectively with stress. Times of increased stress put you at risk for backsliding to your old behaviors. Practice relaxation techniques, such as progressive relaxation, visualization, and mindfulness. Learn to change your perspective and respond mindfully to stressful situations instead of reacting.
5. Activate your social life. Invite a friend to join you for a walk, run, or gym workout. Take your family on a day hike. Go dancing with your spouse or partner. Meet friends for a bike ride. Go bowling after work with colleagues. Integrating physical activity with your social life provides support for your active lifestyle and makes staying active fun and more likely.
6. Keep a measuring tape handy. Once a month or so, measure your waistline. If your waist circumference creeps up, pay closer attention to your food choices and increase physical activity.
Reprinted from American Council on Exercise
Calcutta!!!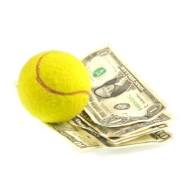 Dear Adult Tennis Players: Our fabulous Tennis Calcutta is just around the corner: Saturday, May 11, from 12-5:00. Players rated 3.5 and up will be placed on one of 4 teams to compete in doubles and mixed with gambling on the side...Expect 3-4 hours of tennis followed by a delicious western-themed barbeque and fun prizes! Be sure to sign up in the club house right away, as space is limited to 24 players.
Due to USTA scheduling conflicts with the Calcutta, we are cancelling Satuday's Drop-In on May 11 only. We apologize for the inconvenience. Players who were planning to play in the drop-in should consider the Calcutta instead!


Updates from the Tennis Department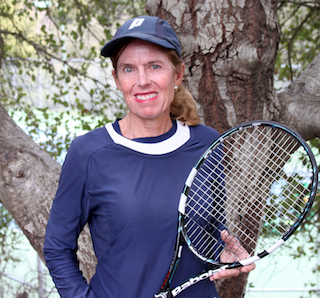 Congrats to our 55-over Mixed Doubles Team who won the Monterey Bay Division and made it to the USTA sectionals at Stanford last weekend!!! The team was captained by Lynne Sheehan and Dave Kelso. Team members included Dave, Carla Bolger, Mike Brownlee, Debbie Walton, Ed Costa, Tony Estrada, Bob Linney, Marilyn Niles, Sandy Oppenheim, Cindy Parker, Jon Scott, Jo Jo Turner and Scott Wilson. Congratulations, you do La Madrona proud!!!
Have you noticed our newly-resurfaced teaching courts? Not only are they beautiful and blend in well with the rest of our courts, but they include Quick Start Lines for young junior tennis players. The "extra light blue lines" you will notice on the new courts are intended for kids ages 8-under and 10-under. The smaller court dimensions, combined with shorter racquets and lower-bouncing balls, caters perfectly to smaller players. The extra lines are fairly easy for adults to ignore during play on the new courts, while young juniors will benefit from being able to learn and practice on the "shorter courts" at La Madrona. It's a win-win for all! Stay tuned for our new backboards next...
May 27 marks our 5th Annual John Newman Memorial Tournament. Grab a partner (or we can provide you with one) and sign up to play in this wonderful charity event to honor a great man for a great cause. Participants will enjoy friendly & fierce doubles competition (all levels welcomed) followed by a sumptuous Mexican buffet, live music and classy awards. Entries may be down-loaded from our club website or picked up in the club house and left it with Judy. Entries close May 24th.


Outdoor Boot Camp
Thursday's at 5:30pm

Push your body to the limit in this 45 minute outdoor class. Using calisthenics, bodyweight exercises and plyometrics, this circuit workout will give you cardio and strength training for the whole body. This is a great way to get in shape fast!


Guest Waiver Reminder
All non-members are required to sign a liability waiver.
Children under the age of 18 must have their parent or guardian sign a waiver for them (Grandparents and other relatives cannot sign this waiver). The good news is waivers only have to be signed once each calendar year.

Please feel free to take copies home with you from our front desks or download from the website.