Court 1 has been resurfaced and is ready to go! We are thrilled with now being able to offer four pickle ball courts along with ball machine and general tennis play.
Due to the nature of having pickle ball, ball machine, and tennis play being offered on the same court all reservations will need to be made with staff directly. You can call the Club or stop by the front desk to book.
To begin, we will be offering pickle ball reservations to be booked just like tennis reservations. All the same booking guidelines will apply.
The booking of court 1 will be revisited as we get a feel for how it gets used in these coming months.
Stay tuned for a lot of fun and exciting pickle ball programming and the announcement of a new pickle ball teaching pro starting this month!
Spring Pickle & Pint Nights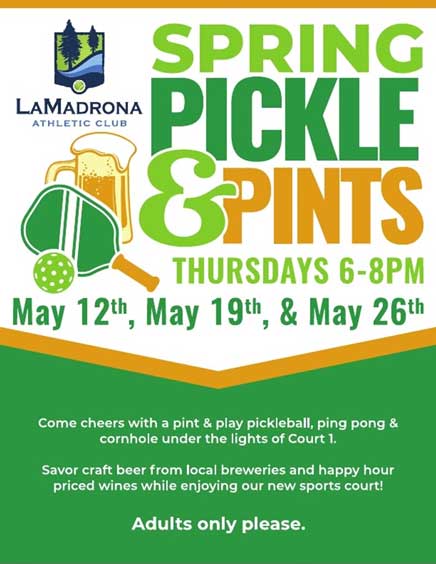 Lap Pool Reservation Update

Thank you for your patience as we fine tune our lap pool management process. We really appreciate you completing our latest pool survey.

Our goal is always to provide the best club experience possible for YOU! Surveys are a great tool to receive direct feedback from our membership.

The survey showed that having three lanes dedicated to private reservations and one for drop in (shared) was the favorite option. This will begin immediately!

This will provide those that are in favor of making a reservation and having a lane to yourself more opportunity than just two lanes did however still offer the option for those that aren't able to make a reservation the ability to swim anytime!
We Care About You & Your Kids Safety!

Pool weather is coming and we are excited!!! This is the time of year our club can really shine and be the one stop shop for your family fun.

Using the pools become a highlight and we want everyone to be safe!

Please make sure you are directly supervising your children under 14 when at the Club.

Even with lifeguards on duty, which there will be this summer, it is imperative that children in the pool never be left unattended or not directly supervised.

Drowning is fast and silent. It can happen in as little as 20-60 seconds. Drowning doesn't always look like we would expect.

Water watcher reminder cards will be passed out beginning this month and through the summer.

We look forward to a safe and fun summer!
Spring Aquatic Programming Ends the Week of May 16th

We want to make sure all of our participants are aware some of the favorite spring aquatics programs will be ending on the week of May 16th.

Last Day:
Intro Diving - May 17th
Intro to Swim Team (Wednesday) - May 18th
Intro to Swim Team (Thursday) - May 19th
Swim Team - May 19th
Water Polo - May 20th

These programs will go on hiatus through our summer months. Look for their return in the Fall Session.

Click here for the summer pool schedule
Have you tried our Small Group Personal Training?

Fit 10 with Rebecca Setziol
Tuesday & Thursday 6am, Saturday 8am (6 Max)
4 weeks $280 member/$336 non-member

Fast & Furious 4 with Nicki Hurford
Tuesday & Thursday 12pm (6 max)
4 weeks $200 member/$240 non-member
Spring Parents Night Out

Saturday May 14th 5-8pm
Saturday June 11th 5-8pm
Let the kids enjoy fun club activities, while you get some quality "Me" time!
$25 Child/$15 each additional sibling
Ages 5 and up – 6 spaces available.
Click here to sign up for May date
Click here to sign up for June date
CLUB REMINDERS

All children must be directly supervised under 14 years of age while at the Club.
Family friendly bathing suits are required when enjoying pools. No thong style bathing suits.
No outside alcohol is allowed at the Club other than wine and it must be checked in at the pool house or clubhouse (nominal corkage fee charged).
All guests must be checked in upon arrival at the Club and are limited to two visits per calendar month.
Swim attire is not allowed when using outdoor fitness equipment.