Wreath Making

Thursday, December 1st at 5:15pm

Come create your own beautiful wreath with grapevines, greens and berries all collected for you from our own La Madrona grounds on Thursday, December 1st in the group fitness room.

Click here to sign up!
Family Movie Night
Family Movie Night featuring Over the Moon. Showing Friday November 18th at 6:15pm in the group fitness room. Pick up your popcorn and hot cocoa in the pool house on your way in. Indoor spacing allows for approximately 20 people.

Click here to sign up!
La Madrona Member Holiday Market & Vendor Information

Sunday, December 4th from 11-2pm
We are excited to have another member holiday market this year!
Are you proud of your handmade crafts and goodies you make? Come show off your stuff and have some fun doing it with your fellow members. Anything homemade or handcrafted is available to sell! We would love to have our junior members host booths too!
Complete this form to sign up!
Deadline to sign up will be November 30th.
New Group Fitness Class: Integrated Strength Training

Saturdays 12:00-1:00pm

Systematically increase your strength using Kettle Bells, TRX, Dumbbells, and your own body weight. With hard work, consistency, and proven progression techniques, you will most certainly reach your goals! Class included in membership.
Pie For A Purpose- A Fundraiser for Shared Adventures

Saturday November 19th 11am-12:30pm (Just in time for Thanksgiving)!

Support an amazing local cause with LOTS OF PIES! Show off your baking skills and donate a sweet or savory pie to be auctioned off during the event.

All in the family are welcome, don't have to bring a pie to attend! Snacks & drinks will be provided.

$5 whipped cream pie eating contest will begin at 12pm. There will be an adult & child division.

All proceeds will be going to Shared Adventures!

Pies should arrive to the Club no later than 11am so the silent auction can begin by 11:15am and should be in a container not to be returned. Bring in a 3 x 5 card to display pie type, your name, and ingredients.

Please email [email protected] with any questions.
La Madrona Gives Back- Featuring Shared Adventures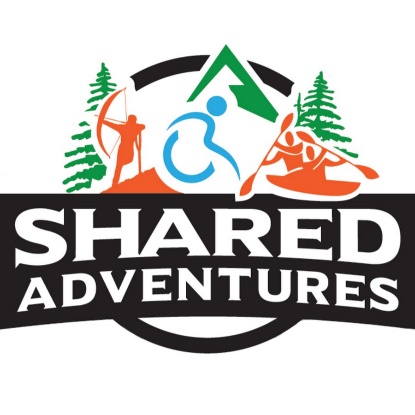 Shared Adventures is a nonprofit organization that facilitates activities for the Special Needs community in Santa Cruz County. Nature walks, horseback riding, gardening, fitness, sailing, and outrigger canoeing just to name a few.

Shared Adventures Website

Steven, how did you get involved with Shared Adventures?

When we returned to Santa Cruz in 2014, my wife Geneva got hired on to Shared Adventures as Office Administrator. It wasn't until our first Board Meeting dinner that I realized I knew the owner, Foster Anderson.
It turns out that he was the very first person I transferred from a wheelchair up into standing frame therapy at the Cabrillo Adaptive PE program back in 2000. It was meant to be that we were brought back together again, like coming full circle with my Adaptive Fitness career.

What do you do with Shared Adventures?

I've been volunteering wherever needed, including running the Beach Wheelchair rides at our big Day at the Beach event every summer. I have recently been put in charge of running the Adaptive Fitness program which is held at the SCM Cross Fit in Felton on Wednesday afternoons. We hope to expand the program to multiple locations and days per week.

What is the most memorable moment you have had working with Shared Adventures?

My very first beach wheelchair ride at Day on the Beach with a young paraplegic man named Adrian. He was there for the first time with his wife and two little children. Halfway into the ride I got the chair into the water and bobbed him up and down in the shallow waves. When I leaned over to talk with him I noticed tears running down his face. When I asked "What is it?" He replied "I've never touched the ocean before..."

We formed a very special bond in that moment, and he has returned to Day on the Beach every year since.

Steven assisting a participant during the Day At The Beach event
Adult Lap Swim

Have you ever thought about improving your swimming strokes or building your endurance? Or maybe you are looking for the motivation of a guided work out?

La Madrona Aquatics is proud to announce our all new Adult Lap Swim. Come join us for a bi-weekly hour long fun swim workout in our lap pool for adult club members. Swimmers of all skill levels are welcome. Our on-deck coach will provide technique and guidance.

Tuesdays/Thursdays
5:15p-6:15p
Lap Pool Lanes 3 and 4
Starting Tuesday 6th October
Fall Parent and Me

Come join us and learn how to comfortably introduce your child to being in the water for the first time. The small pool is warm and toasty, and the mid-mornings are crispy and light. Spaces are still available for those who want to enroll for a three week session. Drop-ins are welcome.

Sundays 11a-1130a
November 13th-December 11th (4 classes/5 weeks) – fully open

Please contact the Aquatics office at [email protected] or registrations can be through your member account.
Holiday Swim Team
The La Madrona Fall Swim Team starts on Monday August 15th. Fall Swim Team will be offered in two 6-week sessions. The swim team is a pre-competitive team. The team practices focus on being fun while getting swimmers comfortable being in a lap pool and working with stroke development, technique and endurance. We also expand on swim team knowledge. Ages 5.5-14 years old are welcome. All swimmers must be able to swim one length of the lap pool and be able to float on their back, an assessment may be needed.
Holiday - November 7th-December 15th (6 weeks) - no practice 11/23-24
Registrations can be through your member account or directly by the Aquatics Direct at 831-438-1072 ex 104 or [email protected].
Fall Swim Meet
La Madrona Aquatics Department is proud to announce the return of our annual swim meets! We will be hosting our first swim meet since the pandemic at the conclusion of our Fall season. Come join us at the club for a fun morning of races in the Lap Pool. We want to give our swimmers the chance to practice their swimming skills that they have been honing in our swim team program throughout the Fall. There is nothing like quite the excitement and cheers as each swimmer makes it across the pool.
Saturday, November 5th 8:30a-12:30pm
To Register please contact the Aquatics Director at 831-438-1072 ex 104 or [email protected].
Team Tennis Potluck

Tuesday November 15th 6-8pm
Come join us for a team tennis potluck. Matches will be played and food/drinks will be shared. Please reach out to Jimmy if you have any questions.

Click here to sign up
Junior Holiday Tennis Tournament

Weekend of December 4th
We will be hosting a junior tennis tournament for members and juniors who participate in the tennis program.
More Details to come soon.
Junior Tennis Holiday Schedule
If you have not yet registered your child for the Holiday Tennis Clinics, please see the schedule below.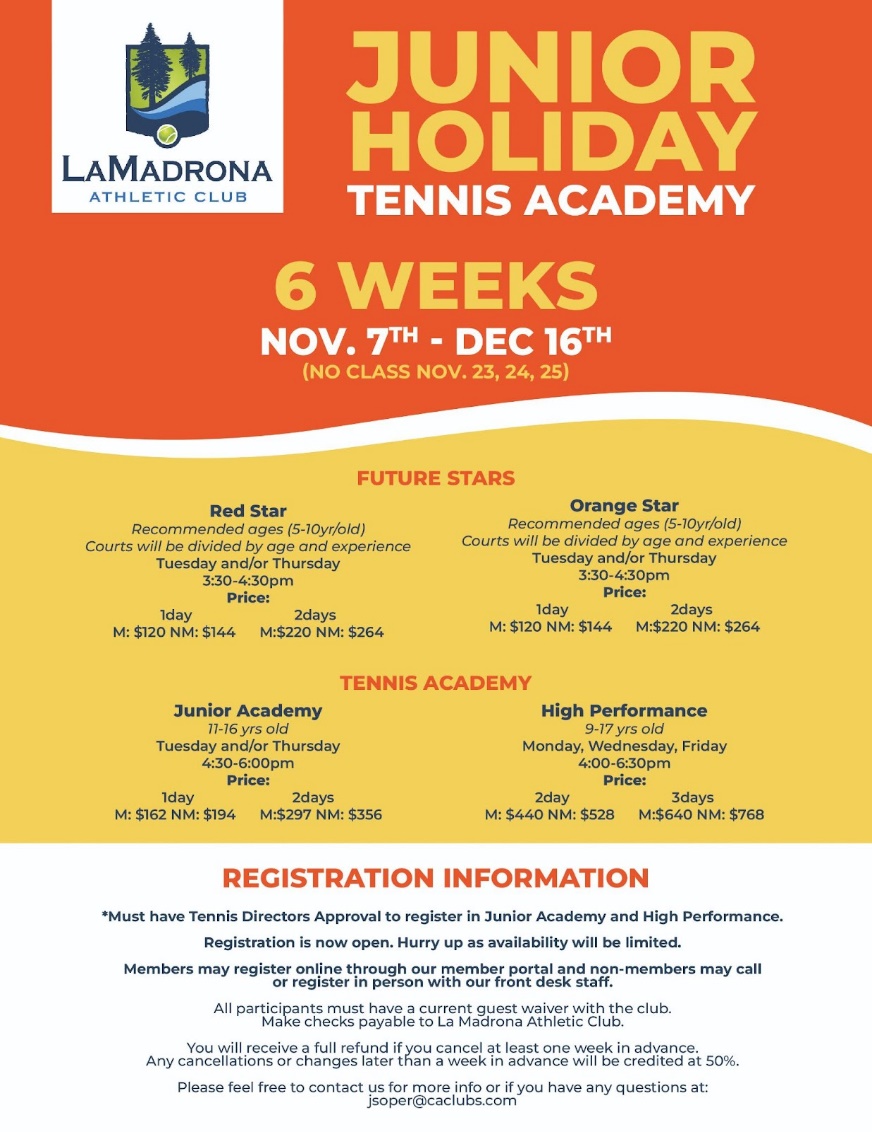 Pickleball Tournament

Weekend of December 10th, Karen will be hosting the first official La Madrona Pickleball tournament. Now is the time to get prepared and check out the pickleball clinic flyer below. More tournament details to come soon!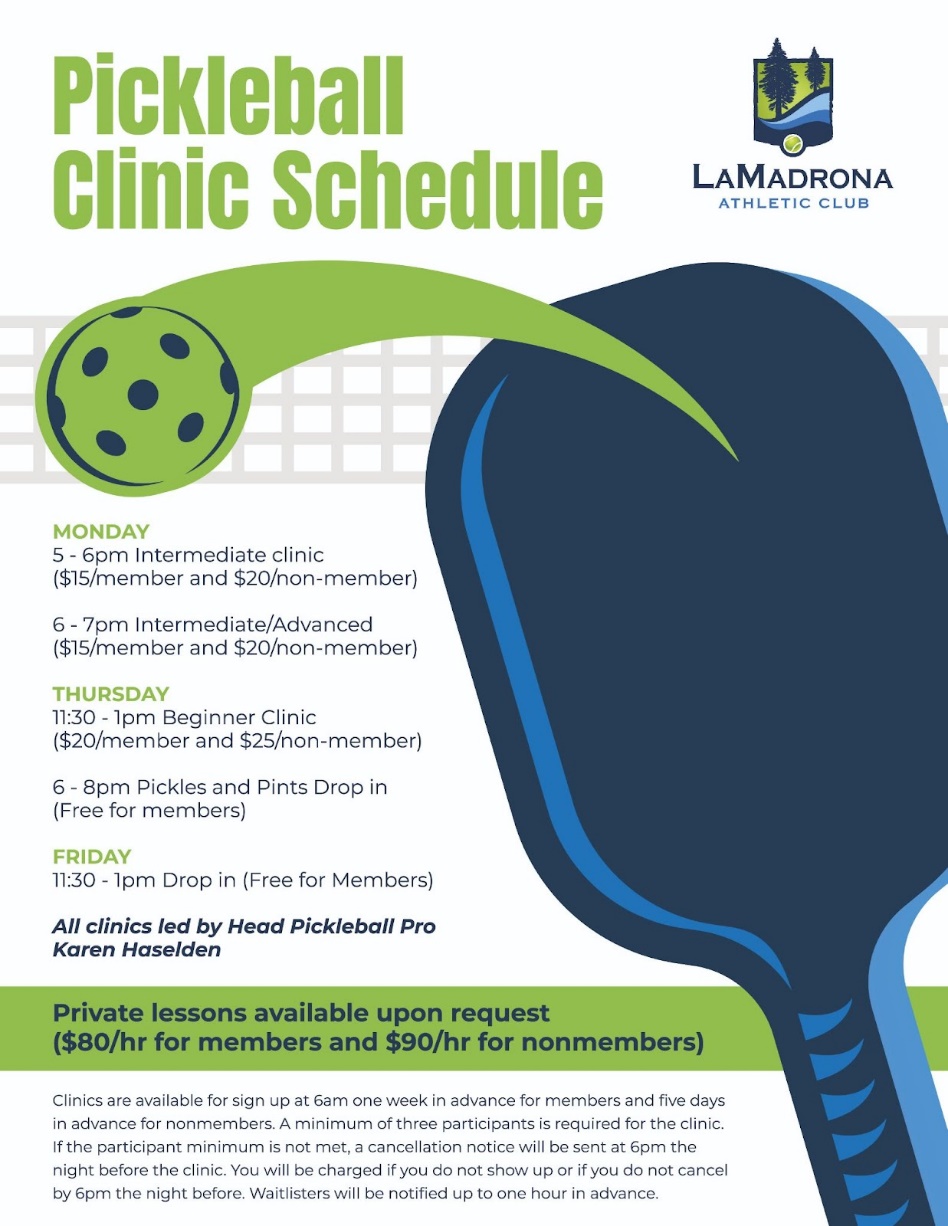 TENNIS CLINIC SCHEDULE
Sunday Clinics
9-10am Doubles Partner Strategies With Will ($15 for members and $20 for non-members)

10am -11am Cardio Tennis with Will ($15 for members and $20 for non-members)

Monday Clinics
9-10:30am Doubles Drills and Games With Jimmy ($20 for members and $25 for non-members)

6:30-8pm Beginner Clinic with Will ($20 for members and $25 for non-members)

Tuesday: 9-10:30am Doubles skills with Will ($20 for members and $25 for non-members)

Wednesday: 9-10:30am Serious Tennis with Dave ($20 for members and $25 for non-members)

Thursday: Intermediate/ Advanced Technique with Jimmy ($20 for members and $25 for non-members)

Friday: 9-10:30am Serious Tennis with Dave ($20 for members and $25 for non-members)

Saturday: 9-11am Member Doubles Drop in (free for members only)

Please call 831-438-1072 to sign up for these now or online through your member account (after July 7th).

Email [email protected] with any questions or assistance signing up.

Clinics are available to sign up one week in advance at 6am for members and five days in advance for non-members. A minimum of three members is for the clinic. If the participant minimum is not met, a cancellation notice will be sent at 6pm the night before the clinic. You will be charged if you do not show up or if you do not cancel by 6pm the night before. Waitlisters will be notified up to one hour in advance.
Holiday Hours

Thanksgiving, November 14th Closed
Christmas Eve, December 24th Close at 3pm
Christmas Day, December 25th Closed
New Years Eve, December 31st Close at 3pm
Open on New Year's Day!