La Madrona World Series!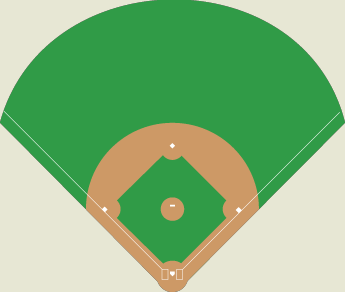 Take me out to the fitness room, take me out to the swimming pool, take me out to the courts….

Game starts October 7th

We will be hosting an exciting new game for all our members. Accumulate home runs through participating in actives in our tennis, swim and fitness department and earn tickets into a weekly raffle. Pick up your game cards at Club house and pool house soon. Each game card will be $5. All proceeds will be directly donated to Children's Organ Transplant Association, there will be more information to follow.


Club Championship 19-20th
Battle to make your mark on the Club singles and doubles ladder concluding with a player's dinner and celebration on Sunday. The top male and female singles player will receive free tennis guest fees for the year. Prizes will be awarded to the champions.
$15 per singles player
$20 per doubles team
Members only
Sign up in the clubhouse
Team Tennis
Our Team Tennis pilot has gotten off to a smashing start with 48 players playing on 4 colorful teams and having a ball…Come check out teams Teal, Coral, Leaf and Baby Blue battling Monday nights at 6:00 for the next 2 months!
| | | |
| --- | --- | --- |
| | | |
| Team coral players deb & Mike Walton | Team baby blue JoJo Turner, Shelley Strehlke, Kristina Mueller, sitting with team teal Jeanette Cook, Cindy | Parker Team leaf Rob Corrigan, Dave Muldawer |
Kids Craft Night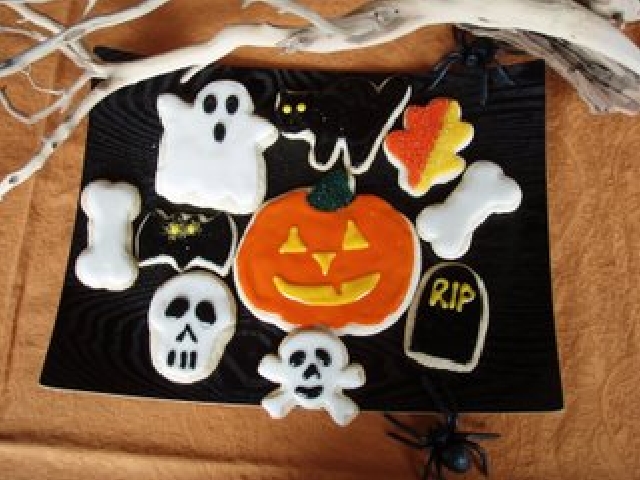 October 23rd Wednesday
5pm
Bring the kiddos to get into the Halloween spirit with some fall crafts and treats. We will provide the treats and crafts, you bring the kids!
$5 per child
Halloween Kids Pajama Movie Night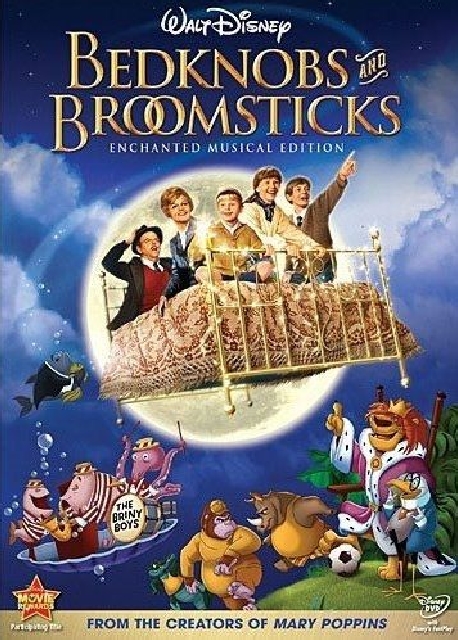 Saturday, October 26th 5-7:30pm
Drop your kids off for a fun filled night of pizza, popcorn, Halloween themed games, and a spooky movie!

Featured Film: Bedknobs & Broomsticks (rated G)
Cost: $10 per child, $8 for additional siblings
6 years and older
Bunco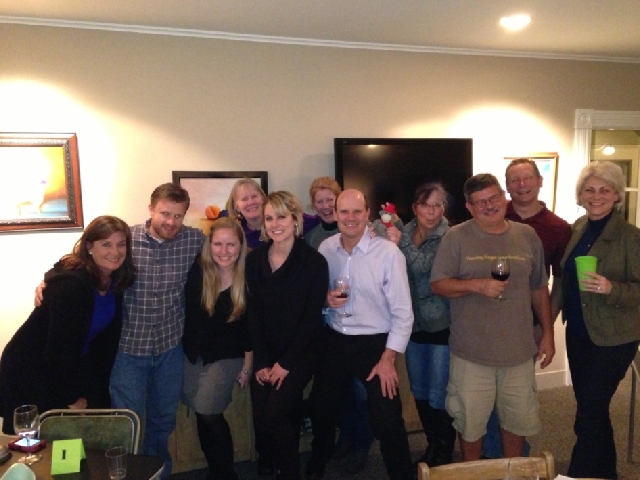 (Bunco group picture from January)
Friday, October 18th at 6pm in the Clubhouse
Come let the good times roll with a fun night of Bunco. Bunco is a fast paced easy to learn dice game that is sure to be a great time for all! Snacks will be provided.
Bring $5 for the pot
Tennis Court Scheduling
Due to how impacted our courts are it is imperative that if you reserve a court and cannot make it, that you call the Club to cancel. Our court scheduling will soon be online, so look out for that soon.
Paperless Billing
Help us cut down on the amount of paper we use by going paperless! Call us today and we can set up your online account. For every membership that goes paperless this month we will give you three guest passes!
Water Aerobics
Increase your strength, flexibility, and overall fitness with a low-impact water workout. These 45-minute, choreographed routines are a great option for anyone seeking to stay fit without excess strain to the body. Ages 18 and up welcome.
Fall Water Aerobics Schedule
September 9 - November 14, 2013
Monday & Wednesday 12:00-12:45pm
Tuesday & Thursday 9:00-9:45am
Click here for more information and pricing.
Welcome Tracy Yost to our Fitness Department!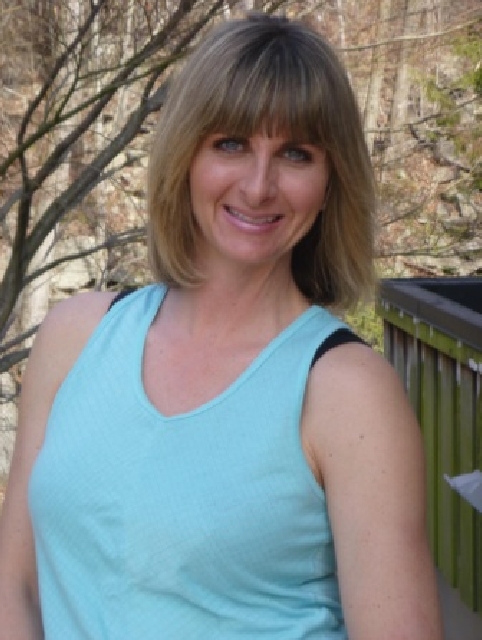 Tracy Yost, Personal Trainer
La Madrona Athletic Club

Tracy brings to La Madrona Athletic Club over 14 years of experience in the fitness industry. She is certified as a personal trainer through the American Council on Exercise (ACE) and is a former contestant in the New York State Bodybuilding Championships. Tracy has recently relocating from Bethel, CT to Santa Cruz, CA. She has worked as a fitness instructor in Dutchess County, NY, including Vassar College and has worked in corporate fitness for General Electric, New York Life & Duracell. More recently, Tracy was the Fitness Director of Round Hill Club in Greenwich, CT for the past 7 years. Tracy teaches Body Sculpt, High Intensity Interval Training, and Horizontal Conditioning. Her hobbies include weight lifting, reading, and riding her new Electra bicycle to discover parts of Santa Cruz. Tracy lives on the Westside with her husband, three daughters, and two dogs. Tracy will offer personal instruction, motivation and support in order to improve your overall fitness and reach your goals.
Through the month of October Tracy will be offering 15% off of 5 personal training sessions!
To schedule an appointment, contact Tracy at:
[email protected]
(203) 917-9533
Family Doubles
Our 7th annual Family Doubles Tournament was a whopping success! With family pairs competing in two divisions, players were treated to a delicious barbeque, keen competition and lots of family fun. Congratulations to our winners:
Advanced division: John Bargetto & Stewart Woodhams
Intermediate division: Violet Scholar & Juergen Wunder
Best Dressed: Julia & Patricia DYC-O'Neal and Demi Scott & Phoebe Scholar


Brent Ostermann


Brent, Diana, Andreas


John Bargetto &
Stewart Woodhams


Violet & Phoebe Scholar
& Demi Scott

SVHS Girls Team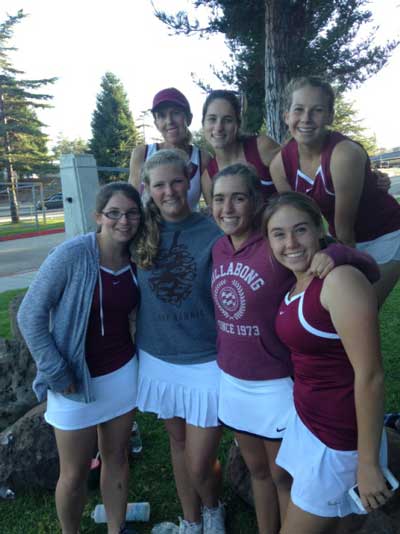 La Madrona plays a major role in Scotts Valley High's varsity girls tennis team. Coached by our very own Tennis Director, Judy Newman, and assistant-coached by John Bargetto plus aided by team mom Laura LaPorte, the team's top 4 singles players and # 2 doubles all hail from La Madrona: Desi Rakela, Nicole LaPorte, Maddie McCarthy, Elana Weingord and Elisa Bargetto. La Madrona's junior program has produced most of the top high school players in the county!
Junior Fitness Orientations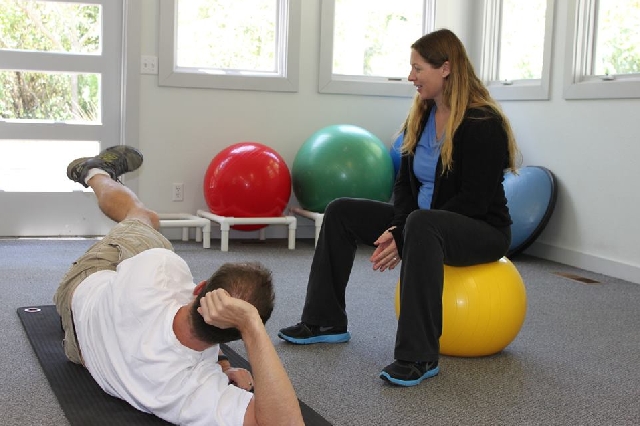 Junior Orientations for the Fitness Room are still ongoing. Remember, if someone on your membership is under 18 they must have a junior orientation to use the gym. If you would like to schedule this free orientation for your child, ages 12-17, please contact our Fitness Director Nicole Hurford at [email protected] or (831) 325-1965


From Physical Therapy to Personal Fitness
Graduating from physical therapy is a good reason to celebrate and there's no better time to start a fitness program, even if you've never been physically active. Regular exercise will help you maintain your therapy results and will keep you feeling good for a long time. Create a plan to stay active and fit, even when you don't have a therapist watching your every move.
Use It Or Lose It
When your course of treatment is over, you'll want to get back into the swing of your usual activities. For many people, this means returning to a sedentary lifestyle, but that is one of the worst things you can do. Instead, commit to a regular physical activity program to boost your strength, cardiovascular health, and flexibility. Staying active year-round helps your body and your brain function well. It also increases your odds of staying healthy.
Start Smart
Physical therapists usually discharge patients with home exercise instructions. Before you finish therapy, ask any questions you have about exercises you should and shouldn't be doing. You should have a clear understanding of which exercises to do, how to do them, how often, for how long, at what level and how you should feel while exercising. As you begin exercising on your own, go easy. Follow your therapist's instructions to increase your exercise level to avoid injury and discourage setbacks.
The benefits of exercise last only as long as you stay active, so keep a copy of your exercise plan where you'll see it every day. Track your progress to keep yourself honest. Otherwise, you may end up right where you started, with pain, limited function or injury.
Manage Symptoms
Your therapist can tell you about symptoms to watch for and how to manage them. You may be able to manage some symptoms at home, but others may need to be evaluated by a medical professional.
At Home
Beginning your post-rehab personal fitness program at home is a great idea for convenience, privacy, and affordability. Set up your home exercise space with safety in mind. Clear your floor of slipping and tripping hazards and make sure you have a stable surface to sit, stand or lie on and something to hold onto for balance.
Clinical Care
Some physical therapy clinics and medical centers offer supervised exercise programs for post-rehab patients. These programs offer advantages, especially if you're new to exercise or have multiple medical issues. Physical therapists, certified personal trainers, certified athletic trainers and other healthcare professionals work as a team in this setting to make sure you're on the right track and can easily coordinate with your physician as needed. A medical fitness facility is also a great place to connect with others with similar physical challenges for support and encouragement.
Gym Time
You may wish to exercise at a local gym or recreation center, especially if you already belonged to one before you underwent physical therapy. If your home exercise plan calls for using exercise equipment or machines, working out at a gym is a convenient way to go.
Step It Up
When you're ready to move beyond your post-rehab exercise program, schedule a few sessions with a certified personal trainer specializing in post-rehab training. Doing so decreases your risk of injury and pain as you continue to build strength and fitness.
Speak Up
Once you begin your personal fitness program, you may have some questions. You might try some of the exercises and realize that for some reason, they don't feel right to you. Instead of ditching the entire plan, contact your physical therapist or trainer. Some simple adjustments to your routine could make all the difference.
Reprinted from the American Council on Exercise
For more information about post-rehab training, contact our Fitness Director Nicole Hurford at [email protected]
Early Club Closure
Closing at 6pm on Thursday, October 31st.