Some Club Policy Reminders:
All parties are required to be authorized by the Club. A party is defined as a gathering with 6 or more non-members, whether children or adults OR a pre-organized celebration.
Expired guest passes cannot be accepted
A certain individual guest is only allowed to use the Club up to two times in a calendar month
Full containment swim diapers are to be worn when swimming for toddlers and infants
Dogs are not allowed to be on property
No glass containers at the pool area
Fall Family Festival & Halloween Updates
Fall Family Festival
Wednesday, October 26th
1-4:30pm
Calling all families! The Club will turn into a carnival of fall fun on Wednesday, October 26th. Bring the kiddos and yourself to enjoy fun activities and games spread throughout the Club. There will be many prizes to win including: treats, guest passes, beverages, toys, and other fun items.
Participation in any of the Club programming (junior tennis, fitness, swim team, etc.) will earn tickets along with our special game booths. Come in a costume to earn tickets too!
Fall Club Hours
Fall/Winter Hours beginning November 7th
Monday-Friday 6am-9pm
Saturday-Sunday 7am-8pm
Club Closed at 6pm on Halloween
Club Closed Thanksgiving Day
Candy Corn Contest
Stop by the club house and guess how many candy corn are in the jar. Three closest guesses win a smoothie. Winners will be announced November 1st.
La Madrona's Annual Rookie Week: Oct. 9-15

-Are you new to the sportof swimming or tennis?
-Never used the equipmentin our fitness room and need some guidance?
-Ever tried yoga?
Here's your chance to tryit all--and kick-start a healthy habit--for free!
Come take introductoryclasses in tennis, swimming, fitness, yoga and more offered at convenient timesthroughout the day.
Complimentary childcare will be offered for all parent rookie week participants.
Click here to view the class schedule


La Madrona World Series Club Challenge and Fundraiser will begin October 24th

Stay tuned for more details
First Friday Active Adults Social
The first Friday of each month we will be offering an enhanced coffee & tea service for our adult members following our Active Adults Fitness Class at 1:15pm.
Please join us Friday, October 7th at 1:15pm, in our social area located outside our fitness building.


Fitness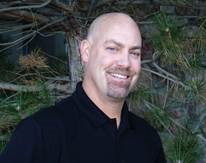 Welcome Back Steven Sarvis to our La Madrona Fitness Department

Steven has spent over 30 years in the fitness industry as an athlete, coach, and trainer. He is certified through the American Council on Exercise as a Personal Fitness Trainer and Reformer Pilates Instructor. Steven is also a Licensed Massage Therapist, Board Certified by the NCBTMB as a Therapeutic Bodyworker.
In addition to training athletes of all ages, Steven served 5 years as a Clinical Exercise Specialist for several physical therapy groups in Reno, and is well equipped to work with clients recovering from surgery or an acute injury. He also has experience working with people dealing with Parkinsons, MS, and Autism, helping them to maintain their independence and a higher quality of life.
Steven offers a unique blend of traditional training techniques combined with pilates, yoga, and massage therapy to provide a 'balanced' approach to fitness and overall wellness.
As a father of five children and five grandchildren, Steven enjoys spending his free time going on family adventures. He also enjoys hiking, playing tennis, coaching youth athletics, and donating his time to charitable organizations and events.
Steven will be teaching our Wednesday 12:30pm Active Adult Fitness Class and is available for personal training services. For a free consultation please call Steven at (775) 335-6175.
Click here to book a private training session with Steven.



Free Kids Mini Muscle Class is Going Strong and Long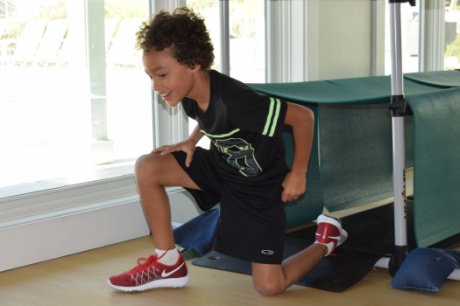 Member Josh and other kids age 5+ are getting a great high-energy workout in our free for members, Mini Muscles Class. Come join us for strength, agility and endurance exercises, through obstacle course fun, on Tuesdays and Thursdays 3:30-4:00 in the fitness room.


Wine and Unwind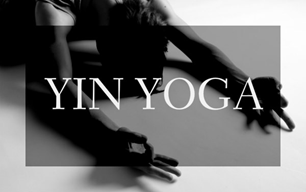 A Yin Yoga and Wine Party!

Treat yourself to an evening of blissful indulgence, because you deserve it! Begin with a feel-good yoga class full of relaxing and restorative postures. This class is open to all levels and perfect for those new to yoga. In this 75-minute Yin Yoga class led by instructor Ashlea Hartz you will learn how to not only relax the body, but also relax the mind.
Following the class, relax by the fire with your yoga friends and enjoy a complimentary glass of wine as you unwind from your busy week.
Friday October 21st,
5:30pm -7:00pm
$20 for members/$25 for Non Members

All guests must be 21+ to attend this event. Register online or at the Clubhouse


Fit 10 Cross Training
New session begins: October 11th, 2016

Unlimited Small Group Training – 4-week program 3x a week





Small Group Training will provide an intimate environment in a small group setting
(4-6 people) where you can excel and take your training to the next level
at a fraction of the cost of personal training.
Small-Group Session Schedule:
Tuesday/Thursday: 6:00 a.m. – 7:00 a.m.
Saturday: 8:00 a.m. – 9:00 a.m.
$280 member monthly/$300 non-members monthly
Please register online or at the front desk.
"I love the Fit10 training group! I never thought I'd be able to get up early and feel enthusiasm for exercise, but this class has proven me wrong. Jessica makes me feel challenged and supported and I can already see and feel a difference in my performance and muscles. I'm hooked!"
Kidz Club La Madrona
Kidz Club La Madrona Now Has 2 Locations!



Located inside our main clubhouse Kidz Club La Madrona serves ages 6 months - 5 years in our safe and fun indoor/outdoor area. Fall Service hours are M-F 8:30am-11:45 pm, M/W/F 3:30pm -5:30pm and Sat 9:15am-12:30pm.



Located in our downstairs Kidz Club area we now serve members ages 6-13 with our Kidz Club After School Programming. Fall Programming is offered M-F 3:30pm-6:00pm and includes, Kids Movement Class, Smoothies at the snack Bar and downstairs Kidz Club Fun.


Our New Kidz Club Fish Now Have Names
Thank you to all those that entered in the Fish Naming Contest! With the help of our Kidz Club members we now have names for the two Parrot Cichlids. "Turtle and Pumpkin."

Come Visit all the fish located in the tank downstairs at the new, additional, Kidz Club location serving ages 6-13.
Our Kidz Club Art Gallery Wall is Looking Fishy
Here are some friends having fun on a warm day in the shade at the picnic table out front of the new Kidz Club location. All children are welcome to come downstairs with their parent and color a fish to hang on our Kidz Club Art Gallery Wall.



Aquatics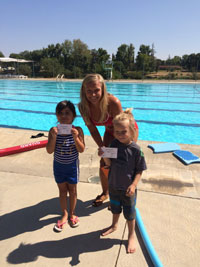 INTRODUCING A NEW SWIM INSTRUCTOR TO OUR AQUATICS DEPARTMENT: AISLYNN LAIR

Aislynn recently moved to Santa Cruz from a little town called Red Bluff in Northern California. She is currently attending Cabrillo College, and plans on transferring to UC Santa Cruz. Aislynn has been teaching swim lessons for three years, and is loving it. She loves teaching beginners, but is able to teach all levels. She is so excited to start working at La Madrona because everyone is so friendly and welcoming, reminding her a little of home. She is excited for what La Madrona has to offer and can't wait to start teaching lessons!
Aislynn is available to teach this fall on Friday afternoons from 3 to 5 pm, Saturday from 9 am to 12 pm, and Sunday from 10 am to 12 pm. She will also be heading our new Memaids Program on Wednesdays from 1:30 to 3 pm.
To book a swim lesson or sign up for our Mermaids class, contact Analisa Rondelle, Aquatics Coordinator, at [email protected] or click the calendar link to book below:
Click here to book a private training session with Steven.


THREE NEW PROGRAMS BEGINNING IN OCTOBER FOR AQUATICS LOVERS!
NEW

MERMAIDS

10/5 - 11/16
Wednesdays, 1:30 - 3:00 pm
Each swimmer will learn how to create their own mermaid character through 45-minutes of arts and crafts and then learn how to swim like a mermaid and do aquatic ballet during the 45-minute pool session. Class will be held in the recreation pool on Wednesdays between the hours of 1:30-3 pm for ages 6 - 12 with Teacher Aislynn. Participants must bring their own monofin (mermaid tail) to class, be able to swim one length of the pool without assistance, and be comfortable floating on their backs. Class will be limited to 10 mermaids. Contact Aquatics Coordinator, Analisa, at [email protected] to enroll. LINK TO FLYER


NEW

FAMILY SWIM

10/7 - 11/18
Fridays, 5:00 - 5:30 pm
Bring the whole family to the pool and work out together during these 30-minute coached swim practices on Fridays from 5:00 - 5:30 pm with Coach Tara. If you want to be closer to your kids and create healthy habits for a lifetime, join us in the recreation pool. Participants must be able to swim one length of the pool without assistance and be comfortable floating on their backs. Contact Aquatics Coordinator, Analisa, at [email protected] to enroll, or just drop-in. LINK TO FLYER


NEW

BABY & ME

10/8 - 10/29
Saturdays, 10:00 - 10:30 pm
Our Baby & Me class is for ages 6 - 24 months. Infants and toddlers will be accompanied by their parent or guardian in the pool to acclimate them to an aquatic setting in a happy and joyous environment. Class will be held in the rec. pool and/or baby pool on Saturday mornings from 10:00 to 10:30 am with Teacher Tara. Contact Aquatics Coordinator, Analisa, at [email protected] to enroll. LINK TO FLYER
FALL AQUATICS PROGRAMMING IS UNDERWAY, BUT IT'S NOT TOO LATE TO JOIN US
SWIM TEAM
9/12 - 11/17
Monday - Thursday, 3:30 - 4:00 pm (B Group) and 4:00 - 5:00 pm (A Group)
Our fall swim team has gotten off to a great start with full enrollment on Mondays for the beginner group. We still have room for more swimmers to attend this fantastic season, so email Coach Jen at [email protected] if you are interested. The swim team will have practice in up to three lanes of the lap pool Monday through Thursday. Practice times will remain at 3:30 - 4:00 for the B Group (beginners ages 4-8) and 4:00 - 5:00 for the A Group (advanced ages 9-14). LINK TO FLYER
Our fall swim meet is scheduled for Saturday, 11/5 from 9 am to 12 pm.


NEW

SWIM ACADEMY

9/12 - 11/17
Monday and Wednesday, 5:30 - 6:30 pm
The Swim Academy is a place for high school swimmers and adults to improve their performance. If you've been looking for coached swim practices and want to learn how to be a better, more efficient swimmer, this is the class for you. These 60-minute workouts will be held in the lap pool with Coach Jen on Monday and Wednesday from 5:30 - 6:30 pm. This program is for any swimmer looking to gain endurance, get faster, and improve stroke efficiency. Whether you are a single adult working on improving your health or triathlon times, or a family trying to stay connected to your teens, we can give you the coaching you need to become a better swimmer for life. Make a commitment to swimming together. You are likely to not only improve the health of your bodies, but your relationships, as well. Sign up at the pool house. LINK TO FLYER


NEW

HydroFit

9/12 - 11/18
Monday, Wednesday and Friday, 9:00 - 9:45 am
Tuesday and Thursday, 12:00 - 12:45pm
HydroFit utilizes a mixture of light resistance training, yoga, and swimming for a total body workout you can do everyday. Suitable for adults who need to release the lactic acid from their gym workouts and those looking to get a great cardio workout without excess strain to their joints. We know it looks like we're just floating around in the pool, but you will be amazed at how great of a workout these classes can be! Members attending the class for the first time are welcome to try a class for free. Classes are held in the recreation pool Monday/Wednesday/Friday from 9:00 - 9:45 am and Tuesday/Thursday from 12:00 - 12:45 pm. Sign up at the pool house. LINK TO FLYER


WATER POLO
10/7 - 11/18
Fridays, 4:00 - 4:45 pm
Our water polo program takes place in the deep end of the recreation pool on Fridays from 4:00 - 4:45 pm for ages 6 to 12 with Coach Tara. This is the perfect program for beginners to learn the fundamentals of the sport while providing a great workout to our young athletes. Participants must be able to swim one length of the pool without assistance and tread water for one minute. This program is currently full, but we would be happy to add your name to our wait-list. Contact Aquatics Coordinator, Analisa, at [email protected].
SWIM LESSONS
9/12- 11/18
There are lessons available every day of the week this fall with our three instructors. Jen and Tara are available to teach all levels of swimmers from beginner to advanced. Our new instructor, Aislynn, is available to teach on Friday afternoons, and Saturday and Sunday mornings. She specializes in youth beginners, but can accommodate any level of swimmer. You can expect to find a time that will work with your family's busy schedule this fall by visiting our lesson calendar at www.lamadronaclub.com (Aquatics/Lessons). If you require lessons at a time that is not available, email Aquatics Coordinator, Analisa, at [email protected], and we will do our best to accommodate you.
Tennis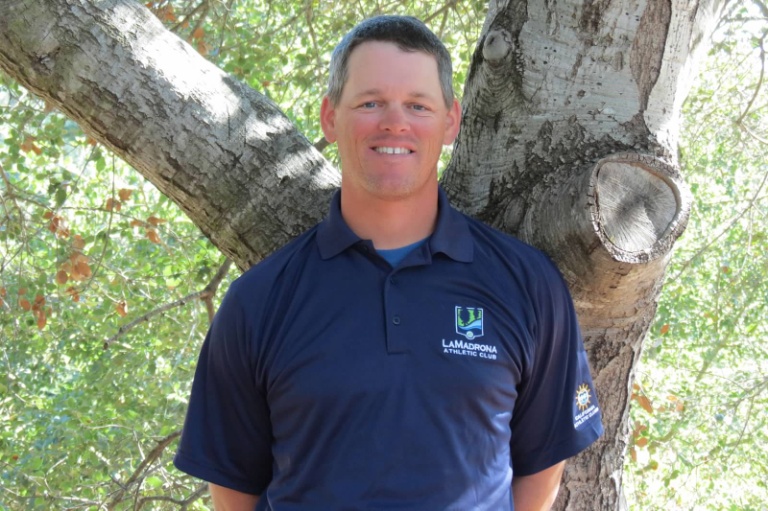 Hello members,
It's October and it's time to find our best players at the club (or the luckiest ones). Registration for our Club Championship will open on Monday October 3rd and End on October 12th. All draws will be available on Friday October 14th and competition will begin on the 15th.
Categories will be as follow;
Ladies' Singles 3.0, 3.5 & 4.0+
Ladies' Doubles 3.0, 3.5 & 4.0+
Gentlemen's Singles 3.0, 3.5, 4.0 & 4.5+
Gentlemen's Doubles 3.0, 3.5, 4.0 & 4.5+

All other details available at the club house starting on Monday October 3rd. Now you still have a couple weeks to get your game in gear. Go out there and hit the courts…

In the meantime, I hope to see you all on the courts
Cheers
Fred