Rookie Week Oct 4th-10th

Are you new to the sport of swimming or tennis?

Never used the equipment in our fitness room and need some guidance?

Ever tried Pilates?

Come take free introductory classes in tennis, swimming, fitness and Pilates, offered at convenient times throughout the day ALL WEEK LONG!
Friday Night Pickleball Potluck 6-8pm All Month Long
Join us every Friday in October for pickleball potluck from 6-8pm.
Starting on October 1st.
Bring some food to share and just show up.
Happy hour pricing in clubhouse for drinks
Fun Time guaranteed.
Family Movie Night Under the Tent featuring Luca
October 31st on Court 1 under the tent.
Popcorn Bar opens at 6:30 and Luca starts at 6:45. Space is limited to 10 families.
Join us for some Fall Fun!
Wednesday October 27th 3-6pm will be our annual Fall family event!
Join us for a craft, snack, scavenger hunt and dance party to celebrate the Autumn season.
All ages welcome and feel free to come in costume!
4 Week MELT Workshop with Rita Rivera

Join Rita in this four week workshop outside under the beautiful tent on court 1. Classes will take place on Saturday mornings from 10:30-11:30. Classes will be limitied to 8 people so each person can receive individual attention.
Saturday October 9th, 16th, 23rd and 30th 10:30am:-11:30am
$60 member/$80 non-member.
Click here to register

The Alexander Technique & The Melt Method.

The Alexander Technique is an excellent resource in building awareness of coordinated movement in our posture. In all daily activities, the principles of the Alexander Technique offer skills to discover ease and balance in our body and movement.
The Melt Method uses a variety of balls: hard & soft, large & small, along with a softer roller to work with the body's connective tissue, or fascia. Connective tissue surrounds all aspects of the body - including muscles, bones, nerves and organs. This body-wide system supports, protects and stabilizes and is responsive and adaptable.
Poor posture, stress on the body and dehydration of the connective tissue is often the underlying cause of daily aches and stiffness that leads to chronic pain - adversely impacting posture and breath.

In our first class:
We explore the weights of the torso and move through the 3 planes of motion of the spine. Discovering fluid awareness in our movements. Assortment of balls used in this class.

In our second class:
We explore breathing and also how our legs integrate into the torso. Soft roller and balls used in this class.

In our third class:
We explore the neck, arms and shoulder girdle. Soft roller and balls used in this class.

In our fourth class:
We explore balance and integrate the previous weeks. Soft roller and balls used in this class.
Fall Group Fitness Schedule begins October 4th

Click here to see our updated class schedule.
Welcome Debora Cohen to the Fitness Department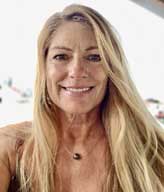 Debora will be teaching Yoga on Tuesdays and Thursdays at 8am starting October 7th

For 35 years, Debora has loved to teach and it brings her joy to help people achieve a healthy mind/body connection through compassion and fun. With many certifications in yoga in the USA and India, Debora teaches all kinds of yoga such as yin, restorative, meditation, chair, vinyasa and gentle styles. In addition to being a NASM certified nutrition coach and AFFA certified in group fitness, Debora teaches strength and cardio training on land and in the water. Debora has led several yoga retreats throughout the world and loves teaching in beautiful fitness environments like La Madrona Athletic Club. In addition to fitness, Debora is a master-instructor energy practitioner, qigong instructor, life coach and healing body worker utilizing reiki, chakra clearing, and acupressure to release stress and restore physical, mental, emotional and spiritual balance.
League Tennis

We have a little bit of action on the league side of things. We currently have 3 adult teams playing. Two of them are playing our local Santa Cruz mixed league, one 7.0mx and one 8.0mx and we also have a USTA men's 8.5 combo team. But let's not forget our 2 junior teams that are doing really great in a USTA orange and Yellow ball division.
Good job to all the teams!
Junior Clinics

Our Late Fall session just started this week on Monday September 27th.
We still have spaces available.
Call our front desk to register and join us!
Kids are always having fun and learning!

Click here to sign up
Late Fall Water Polo

La Madrona Water Polo is back for our late fall season! This fun class will introduce our swimmers to the sport of Water Polo. Swimmers will have a chance to learn the different aspects of the game building upon their existing swimming skills and introducing the basic team skills while having fun. It is a great opportunity to build self-confidence, teamwork, responsibility, and perseverance in the fun and safe lap pool. Coach Andrew will be looking forward to seeing you on Fridays. Spaces are still available in both groups. Contact the Aquatics Director.

Fridays
October 1st-November 5th
3p-3:30p Ages 6-10
3:30p-4:15p Ages 11-14
Click here to sign up
Intro to Swim Team

Our very 2nd session of Intro to Swim Team is underway. This swim class is to help get your swimmer ready to go from swim lessons to a pre- or competitive swim team. Polish those swimming skills and learn how to make the leap from our rec pool to our lap pool. Spaces are still available. Contact the Aquatics Director.
Wednesdays
September 29th-November 3rd
1:30p-2pm

Click here to sign up
Parent & Me

We just started our Late Fall Parent & Me swim class.
Come join us and learn how to comfortably introduce your child to being in the water for the first time. The small pool is warm and toasty, and the mid-mornings are crispy and light. Spaces are still available for those who want to enroll for a three week session. Drop-ins are welcome.

Tuesdays/Thursdays
September 28th-October 14th
October 19th-November 4
11a-11:30a
& Saturdays 12pm-12:30pm beginning October 16th

Click here to sign up
14 & Over Spa Reminder

The large spa next to the lap pool is for ages 14 & over only. Please be sure to monitor your children under 14 while at all times here at the Club and not allow access to this spa.
Halloween Closing Time

The Club will be closing at 6pm on Sunday, October 31st.