September Newsletter 2014
La Madrona Ground Breaking
We are pleased to announce that our highly anticipated group exercise project has officially been kicked off. We were finally able to dig a ceremonial gold shovel into the ground on September 2nd, 2014! The new building is going to host a wide variety of classes and programs to improve our fitness offerings. We are looking forward to offering yoga, mat pilates, group cycling, and many others options.
The new building construction should not significantly impact our current club usage.
Look for more updates on this exciting project in the coming months.
Any feedback and questions with regards to our projects, please don't hesitate to contact Kristina Mueller, General Manager at [email protected] or 831-438-1072.
Early Club Closure
The Club will be closing at 6pm on Sunday, September 14th for an employee barbeque.
Thank you for your understanding!


Day Use Lockers
Do you know that we offer day use lockers? There is no cost for this wonderful service, and the keys are issued at the Pool House check in.
La Madrona's 1st Annual Rookie Week: Oct. 5-11! FREE

-Are you new to the sport of swimming or tennis?
-Never used the equipment in our fitness room and need some guidance?
-Ever tried yoga?
Here's your chance to try it all--and kick-start a healthy habit--for free!
Come take introductory classes in tennis, swimming, fitness, yoga and more offered at convenient times throughout the day. (A complete schedule of classes and sign-ups will be available in the clubhouse beginning next week.)
FALL SWIM PROGRAMS
The fall swim programs will begin on Sunday, September 7th and continue for ten weeks ending on Thursday, November 13th. Columbus Day is Monday, October 13th, and the swim programs will be held during this holiday. The following programs are available for the fall season:

ADULT SWIM CLINIC:
This is a free program available to all adult members looking to liven up your swim routine. Come for 15-minutes or stay for the whole hour - either way, you are going to get a great workout, increase your stamina, tone up and make new friends. A workout board will be set up each day near the lap lanes for you to follow at your own pace.

Adult swim clinic schedule:
Monday & Wednesday from 12:00 to 1:00pm with Jen begins 9/8.
Tuesdays & Thursdays from 5:30 to 6:30pm with Greg begins 10/7.

SWIM LESSONS:
Keep summer alive with fall swim lessons. There are 38 to 46 lesson times available each week, but if you don't see a time that will work with your schedule, please let us know. Jen is the scheduler for all swim lessons, so whether you are booking lessons with her or Greg, contact Jen at [email protected] to reserve your lesson times.

Fall Swim Lesson Schedule:
Sundays at 9:00, 9:30, 10:00, 10:30 and 11:00am with Greg.
Mondays and Wednesdays at 9:30, 10:00, 10:30 and 11:00am with Jen.
Tuesday through Thursday at 1:00, 1:30, 2:00 and 2:30pm with Jen.
Monday through Thursday at 5:15, 5:45 and 6:15pm with Jen.
Tuesday and Thursday beginning October 7th at 3:15, 3:45, 4:15 and 4:45pm with Greg.

WATER AEROBICS:
Our 45-minute water aerobics class has two times for the fall season. Classes will be held on the recreation side of the main pool. The lap lanes will remain open for lap swimmers during this time.

Fall Water Aerobics Schedule:
Monday and Wednesday from 8:30 to 9:15am.
Tuesday and Thursday from 12:00 to 12:45pm.

SWIM TEAM:
Our swim team will practice at 3:30 to 4:00pm for the B "Beginner" Group and 4:00 to 5:00pm for the A "Advanced" Group. The team will have practice in the two lap lanes during this hour and a half time slot, Monday through Thursday. The recreation side of the pool will be kept open for general pool use during swim practice times.

Fall Swim Team Schedule:
Practice: Monday through Thursday from 3:30 to 5:00pm.
Swim Meet: Saturday, November 8th from 9:00am to 12:00pm. The main pool, baby pool, and family hot tub will be closed during the swim meet, but the adult hot tub, sauna and fitness room will remain open. Please stop by to support our young swimmers.
POOL SAFETY DOES NOT END WITH SUMMER:
As we transition from summer to fall at the La Madrona pool, the lifeguard staff will be kept on for weekends only through mid-October. Please take the time to review our policies with your loved ones. These policies have been put in place to ensure the health, well-being and safety of our members, guests and staff, but we rely on your cooperation for them to work. Please let us know if you need further explanation about any of these policies:

The Pools
1. Use the pools and/or spas at your own risk.
2. Children under age 14 must be DIRECTLY SUPERVISED by their parent or guardian, even when a lifeguard is on duty.
3. Children under 43 inches tall must wear US Coast Guard approved life vests, or have a parent within arm's reach in the pool. LMAC provides loaner life vests. Children who pass a swim test are exempt.
4. Showering off is required before using the pools or spas.
5. No swimming when pool is covered.
6. Except for the free swim lane(s), the lanes are for lap swimming. No hanging on lane lines.
7. For safety, the following are prohibited:
o Running, shoving, dunking, horseplay or hitting
o Screaming or excessive noise
o Diving in less than 5 feet of water
o Glass/ceramic containers
o Flips, back dives, or spinning entries from the side of the pool
o Throwing balls, with the exception of sponge balls – squirt guns of any type, water balloons, dip sticks, or torpedoes
8. No flotation devices; except for infant/toddler devices while accompanied by a parent or guardian
9. Children who wear diapers must wear full-containment swim diapers.
10. Do not use pools or spas if you are under the influence of alcohol or drugs.
11. Do not use spa alone. Long exposure could result in nausea, dizziness or fainting.
12. Elderly persons, pregnant women, and those with health problems should consult their physician before using spa.
13. No food allowed in pool or spa.
14. Rules and requests made by staff must be complied with at all times.
15. No one under the age of 18 is allowed in the adult spa.


August First Friday Fitness Challenge Winners!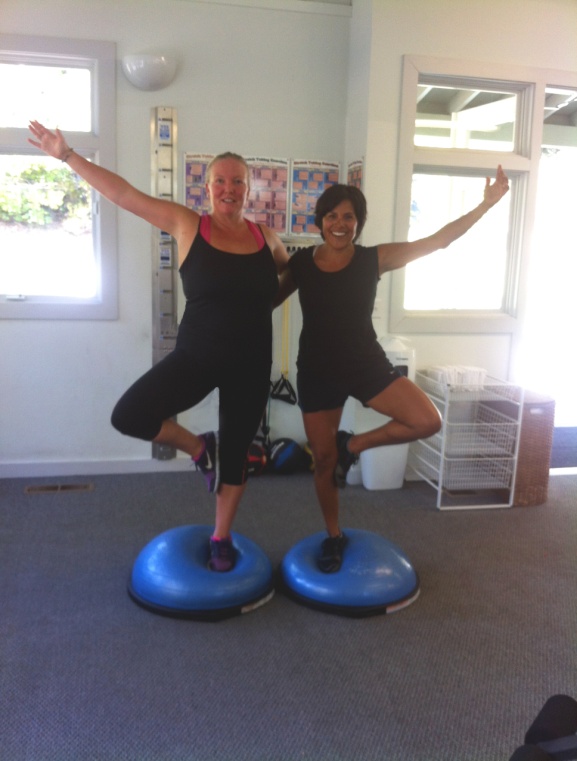 Debbie Sek & Monica Terrazas

Congratulations to members Debbie and Monica for their first place tie with 60 points each!

Great job to our runners up!

Ben Love (38 pts)
Carl Mindling (5 pts)





Don't miss out on our great evening classes, included in your membership!
Tuesdays 6pm: Outdoor Fitness with Emily Klein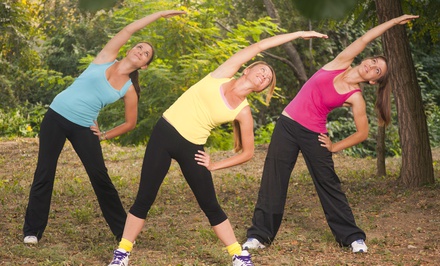 (Class meets in fitness room)

Join our Outdoor Fitness class to get a total body workout in the great outdoors. This class will combine aerobic conditioning, strength training and yoga in a positive, energizing environment. Using the different outdoor areas of the club, we will find new and different ways to challenge our bodies. Come have some fun, sweat and soak up some Vitamin D. All levels are welcome!


Wednesdays 6pm: Zumba Toning with Chris Lasher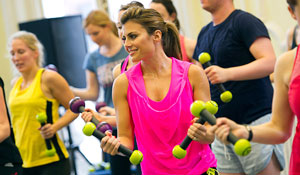 (Class meets on court 1)

Zumba Toning combines the aerobic workout of a regular Zumba class with light hand held weights. Routines focus on toning and strengthening different muscle groups while keeping the heart rate up. Salsa, belly dance, cha cha, bollywood... and many other multicultural music and rhythms are used to create fun, muscle toning routines. Participants follow the movements of the instructor modifying according to physical needs and fitness.


Junior Tennis

Summer Junior Tennis Camps just finished and were a smashing success. Students were filled with enthusiasm for the game, and fun was had by both campers and staff alike. The fall Junior Tennis Program starts on September 8th. Make sure and reserve your spot early by signing up at the Clubhouse.

The Annual Junior Championships was held at the end of summer Junior Tennis Camps. Players were able to show their mental intensity and competitive skills during their matches. Congratulations to Brendan Dietrich (challenger champion) and Sam McNeely (novice champion) as well as all of the other players who participated.

Thank you!

Roy Cosio
U.S.P.T.A. Certified Elite Teaching Professional
La Madrona Junior Development Head Pro
831-431-0146
Monday Night Team Tennis is back!


(last years Team Tennis)
Our Fall Team Tennis is back! Play begins in just 3 weeks on September 22nd at 6:00 and runs until November 17 (barring any rain-outs). Players levels 3.5-4.5 will be placed on evenly-matched teams (the pros will decide), given a special team t-shirt, and cheered on by their teammates as they compete in men's doubles, women's doubles, and mixed doubles. Everyone brings a dish, hors d'oeuvres or drinks to share afterwards! Substitutions are allowed so every team member who shows up gets to play.
A spring Team Tennis will be held for the 3.0-3.5s.
Rookie Moms' Tennis Clinic
The Rookie Moms' Tennis Clinic is designed for beginning adults who would like to kick-start their tennis game! This 8-week series runs Wednesday mornings, Sept. 17- Nov. 5, from 10:00-11:00 and costs just $96. The clinics are taught by our Tennis Director, Judy Newman, who promises her students rapid improvement, good exercise and loads of fun! Be sure to sign up in Judy's book in the clubhouse. No experience necessary!