September Newsletter 2022
Dues Adjustment & Facility Improvements Update

Each year, we evaluate the cost of operations for the club, while trying to keep the members needs in mind. In light of the significant increase in operating costs these past years we find a dues adjustment is necessary to maintain the level of services, programming and facilities we offer. Beginning October 1, 2022 our family dues rate will be $279, couple dues rate will be $220 (senior $197), single dues rate will be $169 (senior $150).
We continue to look for ways to enhance your member experience. In addition to the recent facility improvements last year of resurfacing the remaining tennis courts including pickle ball and upgrading the pool barbeque area, we will be getting a brand new enlarged family hot tub, resurfacing and expanding the recreation pool deck, and getting new pool furniture. This will significantly improve the recreation pool experience at the Club! We are really excited to bring you these improvements this coming year.
As always, we are very grateful for your continued membership. Thank you for your support of La Madrona Athletic Club!
Upcoming Pool Improvement Information

Below are updates to the upcoming pool improvements we have planned:
Recreation Pool Resurface- work is scheduled to be completed in early October
Men's Locker Room Swim Suit Dryer- new dryer will be installed next week!
New Enlarged Family Hot Tub- currently in the final stages of the permitting process with the county. We are hopeful the hot tub will be completed by spring 2023.
New Pool Furniture- In the process of finalizing bids to order. Shipping for pool furniture is very delayed and items will not be expected till spring of 2023.
Guest Passes- Thank You!

Thank you for everyone's patience as we went through multiple software changes this summer. We have added THREE GUEST PASSES to everyone's account as a token of our appreciation!

We are happy to be back to Club Automation!

If you are having any trouble with logging into mobile app or through the online member portal please email us at [email protected]
Team Tennis Tuesdays!

Come join us for a fun fall of team tennis nights on Tuesdays from 5:30-7pm. Will & Jimmy will be hosting a weekly night of team tennis on Tuesdays beginning September 13th. Participants that sign up each week will be evenly separated on two teams for some friendly competition. Either Will or Jimmy will be assigning matches based on levels making it fun and competitive for all.

Please register by the Monday before to be included in that week's tennis play. Sign up through your member account or by emailing Jimmy at [email protected]

Each week participants will earn points based on their wins/participation. Prizes will be awarded on the final evening of October 18th.

Contact Jimmy [email protected] if you have any questions.

Click here to sign up
Whole Life Challenge Begins September 24th

Are you ready to make a change? Contact our Fitness Director Nicki Hurford for more information or to register [email protected]
Junior Fitness Workshop: Sports Conditioning and Injury Prevention

In this workshop designed for both athletes and non-athletes you will learn proper weight training techniques, balance and agility exercises, the importance of warm-up and cool down, and flexibly and its effects on performance. For juniors ages 12-17.

September 17-October 8
Saturdays 11am-12pm
$80 members ($96 non-members)

Contact [email protected] to register. Space is limited.
Off The Hook!
Bring your fitness to the next level with small group personal training! Utilizing a blend of cardiovascular and endurance training, combined with traditional strength training and Martial Arts, you'll find yourself in the best shape of your life!

*boxing gloves optional but encouraged*

Mondays & Wednesdays 7am-8am
$200 members/$240 non-members

4 participants max (ages 14 and over)
Contact our fitness director to register, [email protected]
Parents Night Out

Saturday September 10th 5-8pm
Let the kids enjoy fun club activities, while you get some quality "Me" time!
$25 Child/$15 each additional sibling
Ages 5 and up – 6 spaces available.
Introducing our New Swim Team Coach Krista Perez!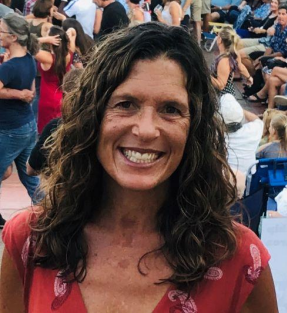 The La Madrona Aquatics Department is excited to introduce our newest coach, Coach Krista! Krista will be taking over coaching our swim team program. Some of our participants have already gotten the chance to meet Coach Krista since she started at the beginning of last week.

Click here to read more about Krista

Click here to sign up for a few remaining spaces in our first session of fall swim team
Fall Parent and Me

Come join us and learn how to comfortably introduce your child to being in the water for the first time. The small pool is warm and toasty, and the mid-mornings are crispy and light. Spaces are still available for those who want to enroll for a three week session. Drop-ins are welcome.

Tuesdays/Thursdays 11a-1130a
September 6th-September 22nd (6 classes/3 weeks) - fully open
September 27th-October 13th (6 classes/3 weeks) - fully open
October 18th- November 3rd (6 classes/3 weeks) - fully open

Click here to sign up
Tennis & Pickleball Updates
Check out our fall tennis clinic schedule. Whether you are a beginner or looking to sharpen your skills, there is a clinic for you. See schedule below.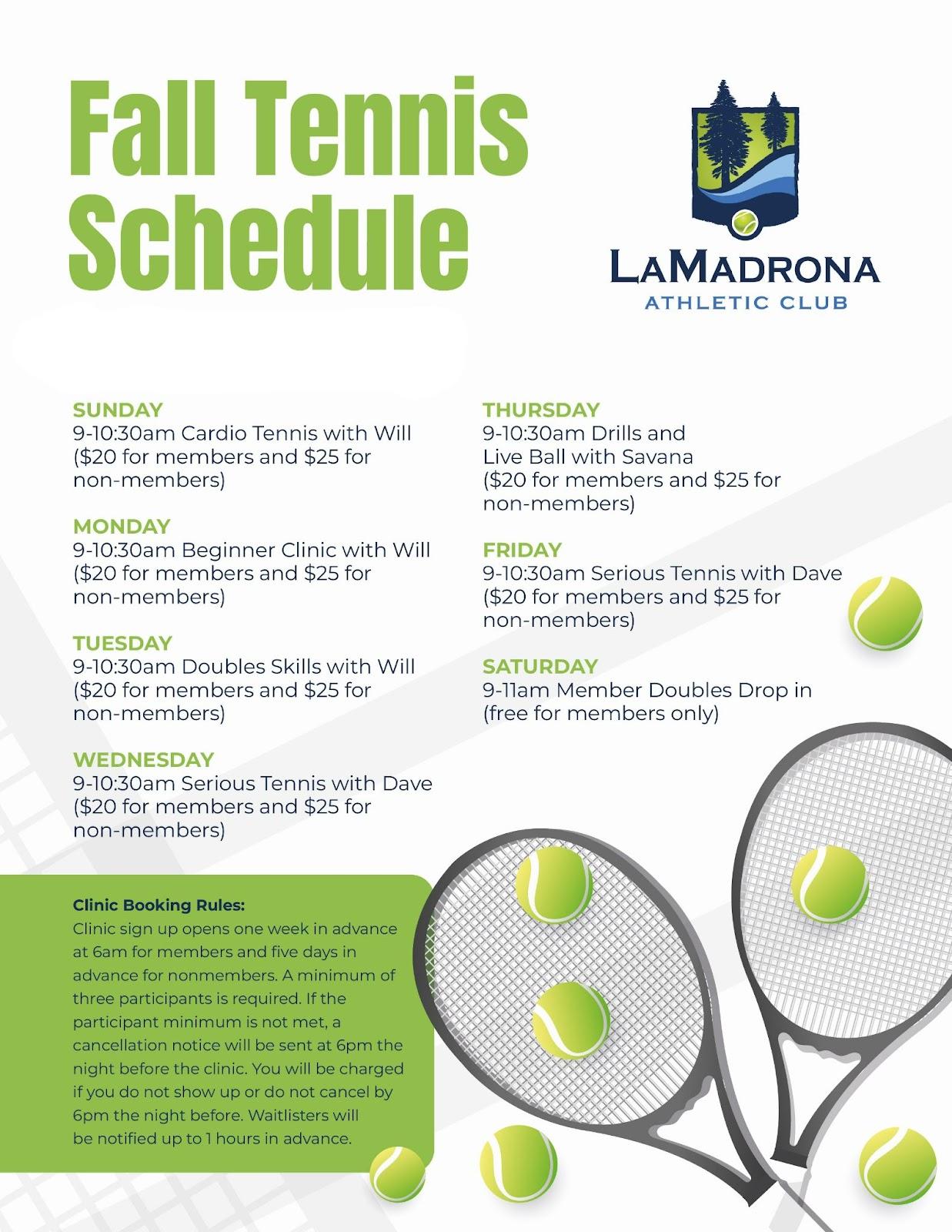 Fall Junior Team Tennis

We are excited as Fall Junior Team Tennis Approaches. This is a great way to introduce match play and competition to juniors. The season will take place September 18th-November 6th. La Madrona will be registering teams for both 12&under and 14&under. Registration will be open till the 18th. Please contact Jimmy ([email protected]) for more info.
Fall Junior Tennis Clinics

We still have space in our fall junior clinics. Juniors will be provided with fundamentals to last a lifetime. Whether your junior plans to compete in tournaments or play recreationally, there is a spot for them. Please contact Jimmy (j[email protected]) to learn more about which clinic may be right for your child.

Click here to sign up


Pickleball

Come join a clinic or one of our socials. Our Head Pickleball Pro Karen loves teaching players of all levels whether you're just learning or want to take your game to the next level.

Have you heard about our pickles and pints social every Thursday night?
This is a great way to be active, meet new people, and enjoy some beer from local breweries. Get in on the fun.