La Madrona Great Pacific Swim Challenge, starts March 1st

Ever wonder what it would be like to swim from Santa Cruz to the Hawaiian Islands? Could you go the distance to reach those sunny shores?

For the month of March, we invite all of our La Madrona swimmers to challenge yourselves to swim the distance in our lap pool.

If you would like to participate, please start tracking your laps in the binder at the poolhouse.

Celebration will be April 1st!


SURVEY COMING SOON

Lap Pool Reservations & Outdoor Fitness Offerings
A membership survey will be coming out via email next week. We would like to hear feedback on whether the majority would like to keep the lap pool reservations or make a change. That change could be to go back to all lanes being drop in, like before or it could turn into a hybrid system where some are reservation based and/or at certain times.
Also, we need to make decisions with our outdoor fitness tents!
We would greatly appreciate it if you could share your feedback once you receive the link.
Will Tierney is La Madrona's 2021 Customer Service Excellence Winner
Congratulations to Will Tierney for receiving our customer service excellence staff award this year!

Our department heads chose Will for this award due to his passion and enthusiasm he brings forth to serve others. He is always willing to do whatever he can to help out a fellow member or staff member, with a constant smile! In his time working here, he has covered shifts in almost every single department.

You can find Will mainly on our tennis courts these days. He has been doing an incredible job teaching our juniors and adults both tennis and pickle ball.

Thank you Will! Keep up the excellent work!
Strike Magic Gold With Us Under the Rainbow!

Locate 3 pieces of the hidden Magic Gold, turn it in at the clubhouse and enjoy a treat on us this St. Patrick's Day March 17th from 8:00 am-5:00pm. Happy hour prices all day long for Beer & Wine!
Congratulations to our Whole Life Challenge winner Paula Reidt!

Tennis Director Letter- Leaving La Madrona

Hello members
They say that spring is a season of new beginnings where fresh buds bloom, animals awaken and the earth seems to come to life again. Well! It is time for my spring and it is my regret to announce that I will be resigning from my position as your Tennis Director.
The past 7 years have been wonderful with more ups than downs but I have made a decision to try and spend more time with my family. I will miss my daily interaction with our membership and my co-workers and wish you all the best for the future.
Someone once said" if you are brave enough to say goodbye, life will reward you with a new Hello." I hope so…
-Fred Charlebois
Spring Swim Team

The La Madrona Winter Swim Team starts on Monday April 11th. The swim team is a pre-competitive team. The team practices focus on being fun while getting swimmers comfortable being in a lap pool and working with stroke development, technique and endurance. We also expand on swim team knowledge. Ages 5.5-14 years old are welcome. All swimmers must be able to swim one length of the lap pool and be able to float on their back, an assessment may be needed.

Coach Shaena will be coaching for the Spring Swim Team. The Spring Swim Team will be offered as a 6-week session. Registration will be available for members on March 7th 10a online. Non-members will be able to register starting March 16th at 10am, either in person or by contacting the Aquatics Director.

Spring 11th April-May 19th

For those wanting to get in now, we still have spaces in our Late Winter Swim Team.
Intro to Swim Team

La Madrona Intro to Swim Team is back!! This swim class is to help get your swimmer ready to go from swim lessons to a pre- or competitive swim team. Polish those swimming skills and learn how to make the leap from our rec pool to our lap pool.

This is a small class and spaces are limited. Registration by contacting the Aquatics Director.

Wednesdays
130p-2p
April 15th to May 18th
Spring Water Polo

La Madrona Water Polo is here for the Spring. This fun class will introduce our swimmers to the sport of Water Polo. Swimmers will have a chance to learn the different aspects of the game building upon their existing swimming skills and introducing the basic team skills while having fun. It is a great opportunity to build self-confidence, teamwork, responsibility, and perseverance in the fun and safe lap pool. Coach Andrew will be looking forward to seeing you on Fridays.

Registration will be available for members on March 7th 10a online. Non-members will be able to register starting March 16th at 10am, either in person or by contacting the Aquatics Director.

Fridays
April 15th to May 20th
Ages 6-10 330p-4p
Ages 11-14 4p-5p

For those wanting to get in now, we still have spaces in our Late Winter Water Polo.
Swim Lessons

La Madrona Swim Lessons are up and running. We offer one-on-one private lessons and two students-to-one instructor semi-private swim lessons. All lessons run 30 minutes in length and are taught in our shallow and cozy small pool, and recreational pool. Lessons are arranged by matching your availability with our team of qualified swim instructors. Our instructors can work all ages. Swim Lessons can take place while it is sunny or rainy. Even though it may be rainy, you can still make a splash in the pool because you are already wet. The Aquatics office does monitor the weather for severe weather conditions. We are enjoying this unseasonably warm weather early in the year.

Please be aware our swim lessons are immensely popular, there may be a bit of a wait for open spaces.

Questions and scheduling please inquire with the Aquatics Office or [email protected].
Summer Camps-Registration for Members Opening March 14th
We are excited to offer another summer full of kids programming.

Registration for members will begin on Monday, March 14th at 10am.
Non-member registration will be made available on Monday, March 28th at 10am in person at the pool house.
Pool Guards Camp

Monday through Friday
9am-12pm
The La Madrona Pool Guards Program will introduce children to the skills necessary for lifeguarding and aquatics safety. This three week program offers activities such as swim lessons, rescue skills practice, paddle board practice, stretching and strength building exercises along with team building games and fun.
Program Information and Registration Form
Sports Camp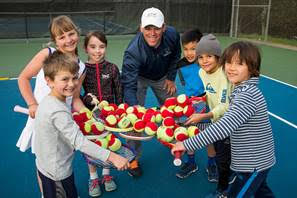 Monday through Friday
9am-3pm

Sport Camp is a high level instruction based outdoor camp that will provide children the opportunity to develop their sports skills, self-confidence and self-esteem.

The sports camp includes tennis, swimming, fitness, and outdoor fun! Available for children ages 6-13 years old.
Click here for registration form
Junior Tennis Camp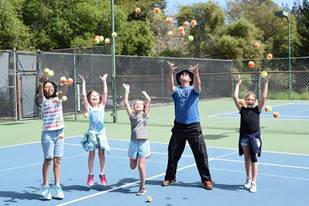 Monday through Friday
10am-1pm
Weekly Junior Tennis Camp is an exciting week of quality tennis instruction, led by tennis professionals. We will offer drills to develop or improve your child's game, as well as super fun games that will make them smile.
Match play will be introduced early, thanks to 36 & 60 foot length courts and special balls, which help facilitate the student's improvement. Interclub matches will be scheduled every week, for students that are ready to compete.

Click here for registration form